Here's How Often Each European Country Is Searching For Sex Toys Online
A new study shows Sweden leading in overall search volume, followed by Denmark and the UK.
TechySex.com released a study earlier this year showing the search volume for sex toys online across Europe. They also conducted a similar study in the United States. 
The goal was to "identify which geographic regions do the most Google searches for adult products, relative to their population," according to their published report.
To do this, they analyzed search volumes of four popular sex toy types (vibrators, dildos, penis rings, and masturbation sleeves), as well as generic keywords (e.g. "sex toys" or "erotic goods"). All keywords were researched in English and the languages spoken in the respective country.
The findings were fascinating.
Are Swedes more horny than average? Are there more penises per capita in Iceland compared to other European countries? We dig deeper.
Sweden leads globally in overall search volume (by far)
Sweden clocked an overall volume of 1,485 estimated monthly searches per 100,000 adults during the study. These volumes were much higher than any other participating country, including the United States.
The report reads: "Swedish people research the term 'sex toys' two times more than any other country in Europe and over three times more than any state in the US."
Following Sweden, the top-ranking countries for overall searches were Denmark, the United Kingdom, Norway, and Finland.
Each specific keyword had a different leading country
While Sweden had the largest overall search volume, they surprisingly didn't lead in any particular category of sex toys.
In three categories, Sweden didn't even rank. And in those three categories, the leading country (or two) doesn't appear on any other Top 5 list.
Top vibrator searchers: Estonia and Poland
Estonia had an estimated 327 vibrator queries per month, which the report cited as "three times as much as in Louisiana… the highest number across the US"
Poland was right behind with 295 estimated monthly searches.
Both countries don't rank on any other list.
Top penis ring searchers: Iceland and Hungary
Most of the search numbers for penis rings in Europe were extremely low—except for two countries.
Iceland and Hungary dominated the chart. Penis rings are the only list for both countries where they placed in the Top 5.
Top masturbation sleeve searchers: Switzerland and the UK
The only list where Switzerland makes an appearance, and they come out on top.
Only two monthly queries behind, the United Kingdom is also the country that generated the third largest volume of overall searches.
Higher GDP countries tend to show a higher sex toy interest
TechySex.com also looked at whether there was a correlation between wealth and sex toy interest. One of the figures they analyzed was the gross domestic product (GDP) per adult capita.
The results state that "countries with higher GDP per capita tend to show a higher interest in sex toys. There, the distinction between countries is stronger, with low-GDP countries almost exclusively showing lower search volumes."
These findings were the opposite in the United States, where "the greater GDP per adult capita, the lower the interest in sex toys."
Potential theories for these numbers
"Swedish people are beautiful"
We spoke with many Europeans about these results, and something like "Well, look at them" was the overwhelming reaction.
Does hotness correlate with a need for sex toys? People seem to think so.
More Catholicism means more vibrators
Similar to the United States, religion may influence how often Europeans search online for sex toys.
The following map of percentage of Catholics by country is dated, but articulates the point well. Poland, for example, ranked second in vibrator searches and clearly showed a high percentage of Catholicism. Other highly Catholic countries, like Italy and Portugal, showed higher search volumes for vibrators than any other keyword.
The vibrator-specific results here are important. The Catholic church promotes abstinence, so a vibrator is a perfect way to get your fix and keep your purity intact—especially as penetration isn't required for it to be pleasurable.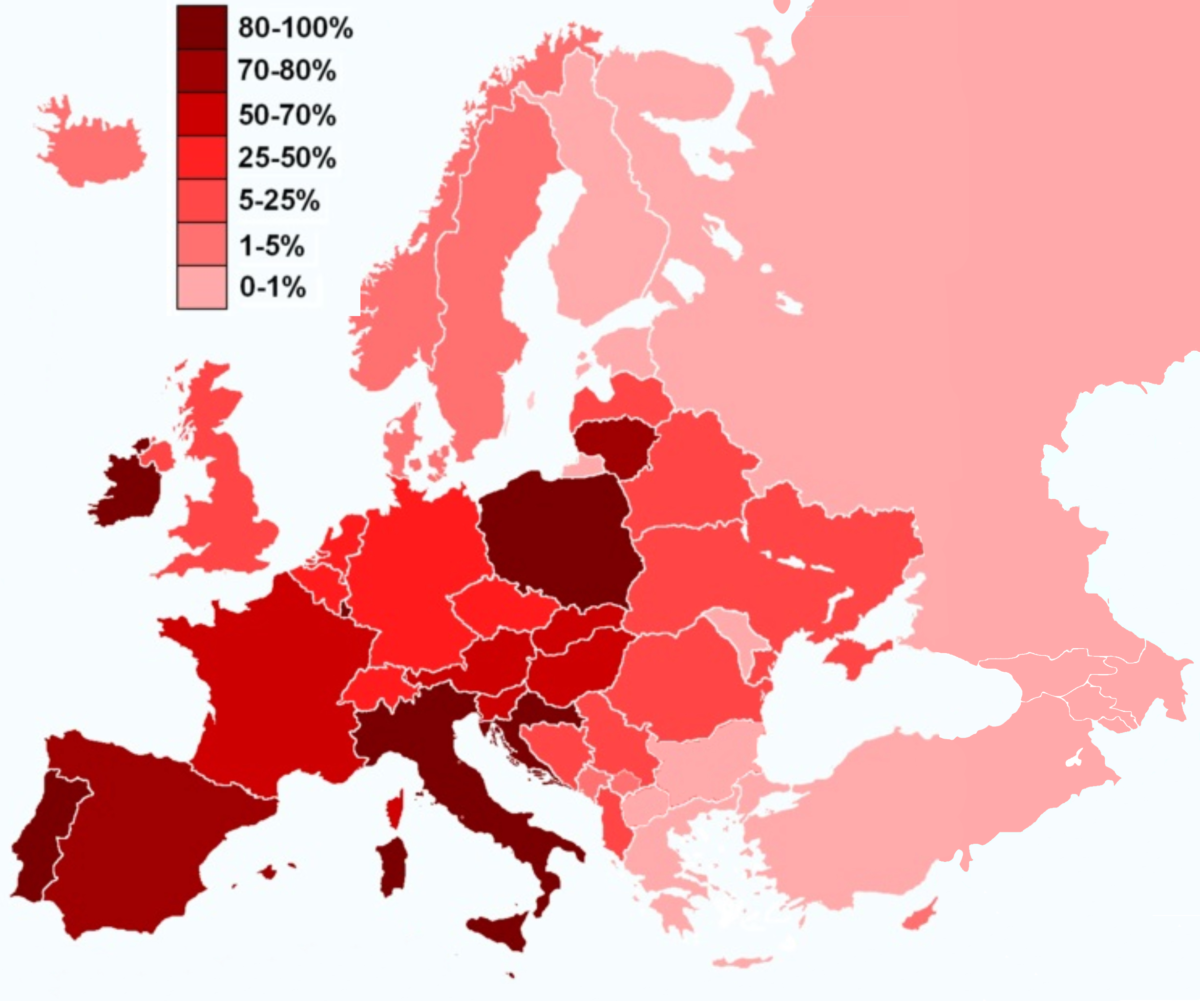 Maybe Europeans only search for sex toys when they want to buy
That could explain why higher-income countries had a higher number of search queries.
Unfortunately, this study only tracks search volume and doesn't present any data about how many of these searches resulted in a sale.
For complete insights, see the report on TechySex.com.
Image sources: Andrea Piacquadio, TechySex.com, Wikimedia Commons