How to Play Red Light Center: A Tutorial for Beginners
What you need to know to start having virtual sex today.
The online virtual sex world Red Light Center [NSFW] is one of the top massively multiplayer games around for adults. Since launching in 2006, it's amassed more than 8 million players on the prowl for realistic hookups with real people.
While the online sex game is a great place to meet new lovers and have a lot of sexy fun, there's often a learning curve for new players. Here we've compiled a list of important tips and information on how to play Red Light Center so you can get into the game right away!
What you need to know before you go
2 portals
Something you'll want to be aware of is that Red Light Center offers two portals for players. One is a social network somewhat similar in function to Facebook called the Red Light Social Center. Inside you can search for other players, add friends, view profiles, upload photos, as well as send messages and gifts.
Then there is the Red Light Center game where you can enjoy 3D sex as well as meet friends and lovers in nightclubs, dungeons, user-made apartments, and many more erotic and exotic locales.
Rays
The in-game currency is called Rays. Players can earn small amounts of Rays (usually between 0.10 to 0.25 Rays) for different actions inside the Red Light Social Center. They include logging in, filling out different parts of your profile, and interacting with other people's profiles. You also earn Rays for logging into the Red Light Center game [NSFW]. But all earnings have a daily cap.
Why would you want Rays? You can use Rays to buy sexy new skin, clothing, hair, and accessories to adorn your avatar. Or you may need some to enter certain private areas, pay for the services of a Working Girl or Working Guy, or buy or rent a virtual property. You also need Rays to send messages in the Red Light Social Center to people who are not on your friends' list and to add new friends.
You can also flat out buy Rays for about 8 cents each, with 250 Rays costing about $20. However, it's possible to avoid doing this if you're the frugal type and an active player; the Rays will stack up as you interact with the RLC portals.
Signing up
What's wonderful about Red Light Center is you can test it out without spending a dime. But while you'll be able to create an avatar, fill out your profile, and explore the game's vast directory of virtual venues, only paying VIP members can have sex. They are also the only members who can initiate conversations with other players.
So first you'll need to sign up for a free membership here [NSFW]. (You'll be able to upgrade to a VIP membership later if you decide that's what you want to do.)
You'll be asked to choose a male or female avatar. But don't worry, you'll be able to change the sex, or even pick a transgender or furry avatar, and make other customizations later. However, your avatar name can't be changed so pick one you like.
Red Light Center download
Once you've submitted the signup form, you should receive an email with a link to validate your account. After validating your account at the link, you should be directed to where you can download the Red Light Center game software.
Note that the file you want to download should be named RedLightCenterSetup.exe—this is the classic version of the game where you'll find the majority of players and events taking place. (A beta version of Red Light Center 2, which is meant for virtual reality, is accessed through the browser Curio. Its download file is named CurioSetup.exe., but we suggest trying Red Light Center Classic first.)
Run the RedLightCenterSetup.exe file by clicking on it and you will be taken through the installation process.
Customizing your avatar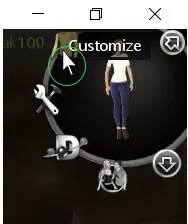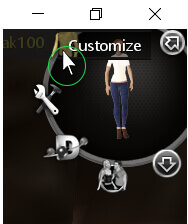 Now that you've installed the software, you can enter the virtual sex world and alter your avatar's appearance. Once inside Red Light Center [NSFW] take a look at the top right-hand corner. There you'll see an avatar inside of a circle dotted with various icons. Click the white shirt icon at the top to open the customize box.
You can choose to be male, female, transgender, or a furry. You can also pick a body size ranging from X-large to micro, though most players tend to pick the middle option of medium. While there are also several appearance and clothing options, paying VIP members will have a wider range of choices.
Although this customizer is a good place to start, the graphics quality isn't the most impressive. VIP members will want to take advantage of the Utherverse Clothing System in the Red Light Social Center. See the top photo for examples of how avatars can benefit from the higher graphics quality in the VIP clothing system.
There you can give your avatar a huge upgrade by buying new skin, genitals, breasts, and choosing from a smorgasbord of delectable clothing and accessories. These designs are sold for Rays, but there are decent-looking and sexy options you can find in the catalog for free or at low cost. Searching around is definitely worth it.
There are two ways to access the clothing system from the Red Light Center Social Center. Click "Clothing" in the top red tab to peruse and buy outfits and other accessories. Or click "Clothing" on the lower grey tab, to browse your purchases clothing and apply it to your avatar. You can browse outfits to buy here as well and click the "Reset Outfit" tab if you want to start from scratch.
Explore
This is where things start to get really exciting! Inside Red Light Center [NSFW] there are a few ways you can travel around. The simplest is to click "Explore" at the top of the screen, which will then show a pop-up with the tabs "Events" and "Directory."
To see what events or parties are happening now and in the future, scroll through the "Events" tab. If an event says "in progress" underneath it and it looks like fun, click that icon and you'll be taken there.
Or click the "Directory" tab and browse through a list of racy rooms and clubs that cater to a multitude of erotic tastes and fetishes. Again, click the location's name and you will be taken there.
If you find a spot you really enjoy being or are invited into a player's custom-made Zaby (an apartment), there's an easy way to create a quick link to it so you can quickly travel there in the future. When in the spot you like, click "Landmarks" at the top of the screen and then click the "create" button next to the name of your location. It will now appear in the list below. When you want to return you'll open up Landmarks again and click the spot to travel to.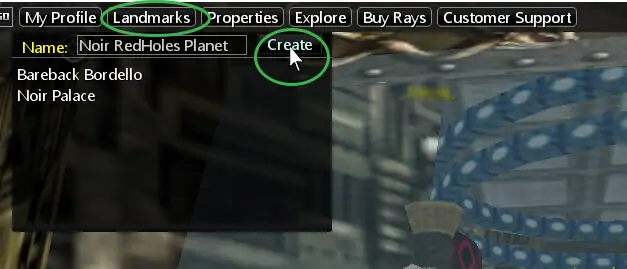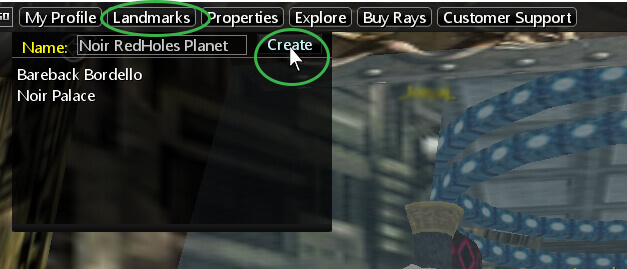 This last way of traveling that I'm going to explain is super important, particularly if you want to indulge in virtual sex with other players. This is the follow function! After some flirting, surely someone will invite you for a sex session. And if you are a new member, you'll likely end up going to someplace they own or a public playroom they suggest.
In order to follow a player, right-click on their name in the chatbox you are speaking to them in. (Chatboxes appear on the bottom left-hand side of the screen.) Next you will see a drop-down menu appear with several options, two of which will be "Go There (Avatar)" and "Go There (Zaby)." Once the player disappears to travel to your rendezvous spot, the safest bet is to click "Go There (Avatar)." This will take you straight to them.
Virtual sex
If you really want to learn how to play Red Light Center [NSFW], you need to know how to have virtual sex. We've got you covered with some tips to make it as simple and straightforward as possible.
Again, you must be a VIP member to have virtual sex in the adult world. These members are the ones whose names are in yellow above their avatars. Players must also be your "friends" before you can have sex with them. Right-click an avatar and the drop-down menu will appear again. Next click "Add To Friends." If someone invites you to become a friend, an alert will show up on your screen and you'll be asked to either deny or accept.
OK, so you already know how to follow someone to their sex pad. Now you'll want to know how to pick certain sex acts or positions for your avatars.
First, you and your partner/s will need to be near a bed (or sometimes another form of "sex furniture" or apparatus) and naked to initiate sex acts. To undress, click on the different body parts of the mini avatar icon at the top right-hand corner of the screen.
Then one of you will need to click the sex-initiating apparatus to invite the other for a romp. You'll know you've found one when you hover over an object such as a bed or an X-cross and your cursor arrow turns into a hand. After one of you clicks the object you are both close to, the other will receive a screen message asking them to accept or decline the offer to start virtual sex.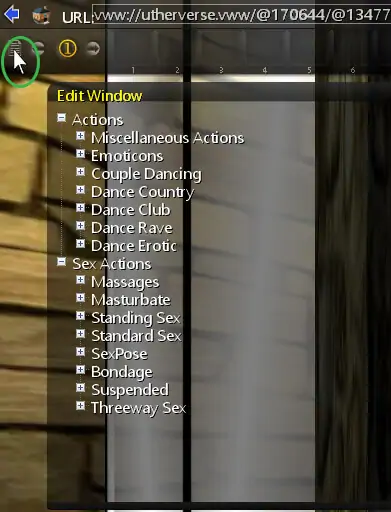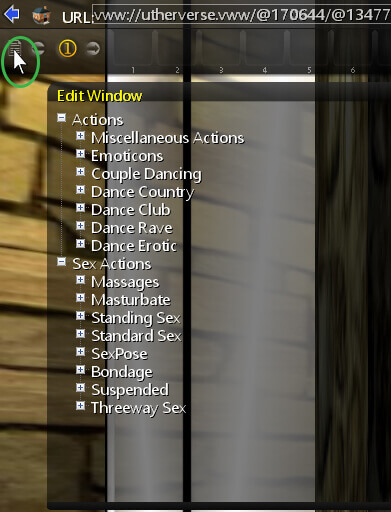 If accepted, a list of sex act options and speed controls will appear on the right-hand-side of the screen. This is similar to how if you enter a nightclub and a list of dance actions will appear.
If you want to invite people to try out sex acts you can choose from the list. However, I suggest creating a quick menu for your favorite ones. This is also a good idea for any non-sexual movements you may want to quickly carry out in Red Light Center [NSFW].
To do this, look at the top left-hand corner you will see a document icon under a blue arrow. Click the document icon and a list of sexual and non-sexual sex acts will appear. Now drag your picks' icons to the empty square slots in the row above and then close the edit window.
If you want to perform one of these actions, just click the related action icon. Note that some actions can only be performed in certain places. If one on your quick menu is not available in your location, it will be a darker shade.
Now you know how to play Red Light Center!
Red Light Center [NSFW] is a vast and seemingly infinite world in which you could easily spend hours exploring each week and still keep discovering exciting new areas. The instructions and tips we've explained here show only the basics needed to entertain yourself and spend time with virtual lovers. If there is something we've missed or you want to learn more about, let us know so we can better help you learn how to play Red Light Center.
In the meantime, get out there and uncover the mouth-watering delights waiting for you in the multiplayer sex world!
Image sources: Red Light Center [NSFW]