'Love and Sex with Robots' Conference Goes Virtual This December
The fifth iteration of the controversial sexbot event will feature online workshops, panels, and presentations.

Joining many other organizations recognizing the seriousness of staying isolated during the current COVID-19 pandemic, 2020's International Love and Sex with Robots Conference is will be online only.
Hosted by Virtual Brain City Berlin and to be run on the Cisco Webex video platform, the conference will take place on December 7 and 8, 2020.
In addition to offering attendees the opportunity to take part in various activities related to the study of "Intimate Relations with Robots," as the event puts it, the organizers have also put out a call for people in the field to submit papers for presentation.
Selected ones, after being peer-reviewed, will be published the special "Love and Sex with Robots" issue of the Journal of Behavioral Robotics.
Presentations will also be considered for the 2020 Dr. David Levy Special Best Paper Award.
Conference topics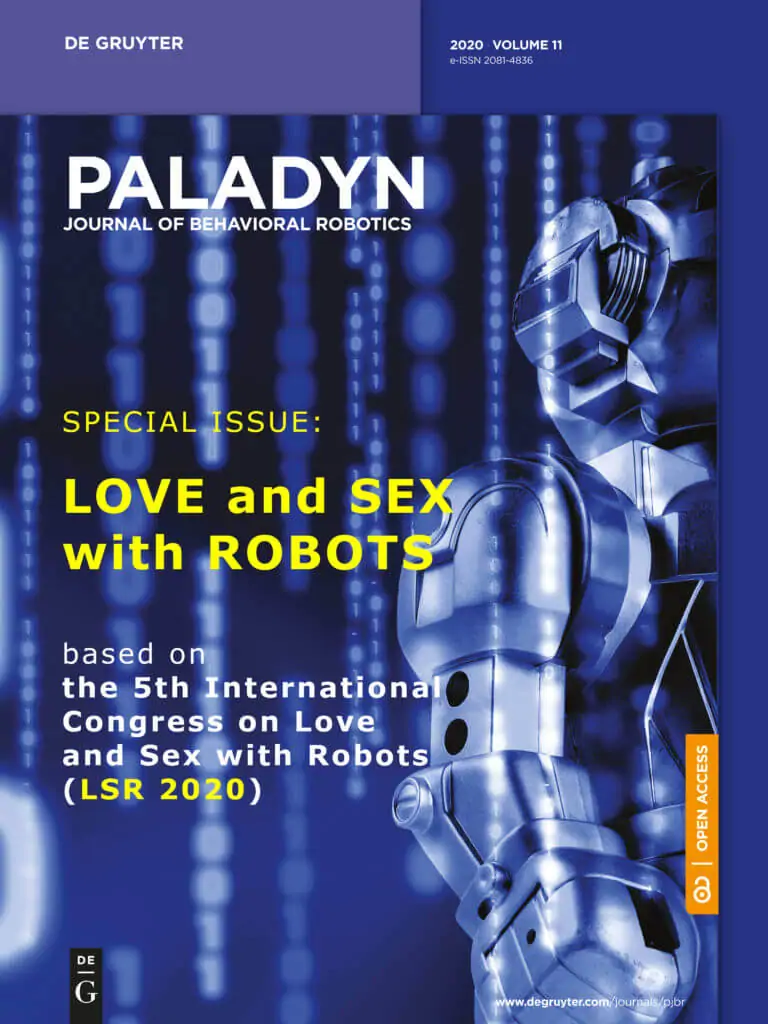 This year's conference is focused on startups as well as sexual robotics in general. Presented topics will cover intelligent electronic sex hardware, teledildonics, clone robots, gender approaches, and robo-ethics.
As mentioned above, the conference is currently open to submissions on these topics. Those interested in potentially being chosen to present at the event, as well as having their work appear in the Journal of Behavioral Robotics, must submit proposals by September 5.
Those interested in attending, meanwhile, must pay $299 for full registration. However, graduate students, press, and others may qualify for a greatly reduced rate.  Attendees will also receive a free Love and Sex with Robots Conference T-shirt.
Notable keynote speakers
Currently, the Love and Sex with Robots Conference has two highly regarded keynote speakers scheduled to appear.
The first is the Professor for Entrepreneurship at the Berlin School of Economics and Law (BSEL), and Academic Director of the BerlinMBA in Entrepreneurship, Dr. Sven Ripsas.
Among his many accomplishments, Professor Doctor Ripsas is conducting research on Corporate Innovation and Entrepreneurship, Business Model Development and Entrepreneurial Ecosystems, and Entrepreneurship Education.
He is joined by Professor Doctor Ingo Rollwagen, at the Fresenius University of Applied Sciences, specifically for Management in creative and knowledge industries.
In addition, he has been an expert on Technology and Education, and Corporate Foresight for DaimlerChrysler's Society and Technology Research Group, Berlin. Of note, his doctoral thesis was on synchronizing, politics, economics, and science in regards to virtual reality and immersion technology.
The conference's overseeing committee is equally well known in the field, featuring Professor Dr. Adrian David Cheok, who has helped organize previous Love and Sex with Robots Conferences along with similarly attending Dr. David Levy
Also involved are Program Chair Nicola Liberati of Shanghai Jiao Tong University, and Academic Chairs that include Prof. Dr. Alexiei Dingli from the University of Malta, His Royal Highness Prince Akinwale Ojomo, and Dr. Bosede Edwards of Raffles University in Iskandar, to name only a few.
Years of problems and controversy
Any news about a current Love and Sex with Robots conference must be tempered by noting how previous events have been fraught with problems, sometimes leading to the conference being moved last minute if not outright canceled.
We've covered a great deal of this before in detail, but it's still worth briefly touching on a few of these instances to put the 2020 conference in perspective.
In 2015, the 3rd Love and Sex with Robots event was originally scheduled to take place in Malaysia. But then that country's government threatened the organizers with possible arrest if they went through with it.
This caused the conference to be postponed and then moved to London. But even then, the location was kept secret until the last minute after Adrian David Cheok reported threats by what he called "Muslim Extremists."
Jump ahead to the 4th conference, scheduled for the winter of 2018, which was to feature RealDoll CEO Matt McMullen. It was abruptly canceled, however, after a massive backlash over the organizers inviting co-founder of right-wing Breitbart News, Steve Bannon, to speak.
It's worth noting that, as opposed to other conferences, the current one is not sponsored by ACE (Advances in Computer Entertainment Technology) and is now a stand-alone event.
December could be interesting
With these controversies in mind, we'll have to see if the 2020 Love and Sex with Robots Conference brings its own set of problems and issues.
Or, perhaps, this change from being a physical one to an online version might be just the thing to help leave the conference's problematic past behind.
In any case, as with other events that have made a similar move, going virtual does offer a very clear advantage: that previously Love and Sex with Robots could only reach those attending in person, it can now deliver the same amount of information to a much greater number of people.
And those "more people" importantly means raising awareness of this important topic: one that's even more so during these days of #stayingathome, when so many seriously struggle with loneliness and being emotionally and sexually isolated.
Image sources: Love and Sex with Robots Conference