Open Source Sex Tech: the DIY Edition
If there's one truth about the future, it's that it always feels light years away—until it arrives.
A few months ago we came to you with one pressing question: are patents to blame for stalling teledildonics? The short answer seemed to be, well, yes. But that doesn't appear to be stopping people from trying to realize a bright future for sexual technology, even if it has to be done in garages and basements rather than high tech labs.
In particular, a number of small companies and organizations are sprouting up to fill the need where patent holders have quashed development for large corporations. And they're offering interested individuals the opportunity to try their hands at creating open-source, patent-free sex technology in the comfort of their own homes.
Ambrosia Vibe
The Ambrosia Vibe first gained media attention in June 2014, when Orgasmatronics began crowdfunding for the responsive vibrating dildo via Indiegogo. In August, the campaign ended with funding that more than doubled its initial goal. Now only three months later, the very first "bionic strap-on" is available to order.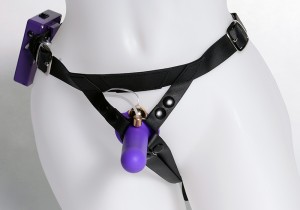 Image Source: Orgasmatronics
But perhaps the most exciting news from the company is its decision to make the Ambrosia Vibe open source.
Inventor and Orgasmatronics CEO Doctor X. Treme explained the reasoning behind this decision on the Orgasmatronics blog:
"I have decided that I want to work in a way that I believe in.  As I was working on patents, I increasingly felt a disconnect between my work and what I believed.  I see patents hurting our industry, stifling innovation, and generally being a not fun time.  Sex should be consensual and collaborative and patents are none of these things.  The patents I see going out in this industry are for things that are most obvious and would be trivial for a competent engineer to reproduce.
Many of the best products are not patented (the rabbit, the Hitachi, the 5 dollar bullet vibe.) Open hardware works in business when the ability to grow the market size by being open outweighs the value of a monopoly."
For the Doctor and his team, a commitment to open source sex tech means:
"1. We don't patent the Ambrosia technology.
2. We tell hobbyists how to build their own from scratch.
3. We tell people enough about it that they can remix it in their own commercial products (and have hardware licenses that allow this).
4. We tell customers who buy our products how to take them apart and hack them, including re-programming the firmware and connecting to other hardware."
And true to his word, in early October, the Orgasmatronics team published an article on its site detailing the technology behind the responsive dildo in a short, information-packed video.
With this information, plus the step-by-step instructions offered in the rest of the article and the right ingredients, you can cook up your very own DIY bionic strapon!
And Orgasmatronics isn't alone in bringing DIY sex toys to the masses.
CoMingle
The now infamous do-it-yourself sex toy repository CoMingle.io was created by three Georgia Tech students "targeting innovation in interaction and stimulation." They received a massive media response for one of their first projects, an open-source digital condom demonstrated in the video below.
While the idea bank has only been operational since August, it's already added several more how-to articles since introducing the Electric Eel. In addition to two articles covering code basics and advanced methods for sex toy programming, the group has posted lengthy DIY instructions to help anyone with the right skills and materials to recreate the site's programmable silicone vibrator, the Comingle Multivibe, currently in beta testing.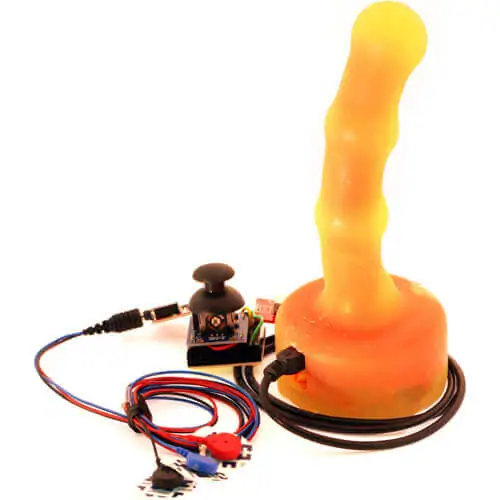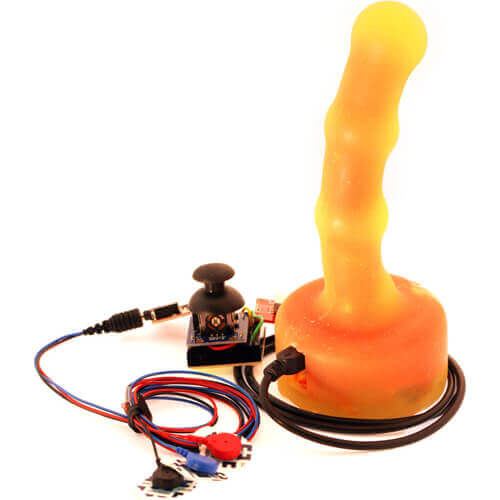 And from the looks of things, these guys are just getting started. Their Multivibe has won several awards already and they just announced a crowdfunding campaign to get the Mod platform into production, allowing users to connect any number of sensors as input devices to control the vibe. Once this toy is out of beta and into the hands of happy consumers, who knows what will be next for the innovative young startup.
Oculus Rift
While it certainly isn't dedicated sex technology, the Oculus Rift virtual reality (VR) headset has joined the ranks of open source sex tech with the release of the DK1 developer kit. When Oculus acquired the C++ game networking engine Raknet in July, Oculus VR immediately made the platform open source for the indie development community.
That this kind of virtual reality technology will inevitably be used for sexual stimulation is unquestionable. Few producers currently have the technology necessary to create realistic immersive VR entertainment, let alone the kind of tech that would allow people to shoot their own VR adult entertainment at home. But that hasn't stopped them from trying!
Sugar DVD announced that it would have titles available this summer, but they are currently still in production. One Spanish company [NSFW] has about 25 short 10-minute clips in its library for a variety of VR devices. Another company, VRSmash, currently has 32 options to choose from, including both video and still models.
A quick Google search will reveal that dozens of companies are advertising a variety of XXX virtual reality games and interactive videos—the best of which are most likely to be animated and purposefully non-realistic renditions of sexualized bodies, primarily coming from the Japanese market.
All of this technology has one thing in common: small, smart, tech-savvy startups that don't want to be mired down by patents and procedures. It seems clear that future-driven creators don't want to be caught up in legal battles, that real innovation comes when the technology can go in whatever direction suits its development without being stalled by a human need for power and control over it.
And yet, despite all these best efforts, the available technology still seems to be lagging behind our best wishes for it. Of course, if we had all the technology we've been dreaming about for all these years, where would we go next?
From DIY sex toys and interactive teledildonics to immersive virtual reality, the real question remains… how long will it take for the technology to catch up with the fantasy?
Image sources: Comingle.io