Digisexual Identity Will Grow, Yet How Fast Likely Depends on Supply Chain
AI sex doll software will improve as hardware lags behind.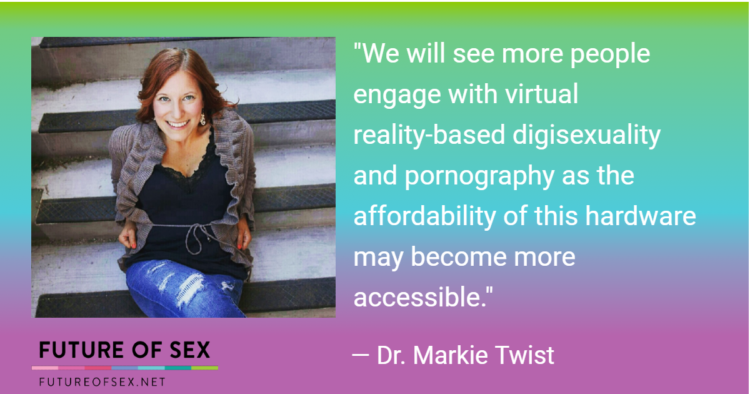 As part of our ongoing Future of Sex Expert series, Dr. Markie Twist shares what she expects is in store for sex tech in 2022.
I think we will continue to see digisexual engagement.
I think that synthetic companions (or what is more popularly, and outside of the community, frequently referred to as "sex dolls") will continue to be purchased and used for both digiattachment (digital attachment) and digisexuality purposes.
Hardware lags as AI improves
I think that the synthetic companions will continue to have more advanced artificial intelligence (AI), but will still lag in terms of the hardware component—meaning, their "skin" is typically silicone-based, which easily tears and I don't believe this will be amended in the coming year.
We may see more variety in synthetic companions in the next year, but I don't think there will be huge changes in options yet.
VR-based digisexuality
I think we will see more people engage with virtual reality-based digisexuality and pornography as the affordability of this hardware may become more accessible for a greater number of people.
However, both of these future year predictions rest upon global supply chains working smoothly, which might not be a reality given the ongoing COVID-19 pandemic, and if that impacts the hardware development and transportation then neither of these growing areas of digisexuality will experience much growth.
Regardless, I do think we will see a growing number of people identifying as digisexuals and/or robosexuals as identities are commonly more complicated and bigger than just behavioral engagement (which could be impacted by supply chain issues).