PillowPlay Wants to Bring Intimacy Back to Your Relationship
PillowPlay rose from the ashes of Blindfold, but has removing the veil been enough to create the best in aural intimacy?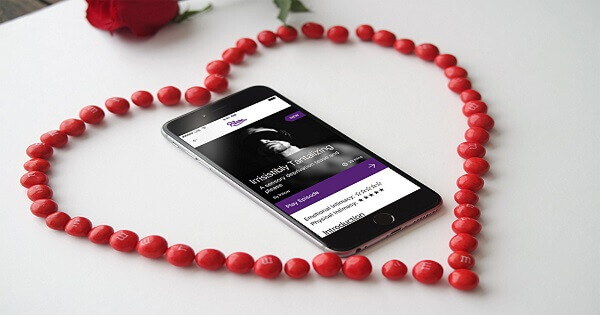 A common complaint for many couples in a long-term relationship is that the fires of passion stoked during their honeymoon period soon become embers.
That's not to say the love and affection have gone, but those heady first days of exploration of your partner's mind and body can give way to routine, over-familiarity and yes, even boredom.
There's no shame in that. It has happened before to many and it will happen again to many more. The question is: do you want to arrest that slide and recapture the magic?
The next episode of sex tech?
PillowPlay—launched this February for iOS—is the covert sex-ed startup that aims to promote both new and rediscovered levels of intimacy between couples. PillowPlay was co-founded by British pair Darren Smith and Laura Stucki.
PillowPlay gives users ten initial "follow-along sensual adventures"—or "episodes"—in which a voice backed by ambient music provides couples with different instructions, ideas, and methods designed to stimulate conversation and interaction.
Technology gets a bad rap for being intrusive and obstructive in people's lives, but PillowPlay wants to prove that tech can bring people together in the most fundamental way instead of driving them apart.
Each episode—with male and female options for the narration—are between seven and 25 minutes in length. They are created by PillowPlay's own in-house sex therapist, Kate Moyle. The structure of each episode varies greatly. Couples will be able to experiment with touch, pace, appreciation, anticipation, eye gazing, sensory deprivation, and temperature play.
PillowPlay doesn't follow the trail of other apps—sex-based or otherwise—by having you believe their product is essential and to be used at all times. Instead, it wants to act as a mediator or a way to "top up" your intimacy levels.
"The feedback we've got from the beta testing has been overwhelmingly positive," Smith told Future of Sex. "To me that's saying that there's a need—an interest—for this. We're at the stage where we need to ramp up content creation. Our plan for the next month is to reach out to all kinds of different writers."
PillowPlay prides itself on being sex positive, female positive and—with its episodes using non-gender specific pronouns—completely accessible to LGBTQI couples. It also promotes consent, with stages of different episodes requiring partners to ask each other if they are comfortable with each step and happy to proceed.
Removing the Blindfold
Launched originally as Blindfold in 2015, the so-called "Siri for sex" was forced back to the drawing board after customer feedback and reviews pointed out avoidable flaws in their product.
"People either loved it or hated it," said Smith. "The people that didn't like it were expecting something far more kinky than we were actually delivering. Calling it Blindfold probably didn't help either."
A muted and weary reaction from LGBTQI communities also forced a rethink.
"I remember some of the early press saying 'oh look here's another app for heterosexual couples'," recalls Smith. "So we went back and redesigned it for all couples. It's really important that we don't leave people behind. We didn't do it for Blindfold and we were punished for it."
Dr. Stucki joined the team toward the end of 2015 and Smith credits her with keeping the ship steady as the launch date approached.
"Laura's background is in strategy and product management and her work since becoming co-founder has been invaluable," said Smith. "Having a female co-founder for something like PillowPlay is essential and her input since joining has given me another perspective on how to approach the concept."
Sexual creativity through collaboration
Pillow is a reaction to what Smith felt was an urgent lack of education and conversation around sexual intimacy, particularly in mainstream media. Pillow's mission draws parallels with the work of Cindy Gallop, whose relentless push for openness about "real world sex" provided the inspiration for Smith and Dr. Stucki.
"It annoyed me to read articles promoting intimacy where they say 'do this and then just be creative,'" said Smith.
"'Just be creative'—if you think about people learning about intimacy and sex, maybe for the first time—doesn't mean anything. We still need to learn from somewhere. That mostly comes from pornography and that's not the best way for a younger generation to learn about sex."
Smith's career was forged in education and gaming. After a successful stint with Mind Candy—creator of Moshi Monsters—he moved onto Memrise. As a result, Smith wants to combine playfulness with education into Pillow and let it run to its logical conclusion.
"We lose our sense of playfulness—particularly with intimacy—as adults, but it's so important to keep. We take it too seriously. We're scared of it. We don't talk about it. If we brought lightheartedness to it then maybe we could make the world a better, more peaceful place.
"That's what I believe. It sounds a bit silly, right?"
On the contrary. The world needs more people like Smith and Dr. Stucki, and we all need a comfortable pillow on which we can rest our heads.
Image source: Pillow