Pay for 'Emotional Labor,' Sex Work, and VR among Topics Discussed at Virtual Sex Tech Conference
The pandemic may present women an opportunity to recreate and redefine the industry as their own.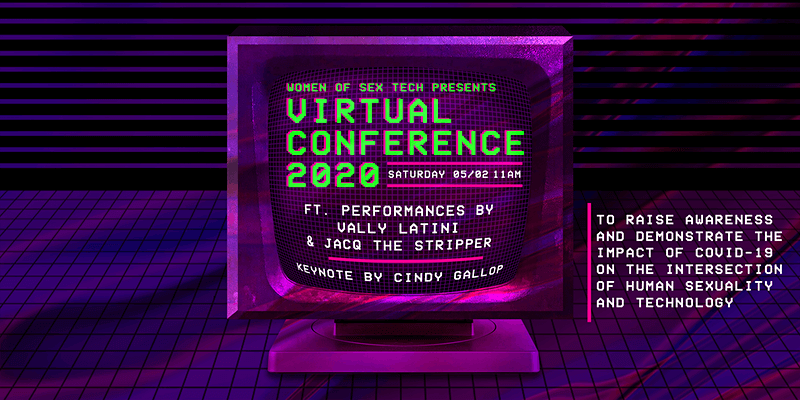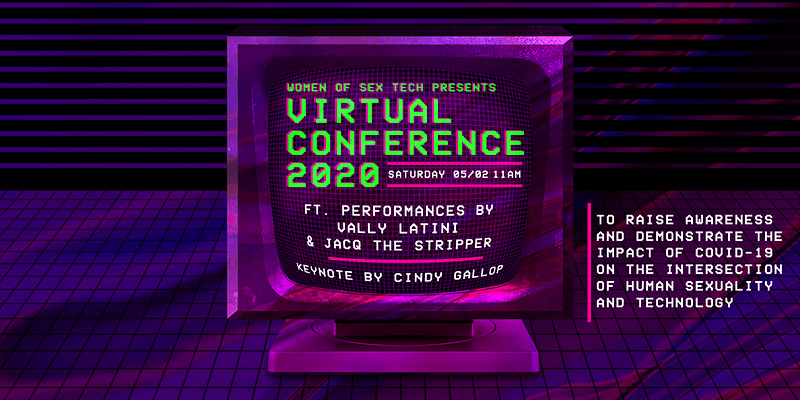 Earlier this month, the 2020 Women of Sex Tech (WoST) virtual conference drew more than 600 global participants who came to learn about the views and experiences of women during the pandemic.
Women of Sex Tech is an organization of women-identifying, fems, and non-binary people who champion sex positivity in the sex tech world.
Political at times, the event highlighted the ongoing challenges for women regarding equity, rights, safety, gender, and economic disparities, and of being validated for all the work they do in the sex tech industry.
Held on May 2, the mission of the live-streamed conference was to "raise awareness and demonstrate the impact of COVID-19 on the intersection of human sexuality and technology."
It almost didn't happen, however. The virtual event was originally set to stream on YouTube, but conference organizers made a last-minute switch to Crowdcast after having its feed shutdown on the Google platform.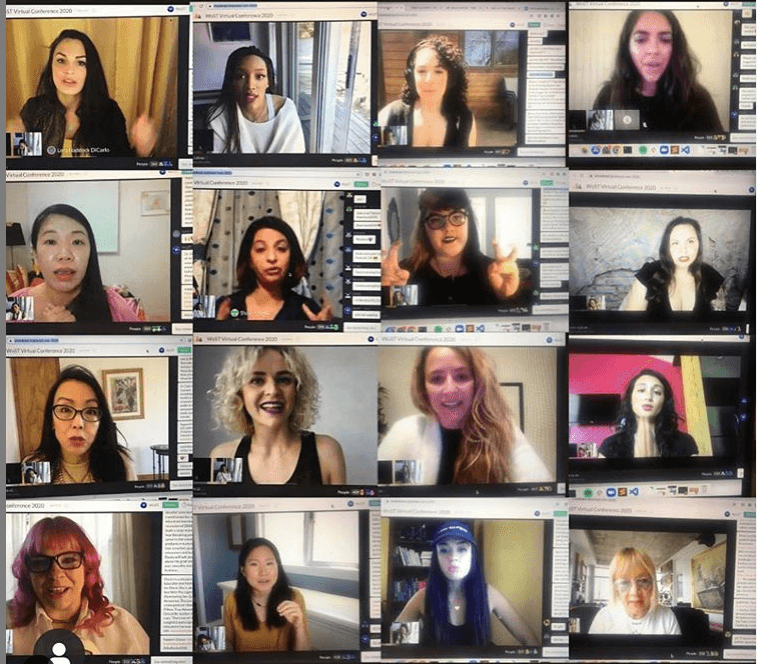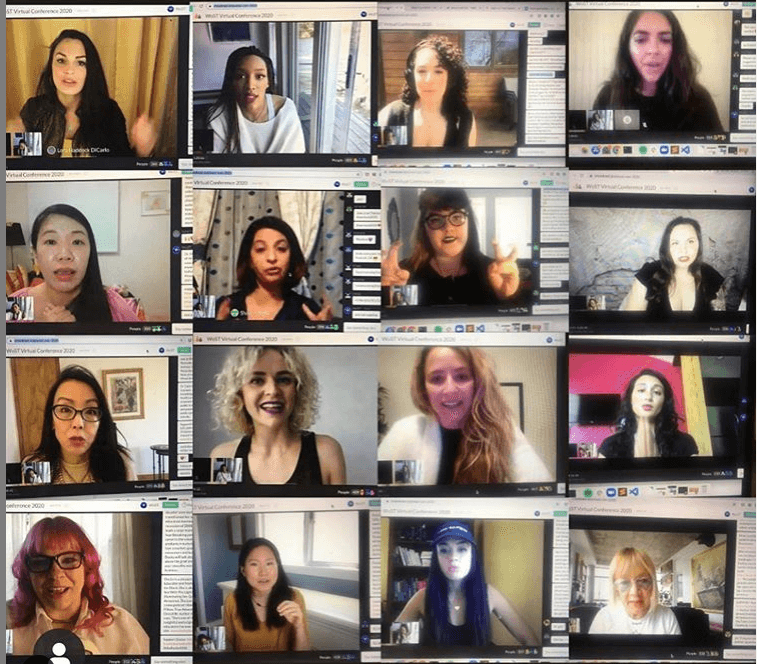 It was hosted by SX Noir, the vice president of WoST, and featured 17 speakers including keynote speaker Cindy Gallop of Make Love Not Porn [NSFW]. In fact, the event's presenters came from all over the world including the USA, Canada, Australia, Singapore, India, and the UK.
The need for women to be paid; in particular for their "emotional labor" and as the predominant carers of the world, was highlighted by multiple speakers at the conference.
In this regard, whilst the conference was free, attendees were encouraged to donate to each speaker or to a charity of the speaker's choice.
SX Noir, Cindy Gallop, and Jessie Sage (who talked about online sex work during the pandemic) all shared similar sentiments regarding the ongoing lack of recognition—and therefore financial reward—of the more-than-physical role women have in the services they provide.
In her keynote, Cindy Gallop, however, said what we're witnessing now is a change in how the "caretakers" of the world are seen. COVID-19 has allowed caretakers and frontline workers (who are typically women) to finally be recognized for the important work they do.
And herein lies opportunities to change the (sexual) social equation that has typically been geared toward men.
Presenters also discussed the opportunities and challenges the pandemic presents for women in sex tech.
Annie Brown and Val Elefante are the founders of Lips; a social commerce platform to encourage honest and open creative expression by women and those in the LBGTQ+ community without censorship.
Along with Cindy Gallop, they spoke of how most sex tech has been created by people who have limited understanding of the needs and nuances of women or LGBTQ+ people.
Given this, the pandemic presents women in sex tech an opportunity to recreate and redefine the industry as their own.
Bryony Cole, who hosts sex tech hackathons and is the host of the Future of Sex Podcast spoke of how the pandemic also presents opportunities for those women seeking to start a career or company in sex tech.
With the sex tech industry already booming, and Bryony outlined strategies on how to break into the field, manage censorship challenges, manufacturing dilemmas, and other risks associated with working in a sex-related field.
Speaker Shakun Sethi, the founder of sex-positive publication Tickle.life, talked of how sex tech will redefine post-pandemic sexual behavior, particularly in regard to people who are in the exploratory stage of understanding their sexuality and desires. The pandemic has allowed more people (now confined to home) to explore these desires via online conversations and purchasing sex toys.
Ducky Doolittle who has extensive experience working as a sex educator and marketing sex toys reiterated the validity of sex toys being essential goods. During a pandemic, sex toys offer comfort, pleasure, and connection to people; and play an important role in peoples' well-being when under stress.
Virtual reality (VR) in the sex tech industry has allowed for events that have been canceled due to COVID-19 to occur online.
Angelina Aleksandrovich of Raspberry Dream Labs, said the pandemic also presents opportunities for VR sexual experiences, which is currently being researched and built by RDLs.
The COVID-19 pandemic has also presented many challenges to women in the sex tech industry.
Sarah Brynn, sexuality writer and sex toy consultant, highlighted the increase in restrictions of women's rights to access abortions in the US during the pandemic. If abortions are not seen as an essential medical procedure, this further exacerbates already existing inequalities for women.
The Eliminating Abusive and Rampant Neglect of Interactive Technologies Act (EARN IT Act) was introduced in the Senate in early May 2020.
Mistress Blunt argued that the Act stands to further erode rights for those working in the sex industry; likening it to the FOSTA-SESTA Act which sought to reduce human trafficking but eroded the rights and platforms of workers in the sex industry.
Saying the EARN It Act threatens free speech and digital security, Blunt described the Act as an attack on end-to-end encryption and private communications.
Given that the vast majority of sex-related transactions and services are now occurring online, Blunt expressed deep concern as to how this relates to this female-dominated industry.
A further challenge of the pandemic exists for those who seek to date but are now restricted to online communications and interactions.
For victims of digital abuse (who are overwhelmingly women), this weaponizing of technology presents a significant barrier and can re-traumatize people during COVID-19, stated Norma Busteer
This in turn can lead to decreased social connections at a time when many women are needing more connection than ever.
Digital companionship service during COVID-19, was also discussed by SX Noir.
She stated the people are experiencing "touch deprivation" right now, and emphasized the importance of social connections and intimacy.
Herein is where digital and online sex tech plays a key role in keeping peoples social and sexual needs met. However, ensuring that the women offering these services are adequately paid and validated for the work they do, is an ongoing challenge.
The conference was closed by WoST president Alison Falk, followed by Jacq the Stripper who offered an opinion via her mainstream persona, rather than her original planned performance.  
An earlier performance by musician Valley Latini on her guitar from home provided commentary on one of the dominating themes of the conference—the need to pay women for all of their work. Valley's single "Pay My Rent" is a commentary on the topic.
Image sources: Women of Sex Tech