Introducing Fin: Kickstarter's First Sex Toy
Meet the finger-vibe that's broken the erotic crowdfunding ceiling.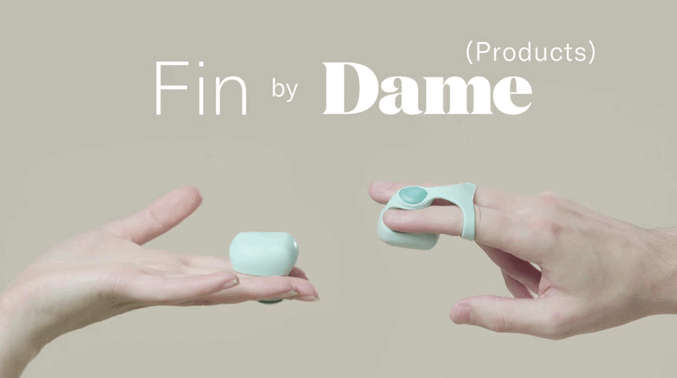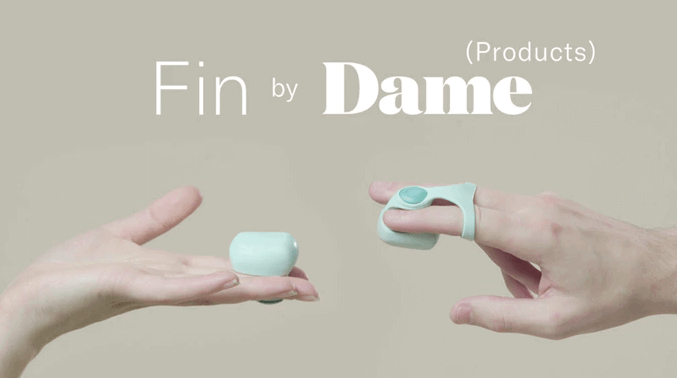 Here's a quickie quiz for you: what does Indiegogo have that Kickstarter didn't, until very recently?
The answer was sex—or, to be more specific, sex toys.
Then the Fin arrived.
Welcome, Fin
The brainchild of Dame Products, the Fin is billed as a "vibrator for fingers"—though its intended purpose, like many sex toys, is definitely much more below the belt.
However, unlike—shall we say—phallic devices, the Fin is worn and controlled by the user's two fingers. "It seamlessly adds vibration to foreplay and sex, without spoiling the mood," Dame says on its Kickstarter page.
While other finger-vibrators have hit the market, the Fin is unique for its groundbreaking Kickstarter campaign, if nothing else.
The crowdfunding wall
While other crowdfunding sites, such as the already-mentioned Indiegogo, have welcomed sexual devices, Kickstarter had previously kept themselves technologically chaste.
As Lux Alptraum reported, one reason for Kickstarter's denial of sex aid crowdfunding may have had to do with its original payment system, Amazon Payments, which refused to deal with anything "adult oriented." That argument doesn't hold much water, however, as Kickstarter has since moved to Stripe, which doesn't have any trepidations against sex tech.
It would be nice to report that Kickstarter's change of conscience in deciding that every innovator, no matter the intended purpose of their products, deserve access to the crowdfunding platform.
Alas, according to Alptraum, the decision may have been more about persistence and familiarity than about Kickstarter realizing the legitimacy of sexual technology.
As Alexandra Fine, the cofounder of Dame Products, put it: "Kickstarter is literally around the block from us. We know them."
Getting into Kickstarter
Using their Brooklyn neighborliness, Fine managed to secure a meeting and them, eventually, a kink in Kickstarter's armor—leading to Fin's placement on the popular crowdfunding site.
But sharing a city in common may not have been the only factor in getting Kickstarter to change its mind. After all, Dame Products is no virgin when it comes to crowdfunding: its first product, the Eva—"the first truly wearable couples' vibrator"—was immensely popular on Indiegogo. Clearly, Fine and Dame Products know very well how to play the crowdfunding game—as well as Kickstarter's.
Despite her product's achievement, Fine still has some criticisms of Kickstarter's "family friendly" bias. "When you just cut off a whole industry the way the sex toy industry tends to get cut off, you're just… keeping everybody in the shade," Fine says.
Alptraum's article points out that products such as Semenette and Autoblow, both of which should technically qualify to be on Kickstarter, might fail to do so because of their "lowbrow" marketing.
While Dame Products, Alexandra Fine, and the new Fin sex toy deserve recognition for doing what no one else has done before, their victory highlights Kickstarter's aim to portray a particular image. Agree with it or not, Fine says "it's really about what lines up with [their] brand as Kickstarter."
There's hope, however, that Dame Products has cracked, at least a little, Kickstarter's barrier—paving the way for other sex tech companies to get their fair share of crowdfunding exposure.
Image source: Dame Products