How to Bring Sex Tech into Mainstream Spaces: A Guide for Conference Speakers
Tips for getting talks on sexual innovation accepted at general technology symposiums.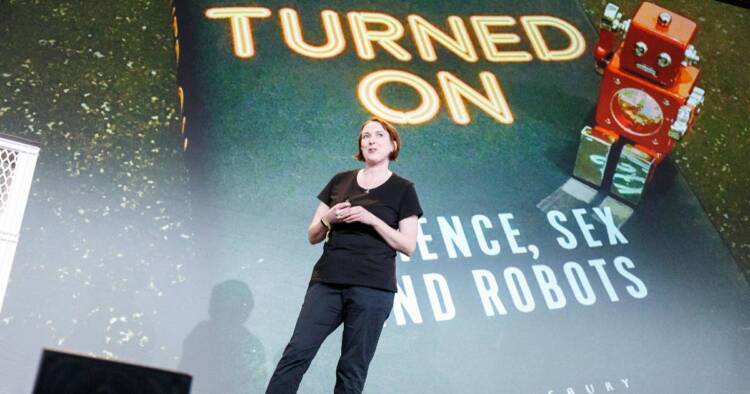 Despite its billion-dollar industry valuation, sex tech isn't featured at mainstream technology conferences.
There are many reasons for this, ranging from general social stigma to event organizers not thinking it's worth the risk. Regardless of why it's clear that nothing will change until there's more representation. That's why it's up to those of us with an interest in sex tech to spotlight these topics and normalize professional discussions around sex and sexual wellness.
Here are some tips for bringing your sex tech topic to a traditional technical stage.
Before submitting your talk proposal
Establish credibility
"There is something to be said about who is delivering the content," says developer event organizer Kevin Lewis. Lewis runs a number of intersectional technical events, including the You Got This conference series and previously Goldsmiths' Sex Tech Hack.
The risk with sex tech as a topic at any event really but especially in [more traditional] professional settings is it can go south really quickly… and when that happens, the ability to make people uncomfortable in your space goes up a lot.
Showing that you're a professional in this space can help combat this hesitation from organizers. One way to do that is to create content—blog posts, videos, whatever your preferred medium is.
"I don't need someone to have experience speaking, I just need to know that they're actually going to come at this from a respectful place," Lewis adds.
Find your topic
Talks are almost never about sex tech alone. There's always another angle—whether that's hardware, security, ethics, or something else entirely.
"You can talk about the topic, as it relates to another one of your interest areas," says Lewis.
He highlights Kate Devlin as someone who does this well, presenting topics like the ethics of sex robots: "You could quite easily go to a conference where the ethics of [artifical intelligence] is a totally valid and appropriate topic and then bring in this additional viewpoint or expertise or just an example [using sex tech]."
Once you've figured out your topic, Lewis says that should inform where you decide to apply.
"Go find the intersection of sex tech and your other interests and then be where people would accept talks about those other interests," he says.
RELATED READ: Tech Conference Organizers: Sex Tech Breaks Taboos, Not Codes of Conduct
While preparing your proposal
Focus on the talk description
Your talk description is the first impression to the organizers. It's also usually used in conference programs if the talk is accepted. It's crucial that these one or two paragraphs capture the essence of your talk and entice people to want to listen.
If your talk covers anything requiring a content or trigger warning, list those first. Consider following that with a problem statement or other evidence on how this talk will be relevant to attendees even if they don't work in sex tech.
"Is it relevant to the audience, or a large enough amount of the audience, or are there transferable concepts or learnings to non-sex tech that make this valid," says Lewis, explaining what he looks for in talk descriptions.
Include a detailed outline
Most of the time, an outline will be listed as an optional part of the application. However, if you're planning to pitch a sex tech talk, you should be including one.
Much like the description, the outline is a preview of your talk. The main difference is that the outline won't be visible to attendees, so you can give organizers a clearer picture of how you'll be presenting your topic—which ultimately should help calm their nerves.
"I need to understand what the content of the talk is going to be, at least in broad strokes," Lewis says.
With more risky topics [like sex tech], I might need to see a full rundown of content or there needs to be a rehearsal or a check-in before the event where I know I have the ability to pull that person out of the lineup if required.
After you've been accepted
Coordinate with the organizers
It's up to the organizers to create a respectful environment for discussion, but they can't do this without input from the speakers.
Along with participating in potential rehearsals or check-ins, you may also need to alter aspects of your talk based on organizer feedback. Keep in mind that what you'll need to change may vary depending on the country you're presenting in.
Software engineer Michaela Lehr went through this process when creating her talk about connecting the Web Bluetooth API and Web Audio API to her vibrator.
"To not violate the Code of Conduct, I talked to the organizers before the talks and removed everything sexual," she says. "Porn [was exchanged for] a Buffy [the Vampire Slayer] episode, the vibrator looked more like a fish with googly eyes than phallus, I never mentioned the words porn or sex."
Respect the Code of Conduct
Be sure to read through the event's Code of Conduct while you're developing your presentation and adjust your talk accordingly. Most Codes of Conduct won't mention sex explicitly, so don't hesitate to ask the organizers questions if there's anything you're unsure about.
Image source: republica GmbH, Michaela