Nightlife Has Been Changed Forever — Here's What Lies Ahead
Advancements in virtual reality and online worlds may alter the nightlife landscape permanently.
"You know, you really have to be careful when you ask for projected timelines," Dr. Anthony Fauci told a reporter when asked about lifting pandemic restrictions.
Restrictions are here to stay, for now — so what does that mean for the future of nightlife and kink play?
I predict online venues will prove to be alluring permanent replacements for packed clubs and gatherings, especially for those who are less inclined to feel the crush of a crowded room.
Bye-bye, COVID!
Let's begin by imagining the day that we wake up in a world where vaccinations, masking, and social distancing finally eliminated COVID as a worldwide health crisis.
It's not hard to predict that there'll probably be long-lasting social ramifications.
After all, you can't expect human beings to suddenly go from standing six feet apart to hugging, kissing, or being intimate whenever they like.
"The thing of it is that this is actually is a life-changing event. I don't mean for just us personally. I mean for the planet," Dr. Irwin Redlener, said in a WebMD article.
The director of New York City's Columbia University's pandemic resource and response initiative added "And it's going to be a long time before things return to whatever it is that we envision is normal."
Human adaptability
As we've previously covered, humans can be pretty good at adapting to unusual circumstances, like sexbots becoming companions, the rise of teledildonics and remote intimacy technologies, and even virtual group sex experiences.
For some, the development of these and other ways to try and cope with the pandemic is a necessary evil. For others, technology-driven intimacy has become a dedicated preference.
A survey by Match.com discovered a significant shift in how people dated online during the pandemic. People are more interested in seeing videos before meeting and dating "intentionally."
The future of connection
Speculating on this, we might see fewer anonymous hook-up spots and more brightly lit spaces where people can socially interact in a comfortable, relaxed environment.
This could change in more sexually charged venues, as well.
Take BDSM conventions, for example, where in-person dungeon spaces could be supplemented with smart sextech. This would allow those who prefer to stay home the ability to join in on the action along with those attending in person.
A new kind of club for a new type of world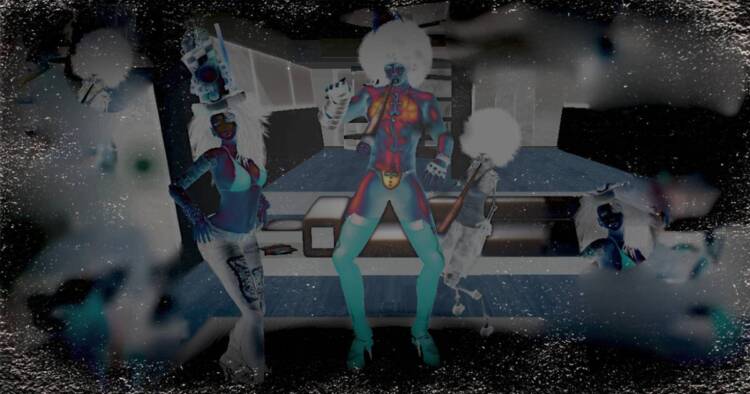 Though showing its technological age, Second Life has become hugely popular as a way for isolated people to mingle and party during the pandemic.
Compliments of its thriving sexual-modification economy, players can equip their avatars for one-on-one or group sexual experiences.
I predict that some kinky entrepreneur is bound to realize how profitable something like an upgraded Second Life, built specifically for online sexual interactions, could be.
Mix in a partnership with Lelo, Kiiroo, or Lovense, or other sex tech innovators, and we may have a bleeding-edge place to meet, greet, laugh, dance, and sexually interact with others to our heart's content.
Hope for the best
As the Delta variant spreads and a large portion of the world's population remains unvaccinated, we must face the real possibility that COVID isn't going away anytime soon.
However, there's no reason why nocturnal social gatherings won't continue to evolve.
One concept that's being tried out right now is to expand nightclubs: replacing densely packed, in-door venues with open-air events.
Gideon Kimbrell explained the situation well in Rolling Stone: "Even if cases plunge imminently (which seems unlikely), the stigma associated with packed indoor spaces will linger. Now is the time for venue owners to embrace outdoor space, and if they have none, consider expanding or moving to a space that allows it."
Couple physically spread-out events with our previously-mentioned virtual nightclub, plus whatever new ideas people come up with in the interim, and we could be able to party no matter how long COVID is with us.
Image sources: Willard, Jernej Furman, shiver menna, Chris Morgan, Marcelo