Getting to First Base in Second Life: A Virtually Fun Guide to Virtual Sex
Tools, tricks, and techniques to having a sexy time in the virtual world.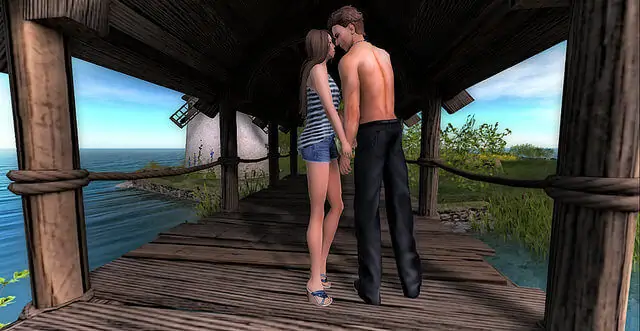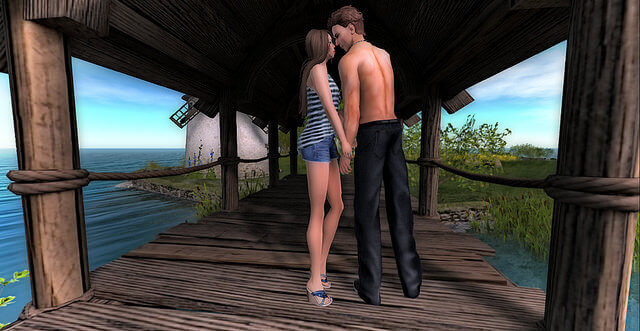 Despite being created back in the sticks and stones era of (gasp) 2003, Second Life has remained a virtual second home to over one million users.
For many of its fans, Second Life's allure is all about freedom. With pretty tolerant owners, Linden Research, Inc., and a robust and wildly various modding community, Second Life has become anything for anyone.
Especially in regards to sexuality.
While there are other MMO (Massively Multiplayer Online) experiences available that are specifically designed for virtual sex play—such as 3DXChat [NSFW], Red Light Center [NSFW], and Chathouse 3D Roulette [NSFW] (all reviewed here on Future of Sex)—Second Life still remains one of the most preferred domains for digital erotic entertainment.
In addition to the already mentioned, almost unlimited freedom of creation, Second Life's sex appeal also stems from its affordability—for basic membership, though add-ons and such will cost you—plus having the ability to bounce from adult play to non-adult play with a mouse click.
For first-timers, though, Second Life may appear a bit daunting. It's vast artificial reality universe is easy to get lost in, and trying to decipher the social mores of avatars, alts, groups, and more can be daunting. So here is a brief intro on a few techniques and digital tools to help the virtually virginal (or at least not that experienced) have a sexy time in Second Life.
Use your imagination
Second Life is all about creativity. It's a blank slate for anyone to create practically anything. Though blank slate also describes the default Second Life avatar, as when you first arrive you'll be sans genitalia.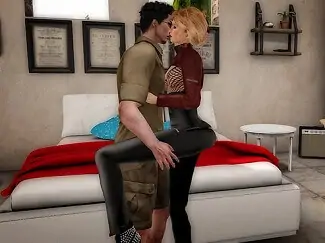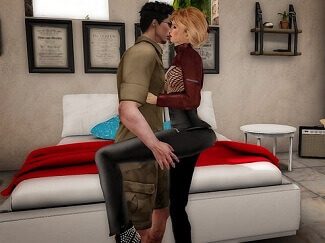 You can always do text or voice sex with someone in Second Life, but as the virtual playground is so wonderfully visual most elect to try to play using their avatars.
Unless you're seriously into coding, you'll need to equip yourself with the necessary equipment to have Second Life sex. Xcite! [NSFW] has an entire marketplace for all kinds of erotic Second Life additions, including nose rings for your avatar, bondage gear for your space, and all kinds of toys for virtual sex fun. Oh, and, of course, it offers the much-needed body parts for sex. It's not the only provider of sexual equipment, though, so if you don't like what it offers try looking around elsewhere.
Many of its avatar additions are wildly exaggerated—in ways that'll make your digital head spin. As with life everywhere, a few will be turned off by these crazy genitals and such while others will find you the hottest thing in cyberspace. The good news is that you can change any aspect of your appearance at any time—so have fun experimenting.
Then there's verification. The great openness of Second Life means that anyone can join, but many will not engage in virtual sex play with someone who may be underage. By verifying your account with a credit card you basically tell Second Life, and all its virtually sex residents, that you are old enough to play.
What is Second Life sex?
While there are a growing number of hardware add-ons available to bring virtual sex into the real world, most of the sexplay in Second Life right now is software based. Once you've acquired your sexy virtual self, you'll have the option of removing your clothes with a mouse click or keyboard command. Naturally, you'll want to do this in your own, or someone else's, private space—though there are many public sex areas as well.
Here's where things get virtually interesting. Many, at this point, will get into basically text role playing: sexy chatting with each other. But if you purchase certain kinds of erotic furniture for your virtual home, you'll have the option of triggering specific animations around them.
The other option is sex hud: an add-on to your Second Life interface. With one of these installed, and if you have the right kinds of digital genitals, you'll have the option to not just do a striptease but also mouse click on pose balls, the little digital indicators on your avatar that will trigger a specific sexy animation.
Hardware for your software
Fortunately, Second Life runs pretty well on all kinds of platforms, so you don't need a $2,000 gaming machine just to wander into a Worlds of Gor space and get your barbaric, virtual BDSM on.
That doesn't mean you can have a good time with a cheap computer, though. Nothing ruins a digital good time more than a cruddy frame rate or a dropped connection. Do a bit of research and get a machine that will be, if "not state of the art", then "state of good enough" for at least a few years.
Second Life's open-source appeal also means big news for fans of mixing sex tech hardware with sexy software. For now, the game is mostly software, but quite a few adult entertainment manufacturers have made their various devices able to interface with Second Life.
As Meg White wrote about here on Future of Sex, Xcite, again, has Touch Toys that work with Second Life. Kiiroo, which was also covered here, hopes to use its Bluetooth-connected sex toys to work with Second Life as well, and, more than likely, there are tons of other developers in erotic mad scientist labs working in ways to make all our teledildonic dreams a reality.
Everything old is new again
One of the great contradictions of our wild new technological world is that we have devices that can transmit information practically at the speed of light—barring bottlenecks, interference, and other headaches—but we still have to take into account the clockspeed of flesh-and-blood human beings.
What this means is that patience, more than ever, is a virtue. Bypassing the lengthy process of learning how to make anything in Second Life by buying them is one thing, but rushing rudely in with your digital genitals waving about is quite another.
Communication in places like Second Life is exactly like it is in the so-called real world. It might look very different—Voice Over IP, chat boxes, emails, etc.—but the nature hasn't changed one bit from when human beings first came down from the trees.
In short, being demanding, self-centered, or just plain rude won't get you anything.
Instead, give yourself some time to get to know the lay of the land, and not just focus on getting laid. You're going to make mistakes but everyone does. You'll stub your virtual toes, but before you know it you'll get the hang of things.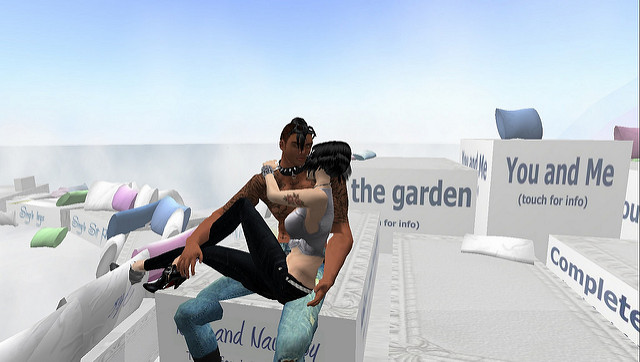 Open mind in an open world
Revisiting contradictions for a moment, another one is that some people might be visiting Second Life, a virtual space allowing total creative, and interactive, freedom, but have yet to expand their sexuality to take it all in. Absolutely, you can approach Second Life as a pretty-damned-close approximation of non-virtual life, but then you'd be missing out on a lot of the fun.
In Second Life, your avatar can be anything. Sexuality, gender, orientation, race, social strata, even species are possible playgrounds for erotic Second Life fun. All you need is a computer, the Internet, imagination, and desire.
We are not just seeing but actually getting pretty used to a many of these new social/sexual dynamics. We have Second Life sex workers, marriages, divorces, BDSM dungeons, orgies, group marriages, and too many more to name—with more these relationships and sexual realms a few of them spilling out into the non-digital world.
Second Life is exactly that: an entirely new life for you to enjoy. Just bring your best behavior, have fun with some new toys, and open yourself up to all the possibilities this sexual landscape has to offer.
Image sources: AnneMarit (Marit) Jarvinen, Dominion, RAFTWET Jewell