Hentai Gaming Contest: Stream Your Sexy Gameplay to Win Cash Prizes
Adult portals Nutaku and Plexstorm team up for a 10-day extravaganza.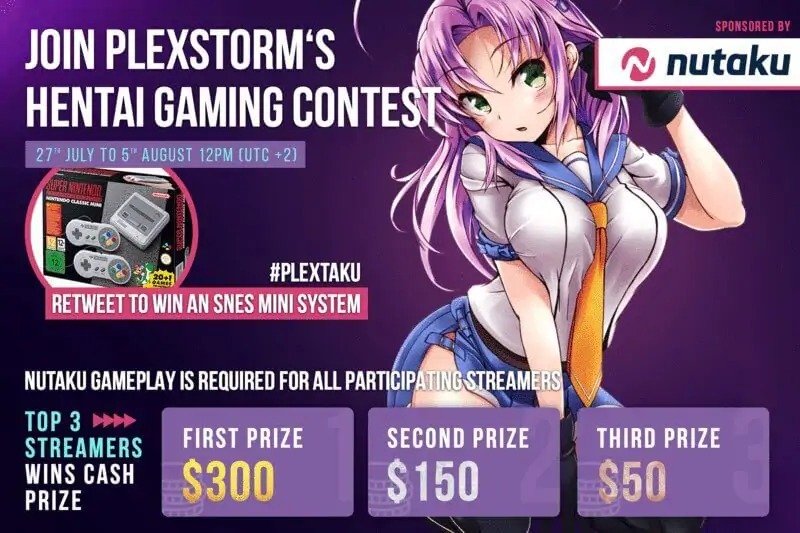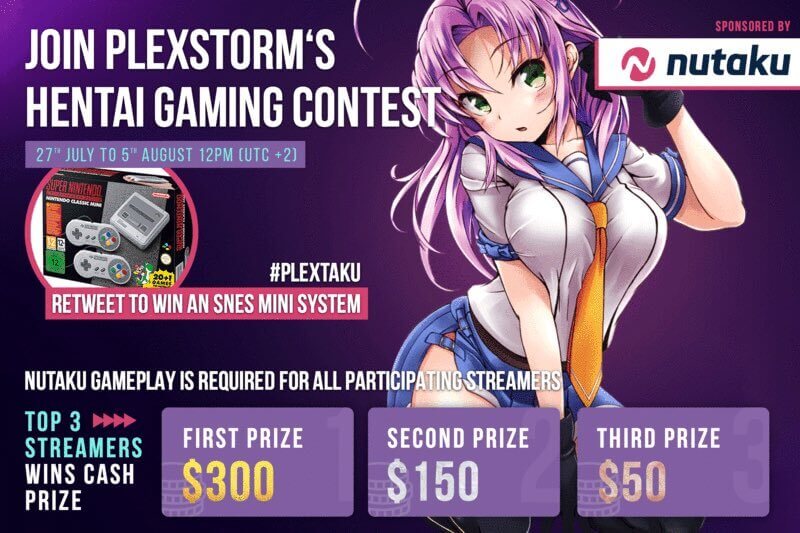 Love hentai sex games and live streaming? Fancy some extra cash or a retro gaming console?
Then you'll want to head over to adult game streaming platform Plexstorm [NSFW] as soon as possible!
Sponsored by Nutaku [NSFW], the hentai gaming contest starts July 27 and runs until August 5 at 12 pm (UTC+2).
The top three streamers will win $300, $150, or $50. Twitter users can also be entered into a draw for a SNES Mini System if they retweet Plexstorm's post promoting the contest.
Rules and requirements
First, those who want to participate must register with Plexstorm's community manager Claes by emailing Claes [at] plexstorm [dot] com.
In order to participate in the contest, all gaming streams during the event must also feature Nutaku games [NFSW]. The adult portal suggests playing one of its most popular games, which include Chick Wars [NSFW] (browser/mobile), Crystal Maidens [NSFW] (browser/mobile), and Tits'n'Tank [NSFW]s (mobile).
If you don't enjoy playing any of the games listed above, Plexstorm asks you to contact Claes at the email shared about in order to receive instructions on how you can continue participating in the contest.
Bashing games during live streams is prohibited.
Streamers will be ranked according to the number of experience points or XPs they earn during the contest period.
Stream content
Players streams need to include the name of the Nutaku game [NSFW] they are playing in the stream title. All streams should also feature gameplay at least 80% of the time
Visible consumption of intoxicating substances such as alcohol or cannabis is not allowed.
How to gain XP
The streamers with the most XP will win the top prizes. Here are a few ways to earn XP:
Daily login
Login milestones
Chat messages
Chat milestones
Purchase PlexDollars
Tip PlexDollars
Receive PlexDollars (streamer only)
Per viewer on live stream (streamer only)
Clicks on the over-stream banners (streamer only)
Invite friends (needs to reach level 3)
Contest prizes
Nutaku Gold Gift Cards
The top 9 players with the highest Plexstorm XP Levels will win Nutatku Gold Gift Cards.
1st, 2nd & 3rd: $200
4th, 5th & 6th: $100
7th, 8th & 9th: $50
Cash prizes
The top 3 registered Streamers with the highest Plexstorm XP Levels will win the following cash prizes.
1st: $300
2nd: $150
3rd: $50
Tips
Streamers can earn XP by encouraging viewers to play the Nutaku games [NFSW] by clicking on the over-stream banner.
To promote yourself Tweet out your stream and include: the title of the game, mention either or both @plexstorm and @PlexstormPromos, use the Hashtags #Plextaku #Nutaku #Plexing, and include your stream URL. Plexstorm says it will promote your tweets.
If you have more questions, again please contact Plexstorm community manager Claes at Claes [at] plexstorm [dot] com. You can also join the Plexstorm Community Discord Server here or contact Plexstorm on Twitter at @PlexstormPromos.
Image sources: Plexstorm [NSFW]