Adult Stars Will 'Transform into Queens' for Live-streamed Drag Pageant
The free-to-view Miss Pineapple Pageant is raising money for mental health outreach.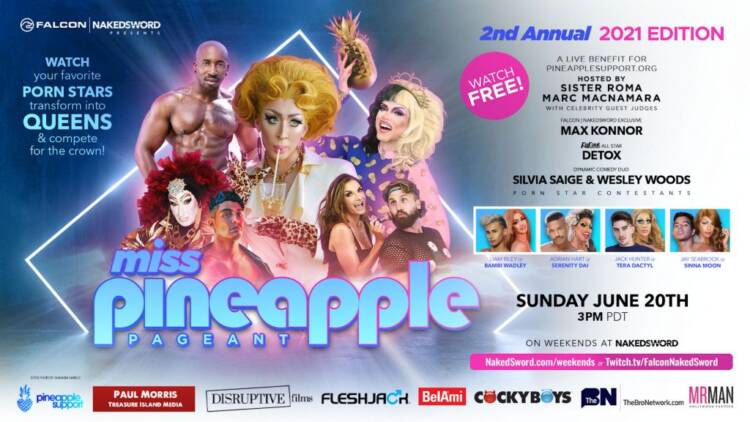 On June 20 at 3 p.m. PDT, Falcon/NakedSword, a gay-explicit content subscription website, will host the second annual Miss Pineapple Pageant. The event will be available to stream for free on Weekends at NakedSword.
Adult film stars Liam Riley (aka Bambi Wadley), Jack Hunter (aka Tera Dactyl), Jay Seabrook (aka Sinna Moon), and Adrian Hart (aka Serenity Dai) will don drag and compete for the crown of Miss Pineapple 2021.
Championing the Pineapple Support Society
Falcon/NakedSword is putting on the event to raise money for Pineapple Support Society, a "free support and therapy service for all persons working in the online adult industry."
The mental health organization offers face-to-face and online video therapy sessions, and operates 24/7.
Leya Tanit, a British performer, founded the society in 2018 after noting how many sex workers had taken their own lives the year before.
Because the event is free, the fundraising will be entirely donation-based. 100% of the money raised will go directly to Pineapple Support.
Celebrity lineup
Award-winning adult filmmaker Marc MacNamara and Falcon/NakedSword Creative Director Sister Roma will host the pageant for the second year in a row.
The panel of celebrity judges include adult film stars Wesley Woods, Max Konnor, and Silvia Saige, who also hosts the "Sexy Funny Raw" podcast, and RuPaul's Drag Race and All-Stars contestant Detox.
Image sources: Pineapple Support/The Sword