Tina Horn on Sex Robot Comic 'SfSx: Terms of Service'
Sexy cyberpunk thriller adds complexity to femme fatale lineage.
Tina Horn is one of my favorite people to follow for coverage on the adult industry in the United States.
She's a reporter at RollingStone who also hosted and co-wrote Operator, a binge-able podcast series that takes listeners back in time to the booming 1990s phone sex industry.
A talented storyteller, Horn released Volume 2 of her erotic graphic novel series SfSx: Terms of Service, which features sex robots among other thought-provoking and dynamic characters.
She recently spoke to us about her new cyberpunk thriller.
What is SfSx and why did you create the graphic novel series?
Tina Horn: "SfSx (aka Safe Sex) is a comic book series about a group of underground sex rebels called the Dirty Mind, who live in an oppressive American dystopia ruled by a theocratic regime called The Party. I created it because I love science fiction's potential to explore both human nature and social problems.
"And because I wanted to create an ensemble of characters with lots of different identities and desires, including pervy slutty queers who really know how to fuck! The series combines the glittery community resilience of shows like Pose with dark visions of the future like on Black Mirror. It's a thrilling and melodramatic action-adventure story with sex scenes that are very much for adults."
Why did you decide to explore sex robots in the second volume of SfSx?
Tina Horn: "I have so many opinions about how people in the media talk about sex robots! I notice a lot of biases that reveal how people really think about women, and sex, and especially about sex workers. If they ever exist, sex robots will be part of the sex labor force of the future.
"So what can we work out now about how we relate to the potential idea of sex machines, when we're still trying to work out how to provide human sex workers with basic rights?!"
In an interview with Rose Eveleth on your podcast Why Are People Into That, you said you were "obsessed" with sex robots.
What is it about sex robots that attracts you so?
Tina Horn: "Conceptually, sex robots set my pervy mind aflame! I love thinking about what I would do with them. Most of the time when we talk sex robots we think about a human getting hard and plowing into a synthetic hole. But if sex robots are designed to do all the things people can do, I'm excited by the idea of an android with as much stamina as my vibrator, y'know?
"I'm curious whether we would eroticize their post-humanness: would some people become bot-sexuals? I'm also interested in the inherent queerness of sex robots, because they don't have a gender except the ones we project onto them or ornament them with.
"Philosophically and ethically I just can't stop thinking about the implications of artificial intelligence and synthetic minds: what will interactions with human-programmed tech teach us about our nature, and how it's evolving?"
---
---
What are the sex robot characters like in your graphic novels and are they sentient?
Tina Horn: "The sexbots in SfSx: Terms of Service are created by the government in order to 'redistribute' intimacy to men who feel entitled to sex. They're called 'Stacies' which we reappropriated from the profoundly misogynistic stereotype that real-life incels have created to describe their 'ideal woman.' Stacie is programmed to please men, both in physical hardware form and in a virtual world called 'Wetspace.'
"The question of Stacie's sentience is intrinsically tied to the other characters'—and the readers'—expectation of whether a sex-obsessed ditzy blonde bimbo in a pink dress can think for herself, whether she has her own desire, whether she can maintain her own power and dignity while also doing her job. Stacie is in a lineage with Holli Would from Cool World and Ava from Ex Machina: projections of male fantasies who understand their own nature well enough to know how to use femininity for liberation."
How has introducing sex robots into the narrative influenced the themes you explore?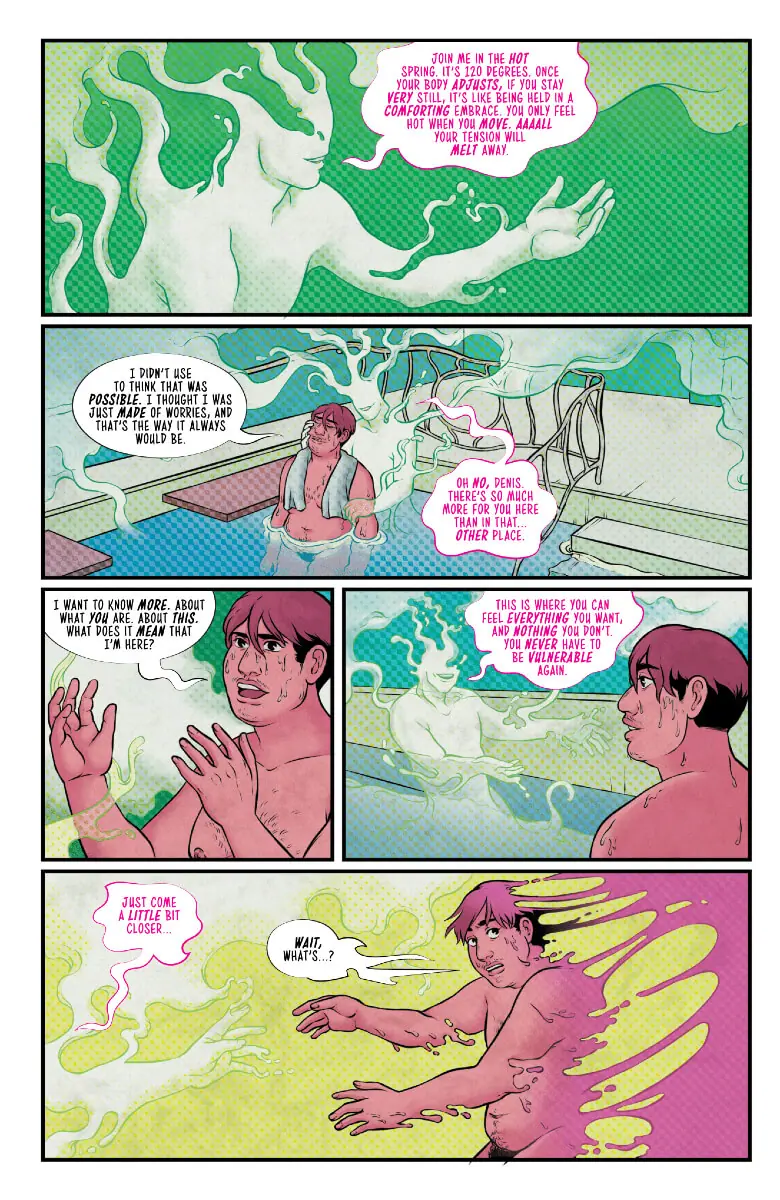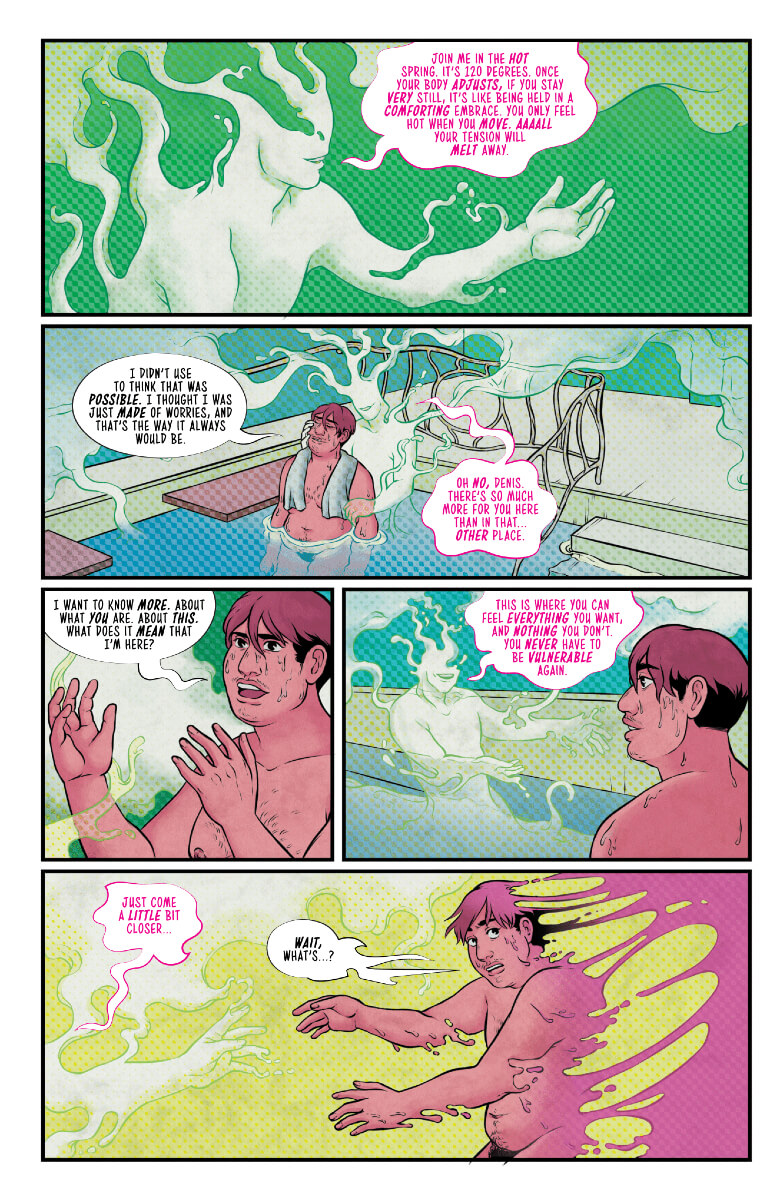 Tina Horn: "SfSx has always used science fiction and horror to explore the complicated ideas about sexuality I observe in my work as a journalist and BDSM educator. Sex robots, and virtual adult entertainment, are a playground with endless possibilities to stage kinky erotic situations.
"The art team of this book—illustrator G Romero-Johnson, colorist Kelly Fitzpatrick, letterer Steve Wands, designer Laurenn McCubbin, and cover artist Tula Lotay—had a blast bringing a whole lot of funny, horny, emotional sex scenes to vivid life on the page!
"We're definitely exploring ideas of bodies as objects that are 'objectified' through erotic desire, and the relationship between organic inner lives and synthetic consciousness.
"And we get to show what we believe might happen if incels got what they say they want: would access to Stacies actually be an antidote to the toxic masculine violence that plagues our world right now?"
Who is your favorite character in SfSx (either volume) and why?
Tina Horn: "I love all my children equally!!! But since you asked, I'll give a shout-out to Denis (pronounced De-knee, like the director of the new Dune). Denis is a young genderqueer person who escaped The Party's terrifying attempts at conversion therapy and sought refuge in the Dirty Mind.
"They have a chip in their head preventing them from feeling any physical sensation, pleasure, or pain. And in Terms of Service, hacking into the government's tech gives Denis a chance to feel all the things they haven't felt in their adult life. Because Denis spends a lot of time in Wetspace, illustrator G Romero-Johnson and I had a lot of fun coming up with fantasy scenes involving water, from the Harbin Hot Springs to the bathtub from The Shining.
"I wanted to show Denis obsessively holding on to their access to sensation, in a way that's both selfishly dangerous and also hopefully very relatable. I might have accidentally made Denis' story a metaphor for what happens when we spend so much time online that we become alienated from our flesh and blood communities, especially when COVID quarantine doesn't leave us much of a choice. "