Holograms You Can Touch: Air Stream Tech and Future Sexbot Engineering
'Aerohaptics' just might revolutionize the virtual sex tech industry.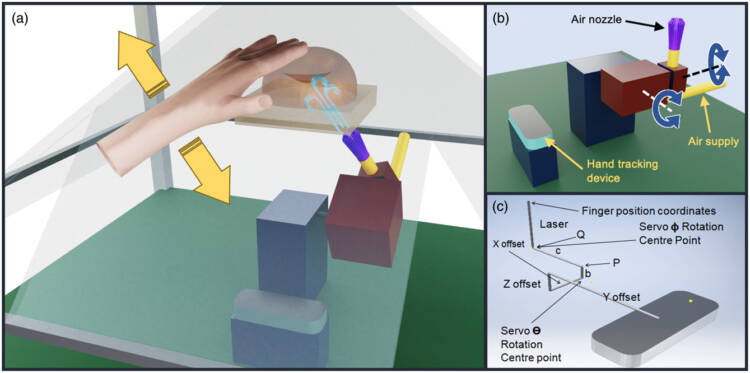 Thanks to a group of University of Glasgow researchers, the elusive gold ring of providing hologramatic and virtual reality adult entertainment with a sense of touch may finally be in our grasp.
The University of Glasgow team "have developed a new way to create the sensation of physically interacting with holographic projections."
According to Electronics and Nanoengineering Professor and a member of the research team, Ravinder Dahiya, the new technology employs streams of precisely controlled air to provide a satisfyingly haptic feel to whatever a user happens to be looking at.
The technology has been dubbed "aerohaptics," and it might someday enable us to shake hands at the end of a virtual business meeting.
But why stop there? Though it's not an application Dahiya and his fellow researchers may have considered, aerohaptics could open the door to new sexual experiences.
The technology could be used to mirror in-the-flesh human interactions or allow us to create entirely new ones.
A much more lifelike feel
From electrical stimulation to wires attached to a user's hands, there is a wide range of approaches to replicating natural objects' weight, surface details, and physics in a virtual environment.
What sets aerohaptics apart from most is its more organic approach. To help illustrate what I'm talking about, let's take a brief look at sexbot engineering.
To date, the largest problem with sex robots has been mechanical actuators inability to replicate the fluidity of human movement. Replacing them with a system of hydraulics could mimic the effect since our muscles work similarly, but that is a massive technical feat (and not a very natural one at that).
So unlike a sizable percent of experimental haptic projects which require special gloves or other cumbersome gear, the University of Glasgow's technology feels less mechanical and much more natural.
Not only that, but the researchers have also done some honestly remarkable things with it. They have configured their system so that users can virtually bounce a holographic basketball and feel it smack back into their hands.
A sex tech revolution in the making
If I may be so bold, I heartily suggest Dahiya and his team should run, not walk, their technology over to the sex tech industry should it get to the point where it could realistically mirror the temperature and texture of human skin.
When coupled with virtual reality or holograms, it could completely transform adult entertainment. Air jets would mean subtler and more lifelike sensations, especially when temperature and scents are there to double down on the sensation.
In addition to giving us fully immersive erotic experiences, with human-appearing and feeling partners or encounters with wholly inhuman playmates, aerohaptics may eliminate the need for physical sex toys.
Sure, this would hit the industry quite hard, though consider the benefits and not merely the drawbacks: for instance, it would reduce negative environmental impact while giving us the ability to create and enjoy any toy we want: ideally designed and pleasurable to every body shape, age, disability, or genital configuration.
Image source: Guido van Nispen, Jaysin Trevino, Portland Seminary