From Sex Training to Custom VR Porn, This Haptic Bodysuit Inspires Mind-blowing Sexual Possibilities
The high-tech wearable "Teslasuit" undergoes impressive upgrades.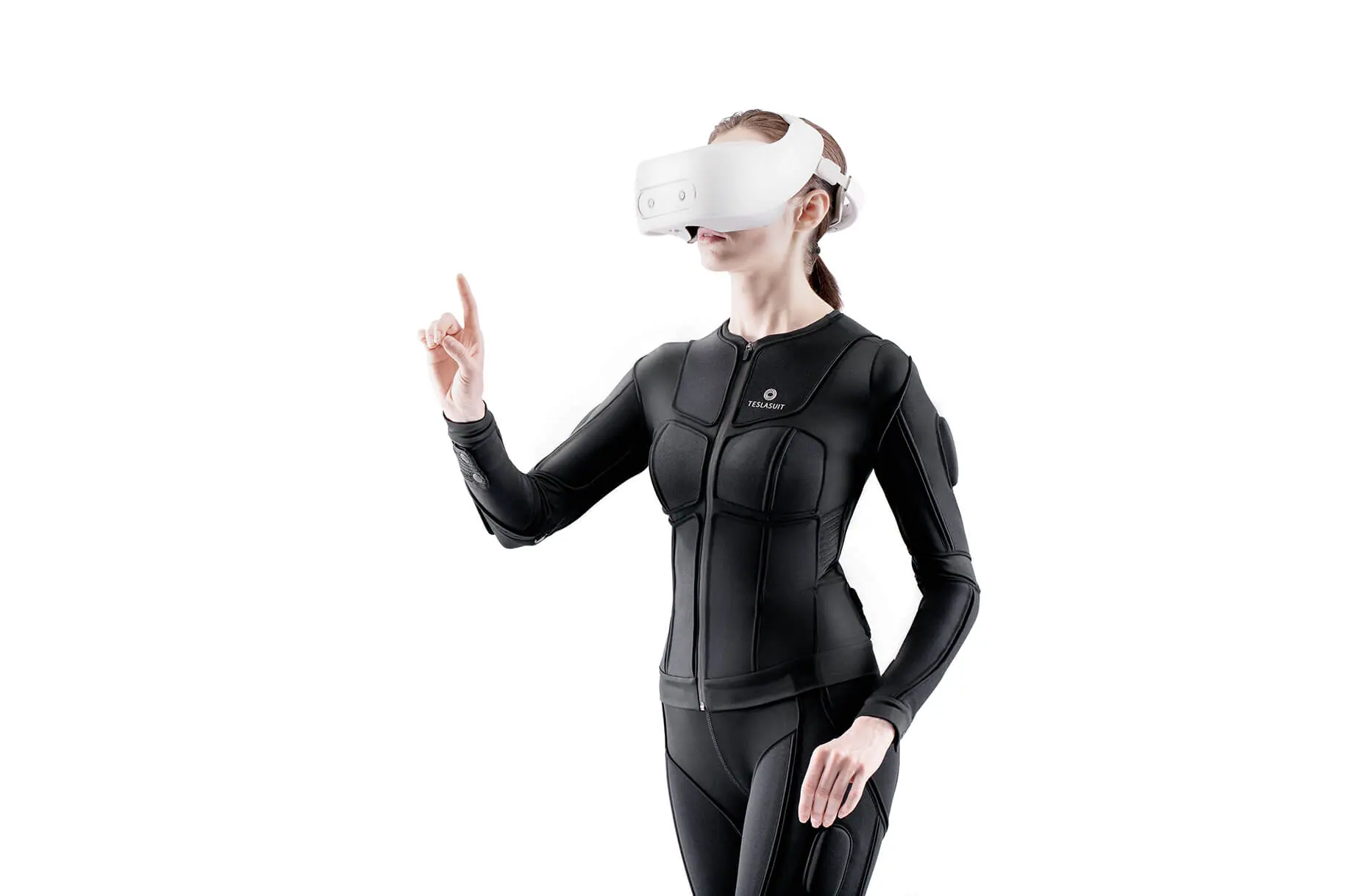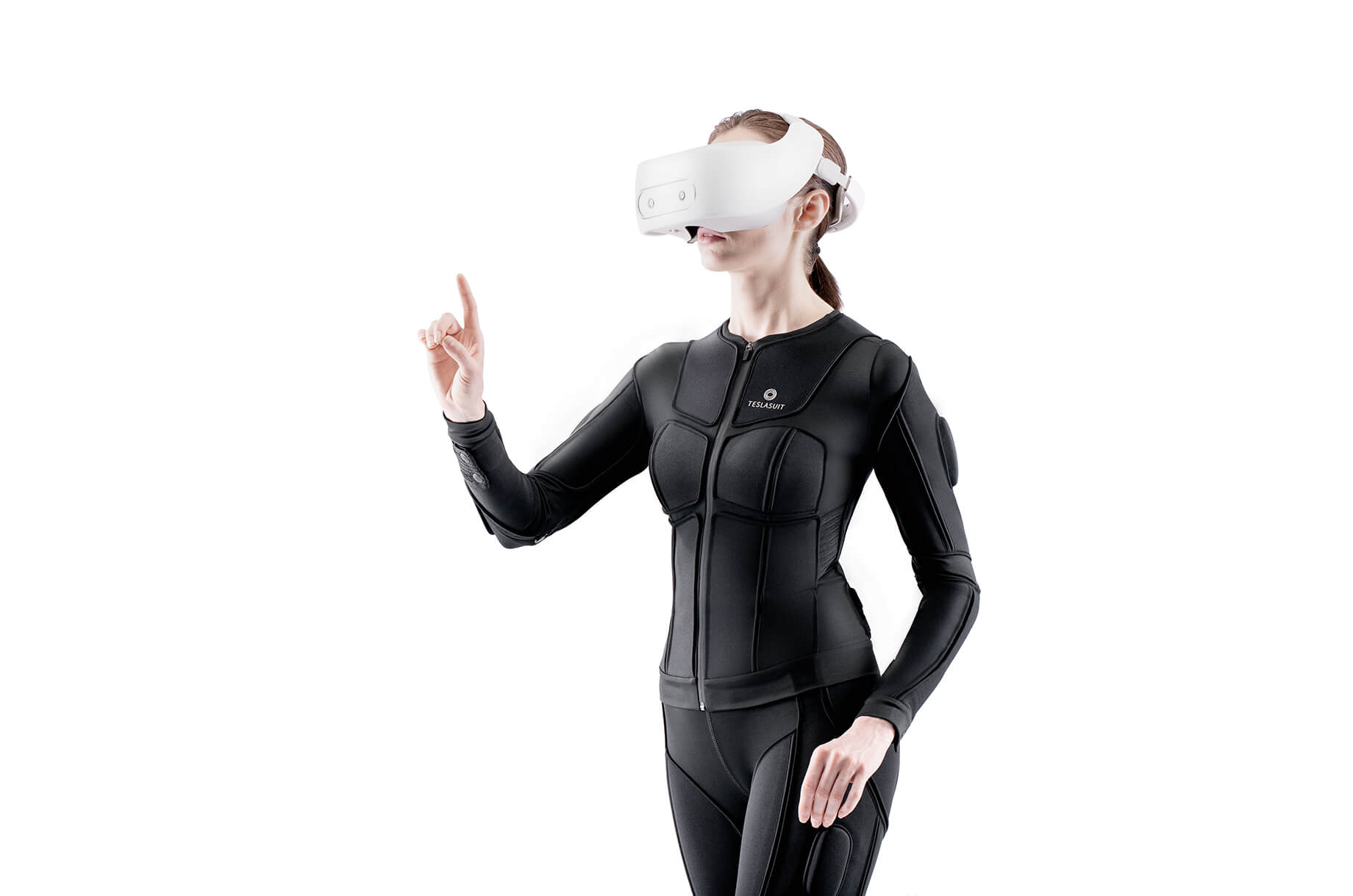 Back in 2015, Future of Sex covered the Teslasuit prototype—a haptic bodysuit that integrates with both virtual and augmented realities and sends sensations. (Note the Teslasuit has no relation to Tesla Inc., which is the car company co-founded by Elon Musk).
Since then, Teslasuit has come a long way in development. And while it's not explicitly marketed as a sex product, we're very excited about this new technology's sexual possibilities.
On their website, Teslasuit meticulously specifies the haptic capabilities of their fully realized suit. Before exploring the technology's potential erotic applications, let's explore its specs.
Suit Specs
Haptic feedback
Teslasuit has 68 haptic points distributed over the body. These points deliver minute electrical pulses to the body's nerve endings in order to simulate sensation.
These electrical pulses can cause muscle contractions, effectively triggering the body to move in a certain way, or simply provide haptic feedback that mimics a sensation.
Teslasuit also uses 80 different electrostimulation channels, producing sensations that include temperature, impact, liquid, gas, and fluid environment simulation.
Weight simulation can also be achieved by triggering the muscles that would be necessary to support additional weight on the body.
Teslasuit's alternating signal flows can also produce wave-like pulse distributions, which we're told are a crucial factor for simulating physical phenomena and creating special effects.
Many such effects are collected in Teslasuit's "haptic library," a digital database of haptic animations that can sync VR/AR video content with bodily sensation sequences.
Motion capture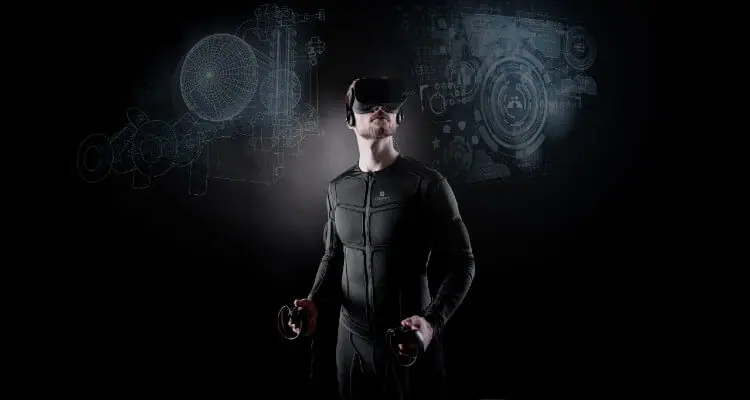 Using 10 motion capture points, Teslasuit is able to track the body's full skeletal position in real-time, and can use this data to simulate movement for a user's avatar in a virtual space.
This means the user can set up the suit to realistically simulate their movements in video games and simulations—the next best thing to downloading yourself into a virtual world.
Biometrics
Teslasuit also boasts integrated biometric reading. The suit measures electrodermal activity over the entire surface of the body, and can capture 84 different biometric signals emitted by the skin and the active muscles beneath. These signals can be used to detect fatigue, stress, nutrition and many other factors that describe the wearer's mental and physiological state.
The suit also uses ECG to detect heart rate, which can be reviewed within Teslasuit's included software package for advanced diagnostics and analytics.
Sexy possibilities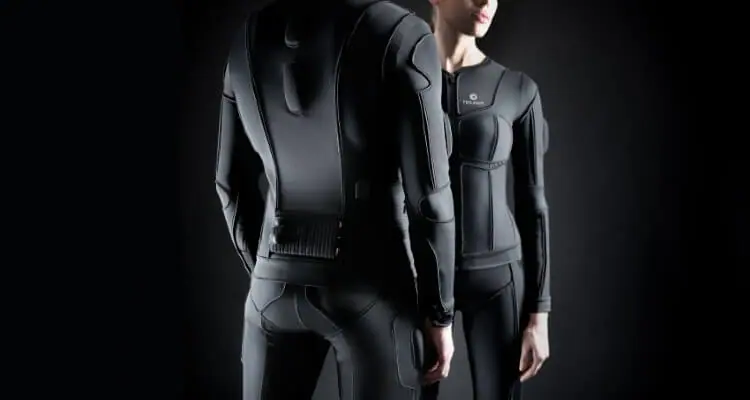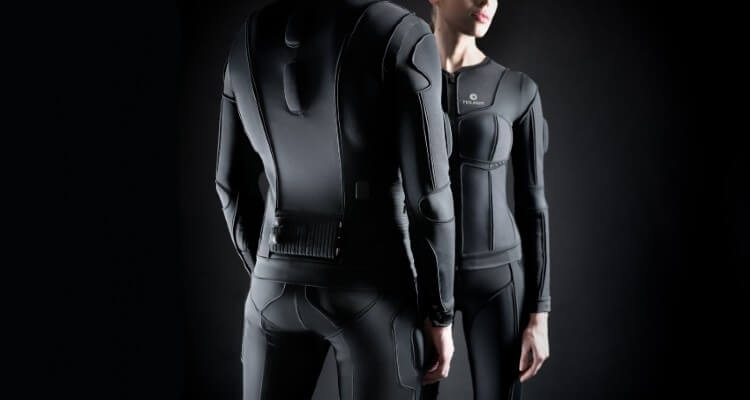 Sex is, in large part, sensation. So it doesn't take a genius to recognize that Teslasuit offers an incredible opportunity for those seeking new erotic experiences.
But what kind of things could be simulated…?
Horny-meter
Teslasuit's biometric data can be easily explained in terms of athletic performance tracking, but what if the body's signals could be tested against a different set of benchmarks?
These benchmarks could be calibrated to correspond with a basic indicator of the user's level of arousal, which could have incredible applications for couples utilizing teledildonic devices (link) at long distance. Watching a meter indicating their partner's arousal levels climb could set off the perfect reciprocal arousal boost.
But this type of indicator could go even further.
Virtually designed sex experiences could use arousal levels to trigger changes in the simulation, allowing virtual sex experiences to develop at the user's own erotic pace.
Furthermore, sex-workers who connect remotely via webcam could connect to their subscribers' Teslasuit data, which could allow them to curate their performances based on what is and isn't working for their audience.
Fantasy erotica
The Internet is full of pornography that entertains certain fantasies that can never really be realized. This type of representation includes genres like monster pornography, extreme BDSM, and cosplay/cartoon character adult content.
The great thing about Teslasuit is that it is designed to integrate with VR/AR experiences. So it's not a great leap to imagine 3D video content depicting an ogre, and perhaps some larger than life force sensations applying directly to the suit, corresponding with real-time moments in the video presentation, making the user really feel like their engaged in a sexual encounter with a mythical beast.
Much of BDSM is based around ideas of restraint and control, but if you're home alone, what really holds you back. Teslasuit could allow online dominatrix's the ability to make their sub's wrists feel tied up, or apply the weight of a body part to a portion of the body. The possibilities for submitting to another's control are very far-reaching and exciting for those who seek this kind of erotic exchange.
Most of us will have come across pornography depicting a character who was never actually written that way. These sexual expressions of fan-fiction take the likes of Marge Simpson, Fortnite Characters, and even Looney Tunes like Lola Bunny and place them in seductive scenarios, often for a kind of taboo pleasure.
Many of these characters have distinctive bodily features like hair, clothing/armor and skin consistency, which Teslasuit could simulate directly onto the body of the wearer. What would it feel like if Kratos rubbed up against you..?
Simulating sensual spaces
This idea of unleashing the sexual side of pop culture characters can go even further. What about entire settings?
In the real world, place simulations already exist. Take for example the Tokyo simulated settings like Maid Cafe's, where patrons are spoon fed and doted upon by waitresses dressed up as old English maids, or Cuddle Cafes, where people pay for the pleasure of lying beside a cutely dressed girl, and can pay extra to lay their head in the girl's lap.
Could these types of environments not also be created virtually with the Teslasuit?
Imagine for example logging into a calm quiet space, with a soothing ASMR voice whispering gentle things in your ear. You can feel the warmth of your carer's body against you, their breath runs over your skin, perhaps a group of 5 maids converge on you, tending gently to your every need…
Custom fantasies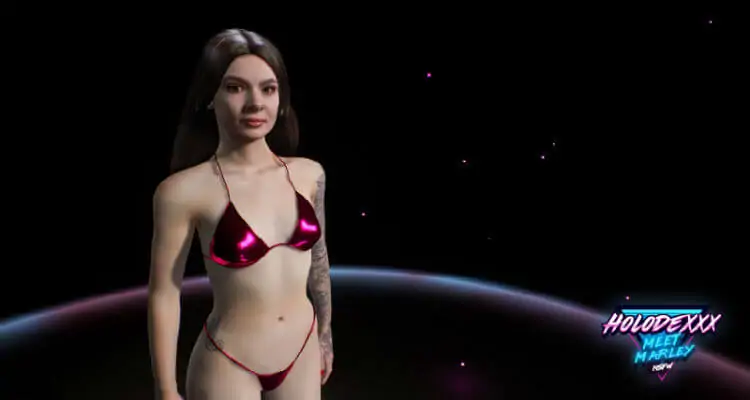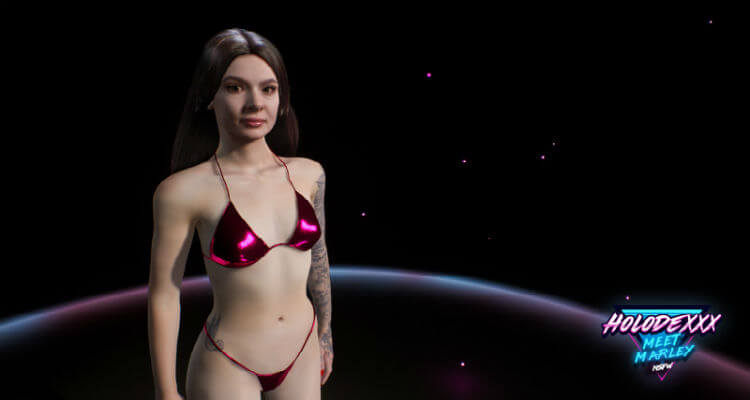 All the ideas posed so far are based around situations that are either conducted by a person live, or pre-recorded/designed.
But what if you knew exactly what it was you wanted to see and feel? What if you've got your fantasy mapped out perfectly already in your head? It's not too hard to imagine how you could use the Teslasuit in combination with some other technological resources to make your fantasy a reality.
One such pathway could go like this: you take the Holodexxx designed 3D model of Adult‌ ‌Star‌ ‌Marley‌ ‌Brinx‌, place her in a virtual space like one of many that are currently available to view and explore on vrchat.com, sync her animated movements up with appropriate animations form Teslasuit's haptic library, and then write your own script for how you want her to address you.
Using the technology of Deep copies (link) you could reconstruct Saya's face to lip-sync the lines you've prepared for her, use a simulated voice like those available via google cloud Text-to-Speech API (link).
Combining all these technologies could give individuals the ability to direct and star in their own fantasies that not only look and sound, but FEEL the way they're supposed to.
Sex training
As has been mentioned, Teslasuit are not explicitly marketing their suit as a sex product.
We've had to use our imaginations so far to figure out how this amazing device could be adapted to the world of sex. But there is an overlap between our interests and those of the Teslasuit company.
Much of Teslasuit's proposed use cases center around professional training and development. Teslasuit's main aim is to attract big companies whose employees need training to act in specialized and potentially dangerous scenarios to use their suit as a safe and rapid method of training.
So what if people could seek training to improve their sexual performance too?
The last decade has seen massive leaps forward in social acceptance, body positivity, and has done away with myths about sex as a singular penetrative act. The Teslasuit presents the perfect method through which individuals could learn to better use their entire bodies to give and receive pleasure in a whole range of ways.
Things like the ancient art of tantric sex could be transferred directly into the muscle fibers of people who might never have felt comfortable going to a live classroom to learn new approaches to eroticism.
Image source: Holodexxx.com [NSFW], Teslasuit