The New Reality: What We Can Learn from PornHub's 2016 VR Porn Stats
Adult entertainment site reveals growing interest in virtual reality.
PornHub [NSFW], one of—if not the—largest adult entertainment sites on the Internet has released stats on user preferences in its Year In Review for 2016. And they're quite revealing, especially when it comes to the growing popularity of VR.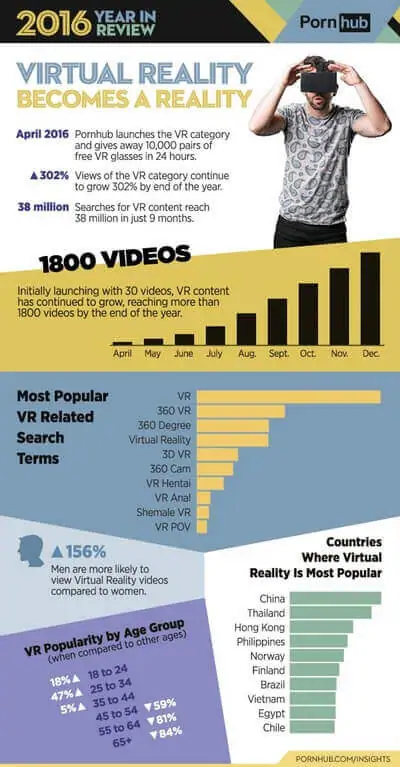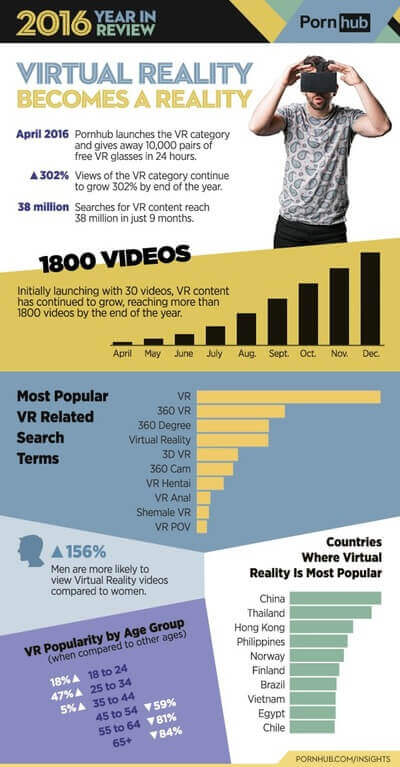 Last April, PornHub helped bring virtual reality porn to mainstream audiences by launching a specific VR category on the site and giving away a massive amount of free, Google-cardboard type VR sets. How massive? Well, its own graphic is pretty clear about that: 10,000 units, and that was just the first day.
The move seems to have paid off, as the company notes that views of its virtual reality channel have grown by 302%.
Content has also expanded, which is another accomplishment. Opposed to amateur productions, a VR sex scene requires a greater amount of both skill and technology to create. According to PornHub, it has grown from 30 videos at launch time to 1,800 to date.
As for its VR's audience, PornHub says that men outnumber women by a staggering 154%.
Of those men, it looks like virtual reality is most appealing to 25 to 34-year-olds—the so-called Millennial generation. Interestingly, the regions that show the greatest interest are in Asia, with China at the top of the list, followed by Thailand, Hong Kong, and then the Philippines.
After them, the popularity demographic gets a bit more global, with Norway and Finland coming next, but then jumping to the other side of the planet with Brazil, followed by Vietnam, and then Egypt, with Chile ending the list. Sorry, other countries like Australia and the United States: you didn't even make the "most popular" list.
PornHub points out what a lot of industry leaders have been saying: that virtual reality—at least for the present—is definitely an up-and-coming tech.
This is especially true when it's coupled to an always-great seller—like sex.
Image source: PornHub [NSFW]