Autoblow: Using AI to Build the Perfect Oral Sex Machine
A new hands-free stroker that knows how to please.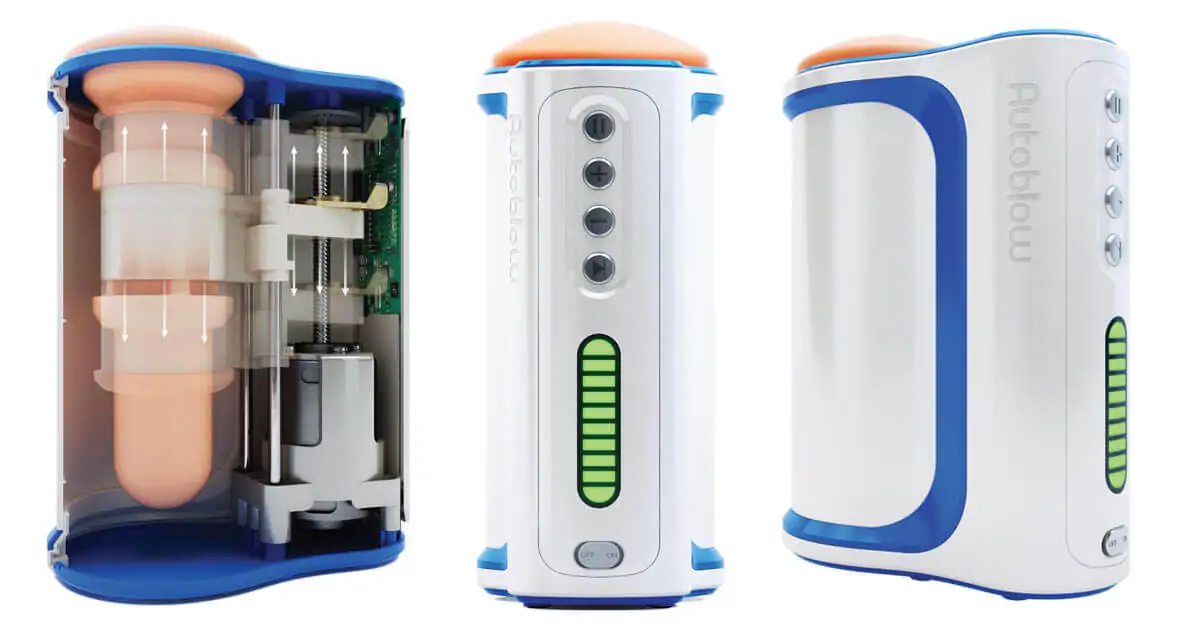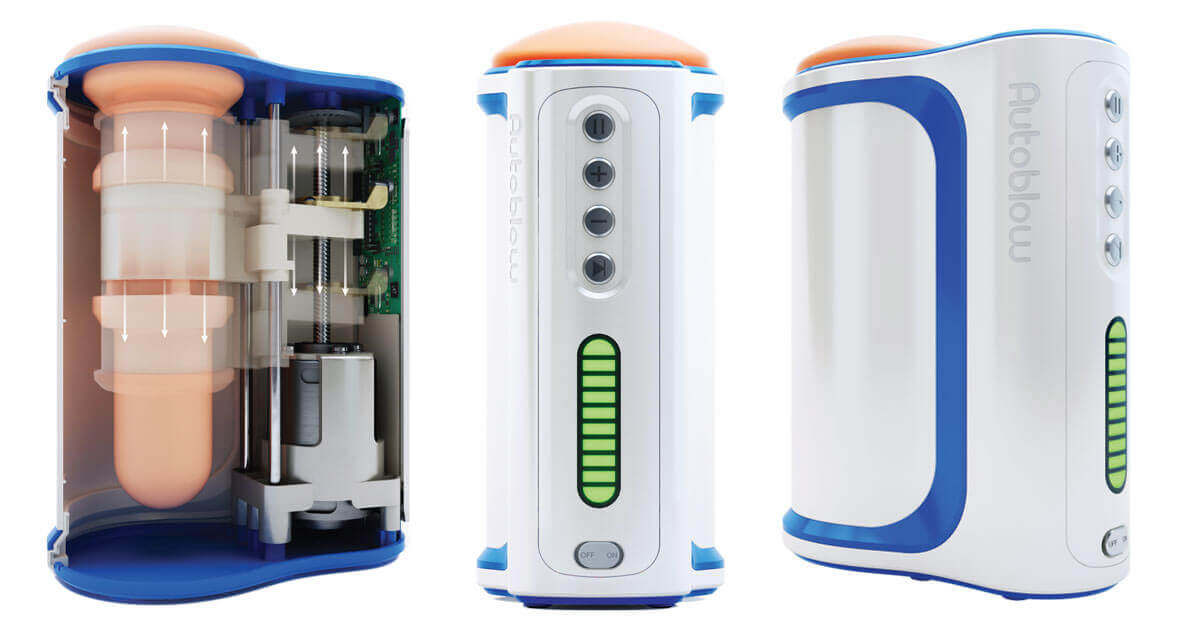 Brian Sloan had a vision: to create the most realistic—and thus pleasurable—form of erotic technology he could.
With the Autoblow 2, a robotic oral sex simulator for men, his company set a crowdfunding record on IndieGoGo. Now four years later, Sloan has and has upped the stakes with a new incarnation embracing cutting-edge technology.
The Autoblow A.I. reportedly offers improved performance and 10 distinct oral sex experiences, all thanks to artificial intelligence.
The science of fellatio
As explained on the Autoblow A.I. Indiegogo page, Sloan's team examined nearly six full days worth of oral sex videos, carefully documenting the movements of the givers' heads. This data was then plugged into a sophisticated algorithm that determined the 16 most frequent mouth positions.
The findings are available on the AutoBlow website in a scientific paper called Analysis of Movement in Oral Sex Performed Upon Men.
With this data, Sloan's company designed and manufactured the Autoblow A.I. hardware, equipping it with magnetic and infrared sensors, a microprocessor, a durable motor, and a two-ridged skin sleeve that, according to the IndieGoGo page, delivers "250 different points along a 5-inch-long stroking plane to deliver a variety of human-like movements."
The unit also provides an edging feature that allows users to extend or even halt the action in order to prolong orgasm.
A wildly successful campaign
"The A.I. sex toys space is a blue ocean and as the first mover we are preparing to make our mark," Sloan told Future of Sex.
While most companies will focus on putting rubber butts into plastic canisters, our lab will be innovating on the future of sexual devices.
"The Autoblow A.I. will finally cause people to stop thinking about men's 'sex toys' as throwaways and gimmicks and will allow solo men to enjoy an even more human-like experience," he added.
Interest in Sloan's technology is clearly evident. As of writing, the Autoblow A.I. campaign on Indiegogo has exceeded its $50,000 goal, pulling in nearly $230,000 from more than 1,700 backers.
Backers of the Autoblow A.I. can receive a single unit for $139, with a delivery date scheduled for May 2019—or a clear model for $50 more.
"We are finishing about the last 15-20% of the product's development now, which means we are fixing some motor issues and testing different sleeve designs and materials," Sloan told Future of Sex.
He added the Autoblow A.I. will eventually be available at retail outlets for $249.
Pansexual tech and Real Doll sex dolls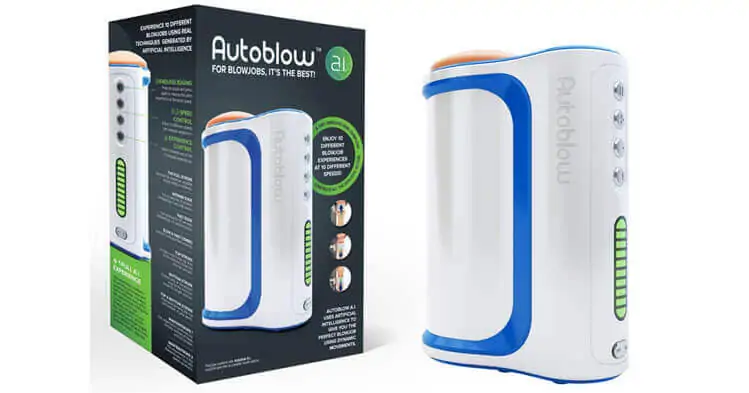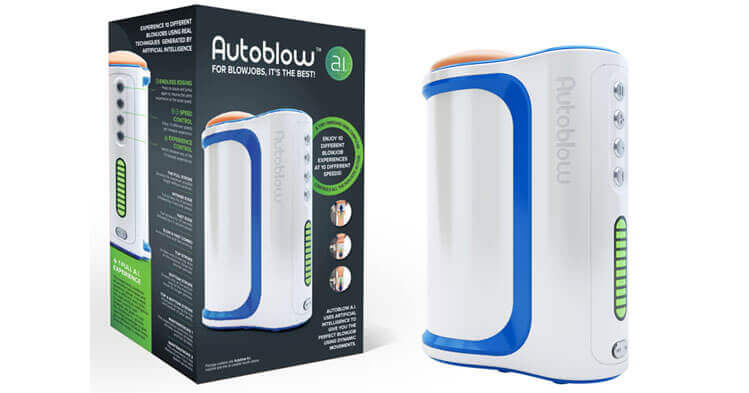 While the campaign also offers anal as well as vaginal sleeves, Sloan said the technology was developed specifically through research on oral sex given to male recipients.
As such, Sloan is not currently interested in expanding into other areas of sexual activity:
"All sexual acts for men consist of lubrication, friction, and some degree of tightness, and those features are what we kept in mind while developing our device, so the device is pan-sexual-act."
Consumers are not the only ones interested in Sloan's technology.
In 2015 a representative from Real Doll contacted Sloan about integrating a form of the Autoblow A.I. into Real Doll's products.
Sloan says that he met with Real Doll's owner in 2018 and they discussed a potential partnership, a prospect that Sloan is clearly pleased with:
"The only reason I want to work with Real Doll is because they are the best in the world at what they do. I could obviously take my machine to one of their competitors and come back with an OK looking result, but as I believe my machine is the best in class, I only want to work with other companies that have the same philosophy."
The future of sex tech?
Sloan is clearly passionate about his goal to offer users a device that can deliver a realistic simulation of flesh-and-blood penis-focused sex.
More importantly, though, his use of artificial intelligence to give the Autoblow A.I. its lifelike behavior could become an invaluable tool for the development of other sex tech devices that will blur the line even more between what is real and what is artificial.
This technology may also hold significant interest and potential for men with disabilities, such as those who have limited mobility in their hands. The AutoBlow 2 has this demographic to thank, at the least in part, since it operates hands-free.
Image sources: Autoblow