Naughty America Impresses with Hot Holograms and AR/VR Sex Simulations
While mixed and virtual reality are in early stages, there's plenty to be excited about for adult content.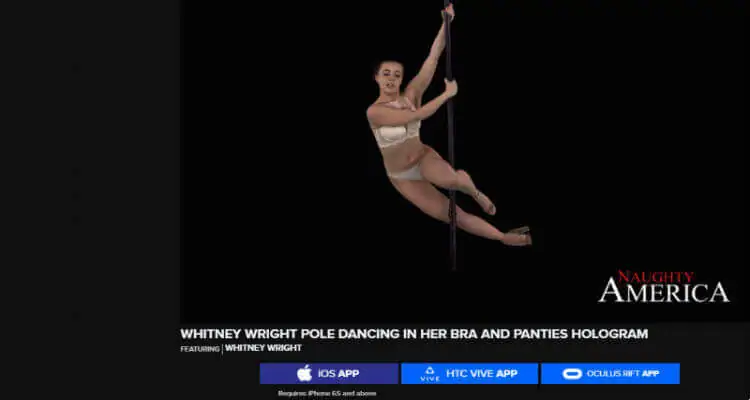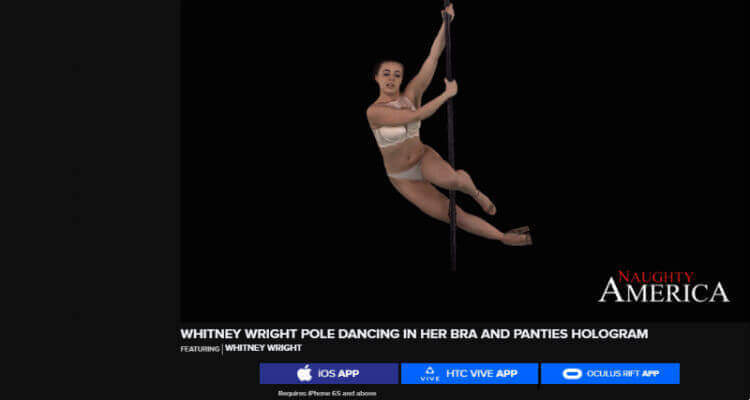 Adult video goliath Naughty America [NSFW] continues to impress with its ongoing virtual reality, augmented reality, and holographic releases.
Of them all, Naughty America's big push has been toward virtual reality, which immerses viewers into simulated environments with adult performers.
The studio offers a whopping 435 VR porn videos for users to enjoy, which include adult superstars Gianna Dior, Whitney Wright, August Taylor, and many others.
Like other adult entertainment companies, it has also delivered a range of viewing options supported on high-end virtual reality rigs like the Oculus Rift and the HTC Vive, as well as on the simple, and much more affordable, smartphone head-mount displays.  
Price-wise, they're a membership-based service, running from a three-day trial for only $1.95 to $95.40 for a whole year.  
Augmented reality experimentation


While virtual reality jettisons viewers into a different, albeit, virtual setting, augmented reality (AR) bring interactive media into your physical environment. In regards to AR, Naughty America has released more than 80 3D models of adult performers you can interact with while browsing the site on your smartphone.
This augmented reality feature presents the models as static, two-dimensional images that can be rotated and overlaid onto your personal space.  
Did somebody say holograms?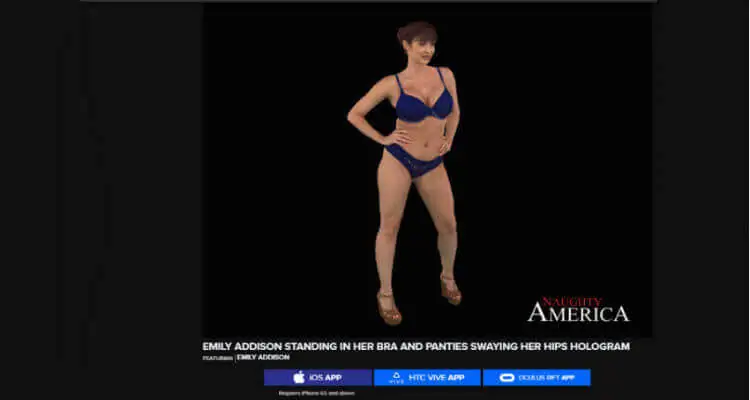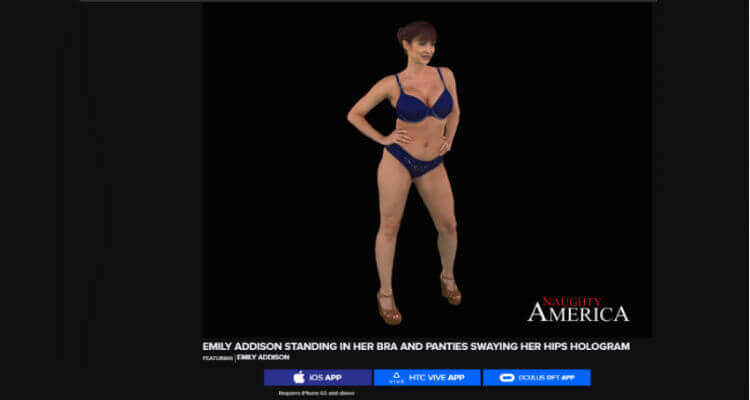 If you're intrigued by the VR and AR erotic entertainment options above, then you'll also love hearing about Naughty America's sexy holograms [NSFW].
The studio offers a selection of more than 55 erotic performances you can enjoy in either VR or AR.
You can view these hot holograms in action with an iOS app, the HTC Vive app, and the Oculus Rift app. 
The next big thing
While some have said virtual reality hasn't quite lived up to its potential, that adult entertainment giants like Naughty America have invested so much work into creating and promoting the technology suggests it views interest in VR as going nowhere but up.
Augmented reality, meanwhile, hasn't really arrived yet. 
Sure, some have been experimenting with it, but until we have readily available AR rigs—like how the Oculus Rift and the HTC Vive plus smartphone systems are for VR—we're going to see more of a limited take on this technology.  
But give developers a bit more time and more than likely we'll see a huge jump in available content as well as much more sophisticated augmented reality interactivity.
Which will no doubt, as with many other forms of media technology over the years, be driven by interest and demand generated by adult entertainment industry companies like Naughty America.
Image sources: Naughty America [NSFW]