It's Raining Men in Gay Harem, an RPG Sex Game You'll Be Lusting to Play
If you like penises, then this is an erotic visual novel to good to miss.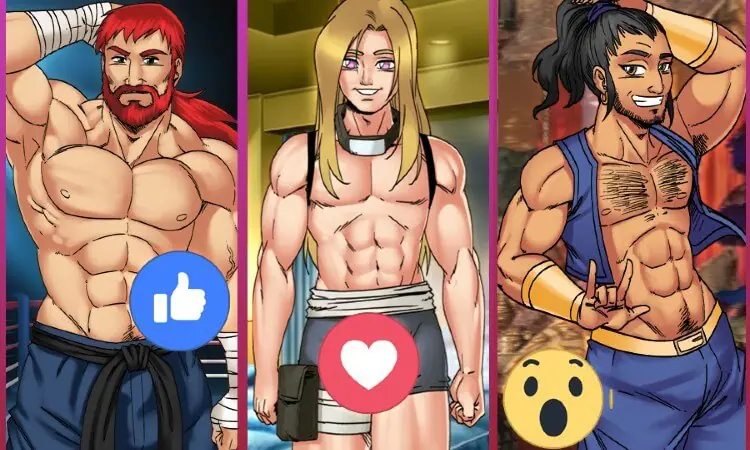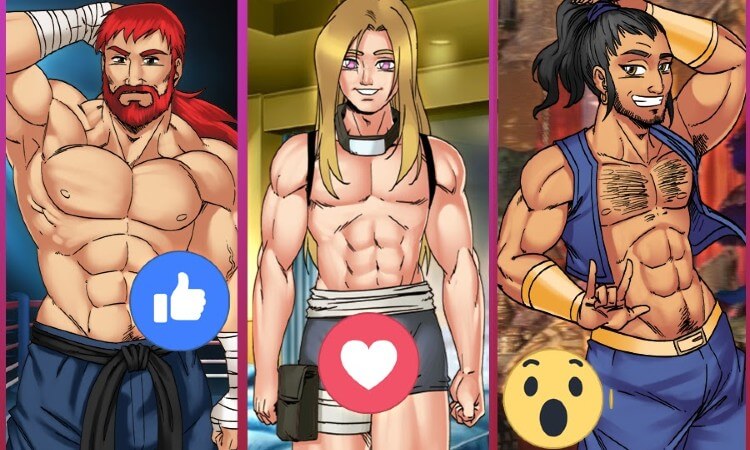 Right off the bat, which is perfectly apropos for a game focused on gay male sexuality, Gay Harem [NSFW] abundantly wags that certain tubular appendage at you.
Though it has its faults, which I'll get into shortly, its enthusiastic approach and explicit graphics point to Gay Harem becoming an erotic thrill-ride for those excited by men-on-men action.
Hot action from the get-go
Unlike other gay male erotic games, Gay Harem immediately gets to what it says on the tin. The introduction alone, way before you get to how it works, is packed with all kinds of wildly explicit images.
You play as a somewhat naive but erotically feisty unnamed protagonist who stumbles into a world driven by an endless competition for getting more and more men into a harem.
Fortunately, you start with a bang by awarding you with your first at the beginning of the game. Which is an excellent device, as it makes you feel that getting your goal of 15 won't take that much work.
Even the things you can do before packing your harem with sexy guys are erotically charged, with character introductions being less of a flirt and more of a "let's get right to it."  
So much so that if you're looking for a game that's less on the build-up and more on the delivery, then Gay Harem [NSFW] is the ticket.
Limited yet explicit action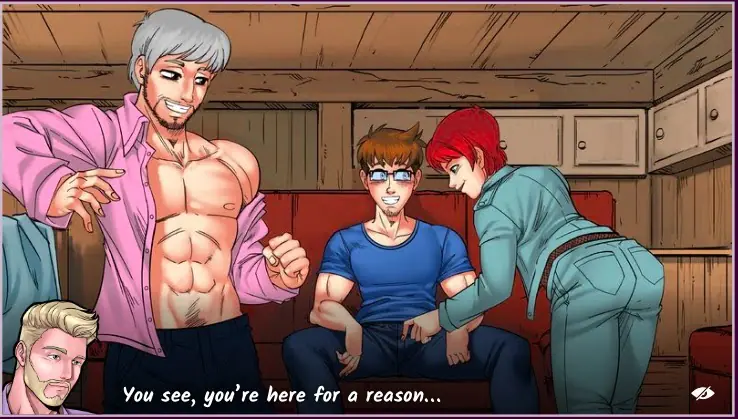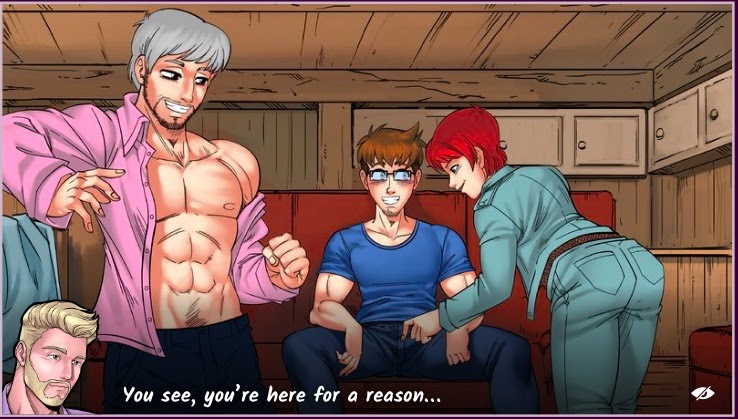 Graphically, Gay Harem does the job, but only just. While well-drawn, though the characters often look like an odd mix of detailed gay male hentai and more cartoonish depiction, there's no real animation.
Instead, there's a kind of safe-to-next screen between one act and the other. While it's not as immersive as other titles, after a few minutes you get used to it.
Gay Harem [NSFW] also gets a round of applause by being nicely inclusive. There are many body types, ethnicities, facial features, and if you like mythological erotica, they have that covered as well.
I did find the varieties of penile dimensions and shapes to be oddly limited, but not so much that I got bored with the action.
RELATED READ: The Top Gay Sex Games for PC and Mac
It also has a soundtrack, but no voice work, and only a limited range of gameplay sounds. If I could criticize anything about Gay Harem, it's that the music quickly gets annoying. Which, thankfully, can be turned off.
As for how it plays, Gay Harem is a pleasantly diverse mix of mechanics:   You can, for instance, pit your men against members of other harems in a Pokemon-stye arena, follow the extensive quest path, play pachinko, complete the daily mission, go the market, or—if you have enough experience points, check out the club.
Aesthetically, Gay Harem is clearly inspired by Pokemon; the opening scenes even use "catch them all," so the world you're playing with is Chinese/Japanese-inspired. It's not unattractive or distracting; it helps it stand out from other, similar games.
Free to play, pay to win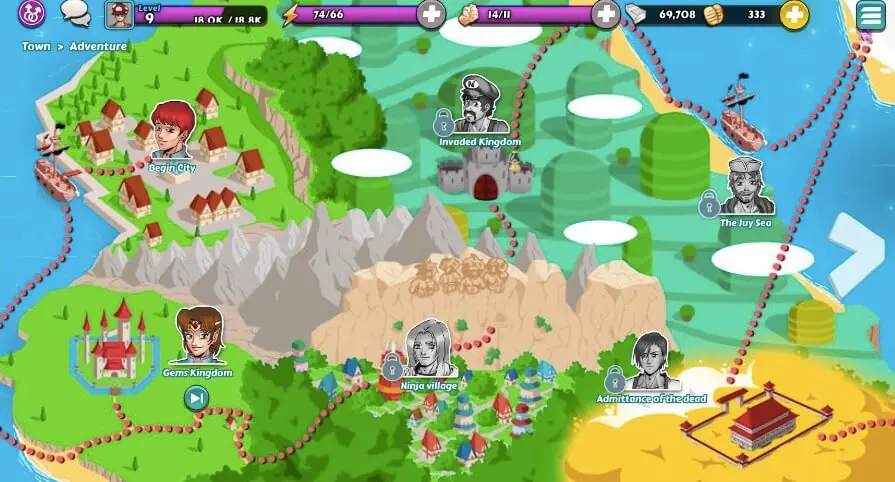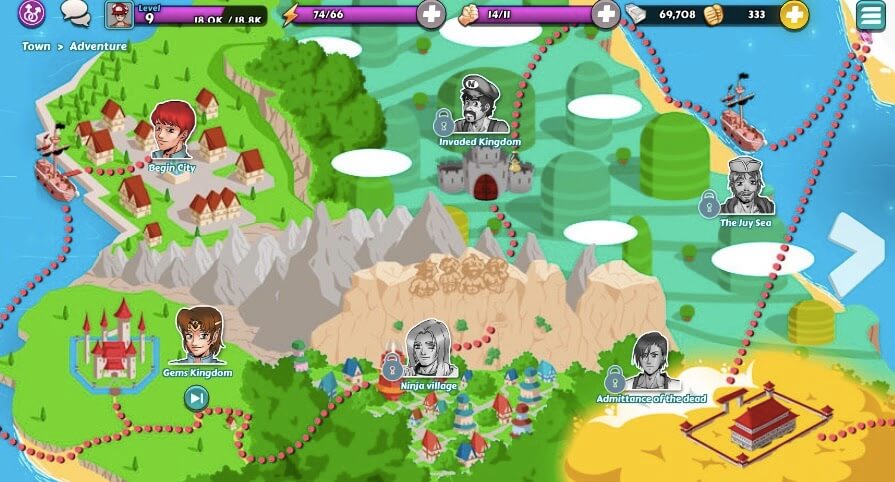 Though Gay Harem [NSFW] doesn't cost anything to get into, it uses that standard browser-based model of a slowly refilling energy points, and gold coins that you can earn or pay some hefty real-world bucks to fill your coffers.
Giving it another thumbs-up, Gay Harem is pretty generous: starting you out with a lot of Kobans and, after you register, 150,000 more. While they go away quickly, you never feel you're getting continuously milked.
But if you do want to buff up your wallet, be warned that buying Kobans will hurt your real finances quite a bit, with 600 costing you $5, while 15,600 will ding you to the tune of $100.
Gay Harem is also browser-based, so pretty much any system can handle playing it. I used Chrome and didn't have any significant technical issues—though I confess to not seeing if it works on a tablet or smartphone.
Good, but not a great, gay male sex game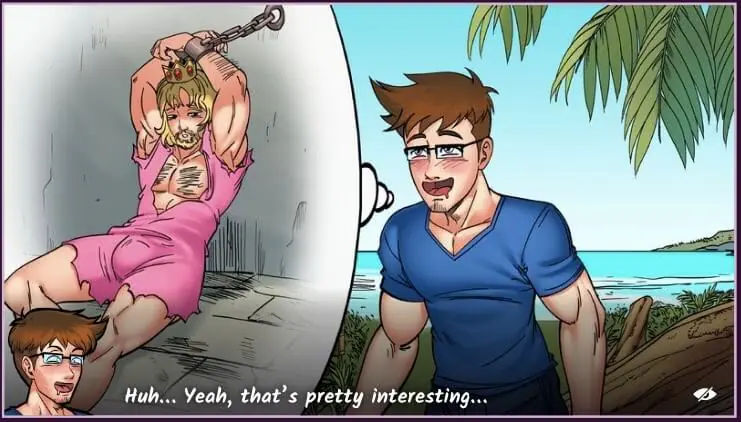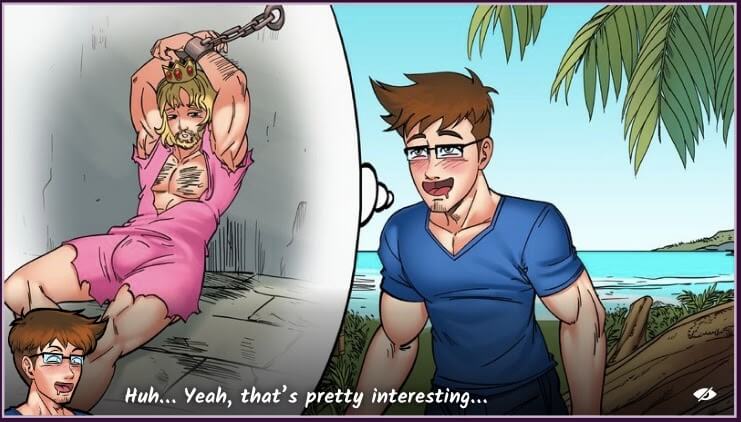 Beauty and the erotic, being in the beholder's eyes, I can't say for sure if you'll enjoy Gay Harem. But what I can say, is that if you like watching many penis-equipped people passionately enjoying other penis-equipped people then you should at least try this game.
Even with it's few problems, like the lack of real animation and a repetitive art style and its high real-money cost to get the action fast-tracked, it still has more pros than cons—at least not enough to turn my thumb from up to down.
Besides, Gay Haren is totally and completely free, only tempting you to dig into your wallet after several hours of play, so it won't cost you anything but time to try out.
So step into the penis-packed world of Gay Harem when you can, and maybe you'll get an erotic kick from packing your household with all kinds of studly morsels—or just have a fun time trying.
Image sources: Gay Harem