/R/gonewildaudio: An Array of Free, Inclusive and Categorized Audio Erotica
From cheerleader to medical fetish, /r/gonewildaudio is an impressive subreddit dedicated to sharing and producing gender-inclusive audio erotica
High-quality audio erotica offers an accessible alternative to pornography, particularly for the visually impaired.
Here are my thoughts on Reddit's community /r/gonewildaudio, offering one of the internet's largest sources of free audio erotica.
Listen and enjoy
/R/gonewildaudio is a subreddit dedicated to sharing and producing amateur audio erotica. That's 'amateur' in the sense of non-profit, not to suggest low quality.
Like all subreddits, it's driven by a community of users and creators. It has robust moderation and prohibits for-profit content. That's beneficial for listeners on a budget who don't want to be inundated with paywalls and truncated 'tease' content. When I started experimenting with audio erotica, I wasn't ready to pay. A library of free files and visible creators is ideal for dabbling in the format.
Once users understand their interests, going to a higher-quality, paid service becomes appealing. Professional services or paid platforms may have more consistent quality and easier navigation than Reddit's fast social media approach.
A decade of development
/r/gonewildaudio started in 2012, and I used the subreddit for a year. At the time, my living situation lacked privacy, and audio erotica gave me enjoyment with no risk of broadcasting it to others.
The community's earlier years were more typical of Reddit pornography. The majority of the content was made by cisgender women for cisgender men. Queer people were mostly absent, and files tended toward vanilla topics like babysitters, nurses, and college roommates, which slowly drained my interest in the community.
I didn't visit during the intervening years, so I was stunned by how far the subreddit had come when I returned this year. They recently celebrated an impressive one million subscribers; the rules have become more comprehensive and goodness, the variety.
RECOMMENDED READ: 5 Subreddits Every Sex Tech Professional Should Join
Aural sex for everyone
I was startled by the variety of tags and kinks available. To list a few: friends to lovers; monstergirl; Irish accent; medical fetish; sleep aid; vanilla; gangbang; impregnation; cheerleader; neck kisses.
Gender inclusivity is embedded into /r/gonewildaudio's functioning. Gender tags are now mandatory, including the number of performers and intended audience. During my recent scroll, the record-breaking audio file was a collaboration [NSFW] involving thirteen women, fourteen men, and two non-binary performers, with multiple files for listeners to pick from to hear their preferred range of voices.
The dedication to gender inclusivity warms my transgender heart. When I first found the subreddit, I still lived as a man, and the majority of its content was catered to me. I was apprehensive about returning because if the subreddit still catered primarily to men, I'd be left out.
That didn't happen.
The gender tag search function made it almost trivial to find files aimed at a transgender audience, created by people of all genders. Audio erotica is extremely personal – it can be highly directed to its listener. The script's roleplay format places listeners directly in the fantasy and a listener's imagination is pivotal in creating a bespoke experience.
This differs from non-interactive video, like traditional visual pornography, which maintains a psychological and emotional distance between the screen and the audience. Audio erotica and interactive VR pornography are immersive and engaging formats because the erotic stimulation comes from the audience's active imagination rather than passively unfolding in front of their eyes.
Strong categorization is vital to audio erotica due to its immersive nature and the inability to preview files before playing. Given the personal context, you can imagine how disconnected I'd feel if I listened to an intimate roleplay and the performer referred to me as a man. My entire mood goes into the bin.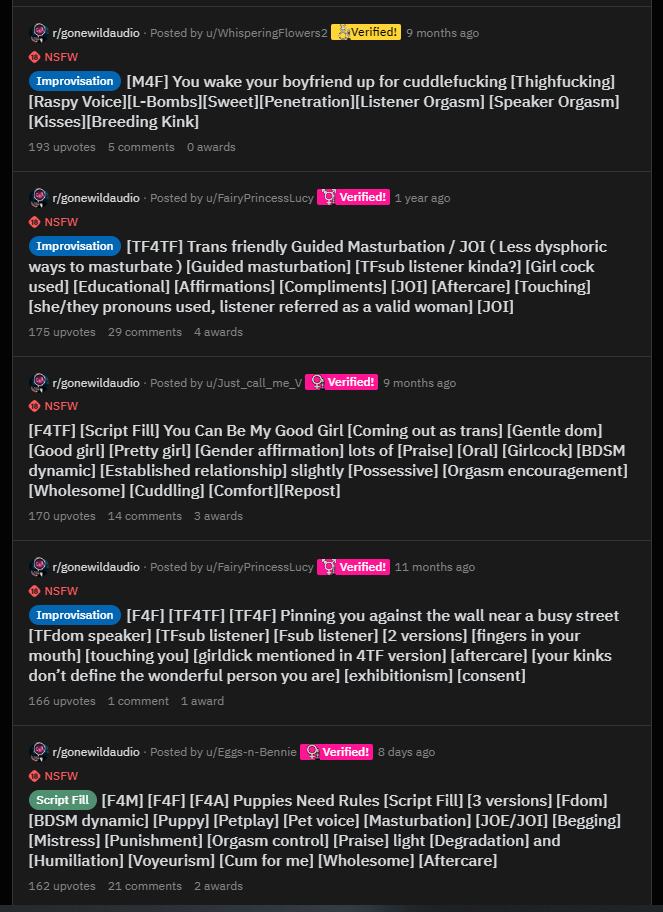 Where community and arousal collide
I consider /r/gonewildaudio a case of social media doing something great. It's a collaborative effort with thousands of creators and hundreds of thousands of listeners. They've produced accessible sexual fulfillment for the visually impaired, the privacy-focused, and everyone interested.
The sense of community is palpable – writers routinely produce scripts for performers to record, and collaborations between performers are incredibly common because recording virtually is inexpensive. And somehow, it's all free. Written and recorded by devoted hobbyists and moderated by volunteers.
The rising world of sex tech presents some very real ethical concerns, but there are really inspiring moments too.
Image Sources: Cottonbro Studio, Reddit