'Exo' Strap-on for Trans Women Signals Growing Diversity in Sex Toy Market
Hands-free device aims to relieve gender dysphoria woes among those assigned male at birth.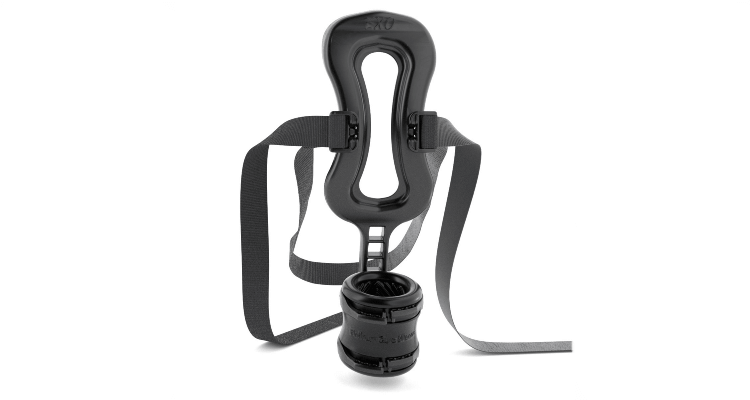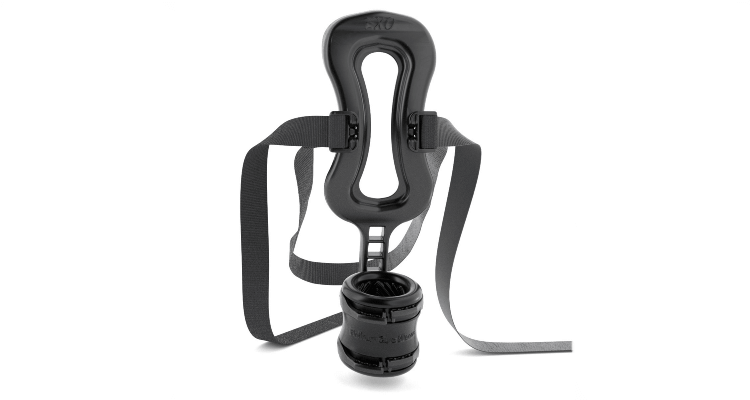 Progressive acceptance of sexual freedom reaches the sex tech industry via the Exo, a newly released hands-free pleasure device inspired by the needs of the trans-woman community.
Fusing a desire to alleviate gender dysphoria during sex via a body-powered machine, Exo's founder Lucas Hartmann set upon a journey that has yielded a waist-strapped masturbation sleeve.
It allows for the mimicking of the thrusting motion of sex to achieve maximal pleasure.
Hartmann's objectives with the device are well in-line with a growing desire to achieve physical and existential aims in serving a more gender and sex-diversified sex tech marketplace.
[Exo] affirms one's instinctual and intellectual identity. Sexual activities and intimate connection can be powerfully validating. Helping people express their identity—sexually, or otherwise—can be pretty powerfully affirming.
Targeting trans and non-binary people
The idea of essentially creating a device that directly replicates insertable intercourse to solve dysphoric sexual difficulties is fascinating. 
Exo is comprised of a black or pink-colored, skin-soft, platinum-grade silicone sleeve that expands or contracts to fit multiple penis sizes comfortably. 
As well, multiple sleeve ring positions adapt to different lengths. Non-slip and easy-to-tighten buckles snap into place. The product also requires no batteries or electronics to use and promises simple disassembly for cleaning.
Breaking down the body's performance aspects to basic science and physics in developing the Exo reveals its most substantial marketing assets: function and utility.
"It functions kind of like the bar mechanism you see attached to the wheels of a steam train, but in reverse. Solving for focusing on the difference in relative movement between ribcage and hips revealed to us the exact amount of movement needed," Hartmann explains.
Also, one's tummy expanding and contracting provides a secondary dimension of movement. Between the two, the user has quite a bit of control over how much stimulation they get, all while keeping their hands free to engage with the experience more fully.
Prototypes to pre-order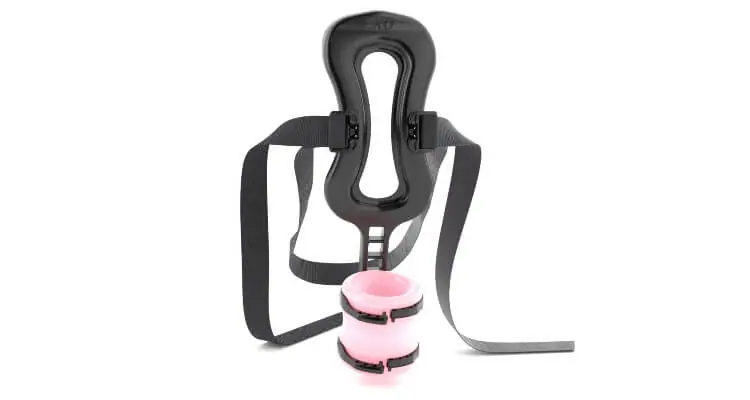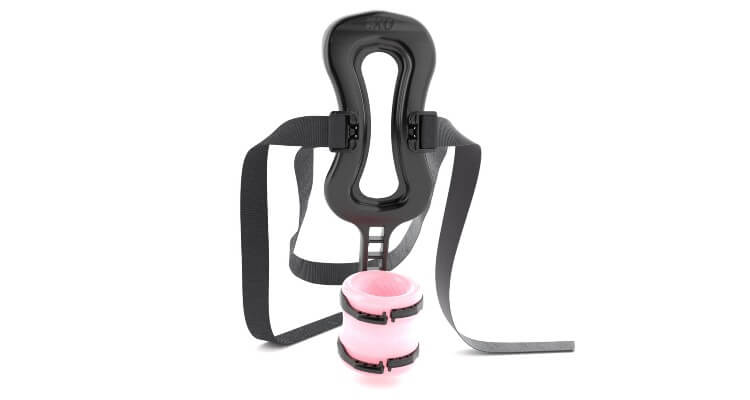 For some penis-having people, the act of strapping a device to one's person for sexual pleasure may perhaps seem distracting. However, for many trans women having sex, the distractions of having to stop, change position, and masturbate to climax, are often problematic for pleasure.
Exo solves this issue.
Ten plus different prototypes of the buckling strap were created until the unique pull strap attached to a stomach plate was developed.
Hartmann describes it as an "extremely strong" waist buckle concept that includes one-way tightening that is easy to buckle/unbuckle and easily accessible for people with hand dexterity issues.
Initial market testing has been key to the product's development. Hartmann notes "substantial" evolutions to the concept came from constant feedback from an underserved marketplace.
These are enthusiastic testers with pretty good intuition and motivation to problem solve. They also have a low tolerance for things that get in the way. Hopefully, we've created something that's broadly intuitive and also adds to the experience.
Explicitly focusing on solving the whole potential spectrum of the body's morphology and sexual temperament is one of the unique challenges of serving the entirety of the ever-broadening sexual spectrum, wholesale.
"Inevitably, some users will not enjoy the product, and we'll be very interested in their feedback, as well as interested in communicating with them about ways to resolve their issues," Hartmann states via email, with a cautiously hopeful tone.
Exo is currently available for pre-order, with a retail price of $69.99.
Image source: Exo