RealDoll VIP: Doll Lovers Social Network Now Live
The revamped private community offers monthly subscription options.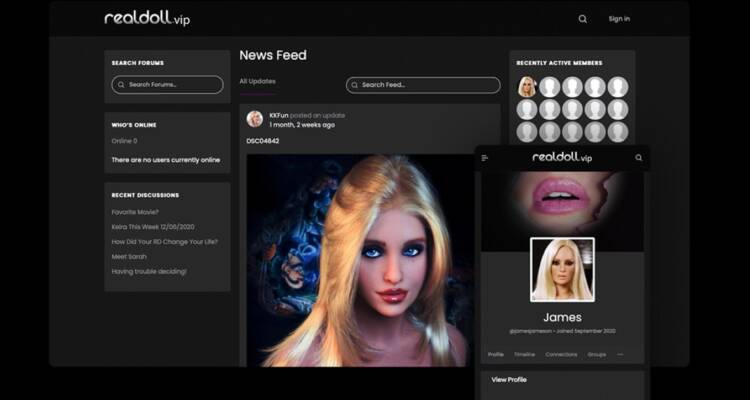 Various social forums for doll aficionados, often known as iDollators, exist online.
But now one of the big names in synthetic companions and sex robots, Abyss Creations, has relaunched its social network for lovers and admirers of its RealDoll line.
Formerly Club RealDoll, the private members-only community is now the revamped RealDoll VIP. It went live on Feb. 17, according to an email sent by the social network.
In addition to lifelike silicone dolls, the company also sells RealDollX robotic dolls that talk and have facial expressions.
Goodbye, Club RealDoll
On Jan. 21, members of the Club RealDoll were informed by email that the forum will be closed for seven or more days as it migrates to the new RealDoll VIP platform. The company said all user information and data will be transferred to this new private community for doll lovers.
The revamped RealDoll VIP integrates with Zoom and has a Facebook-like user interface.
Intended for both owners and admirers of RealDolls, members can share photos, send each other direct messages, as well as communicate through groups, forums, and live video meetings.
The private community is be a place for social connection and learning. Members also have access to the RealDoll client support crew.
Price of RealDoll VIP membership
In order to join the private doll lovers community, you will need to pay. A one-month membership costs $29.99, with monthly prices dropping as you buy for longer periods. There is also a $1 option in order to snag a 7-day trial to see if RealDollVIP is worth a bigger investment.
Related Read: State of the Sexbot Market: The World's Best Sex Robot and AI Sex Doll Companies