7+ Kinky Face Masks That Will Keep Your Sex Life Sizzling
Protective gear takes an unexpectedly erotic twist in the fight against COVID-19.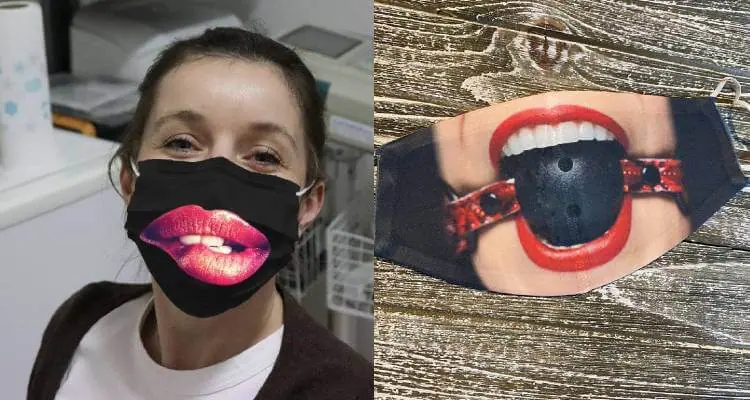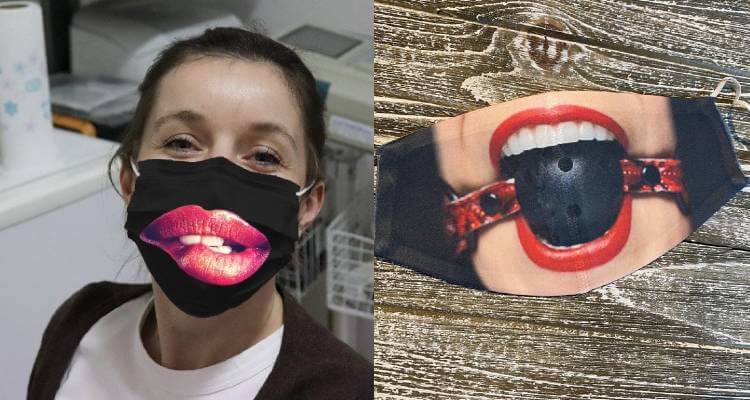 According to health authorities, mask-wearing can greatly reduce the spread of COVID-19. 
Harvard doctors are even recommending people wear masks during sex with anyone who is not a long-term partner.
The May 2020 study doesn't stop there, as it also suggests we limit how many people we have intimate contact with, and refrain from kissing or engaging in "sexual behaviors with a risk for fecal-oral transmission or that involve semen or urine."
Thankfully, as we're encouraged to wear masks in public and during private sexy times, creatives with a penchant for the erotic are stepping in with both fun and racy mask designs.
Here we share a roundup of some of our favorites.
While they are not all medically guaranteed to prevent droplet transmission, with some masks being more sexy and kooky than outright protective, they bring some levity and creativity to an item that's now become a staple of everyday life.
Gas masks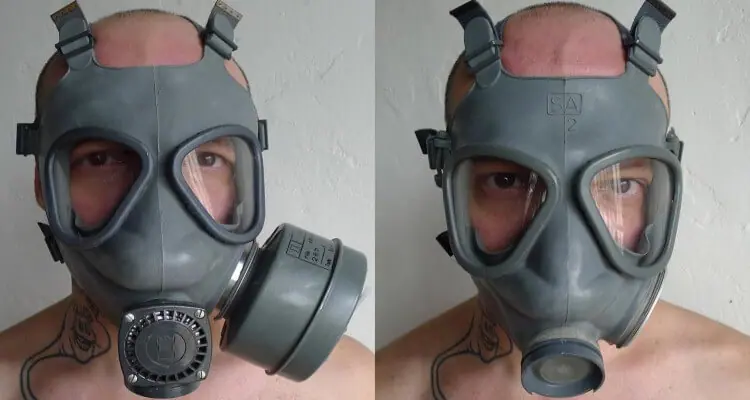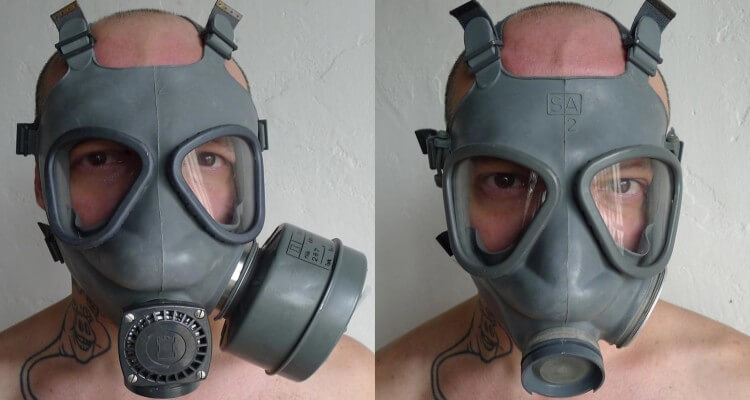 Want to give your pandemic away-from-home excursions a Road Warrior, dystopic feel, or just want to proudly parade your BDSM inclinations to the outside world?
If so, then The Stockroom, the highly regarded kink emporium, has you covered with their Finnish Military Gas Mask. Though it may not be medical grade it covers everything from mouth to nose to eyes while being gloriously fetishistic.
On top of that, it's only $38.50, which is ridiculously affordable compared to how much other, less stylish, masks might set you back.
Bra-inspired masks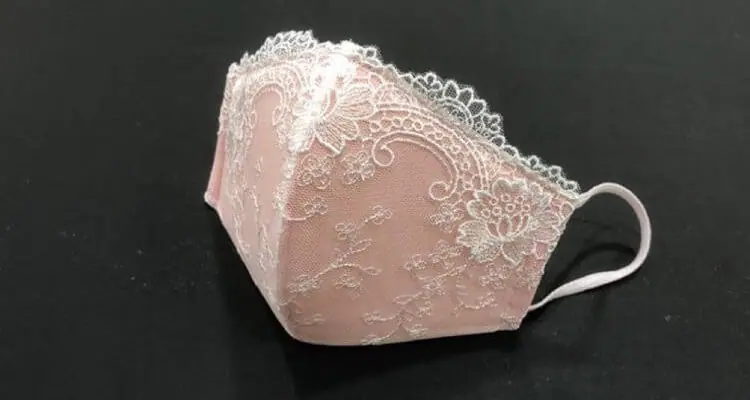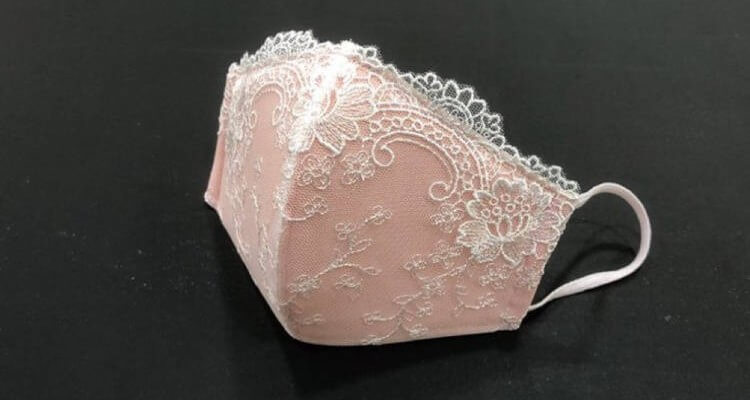 Inspired by images of masks being made from bra cups, Japanese intimate apparel manufacturer Atsumi Fashion decided to give the idea its own unique spin.
What they didn't expect was how popular their lacy bra-cup masks would be, with its entire stock selling out immediately after becoming available.
Face gag masks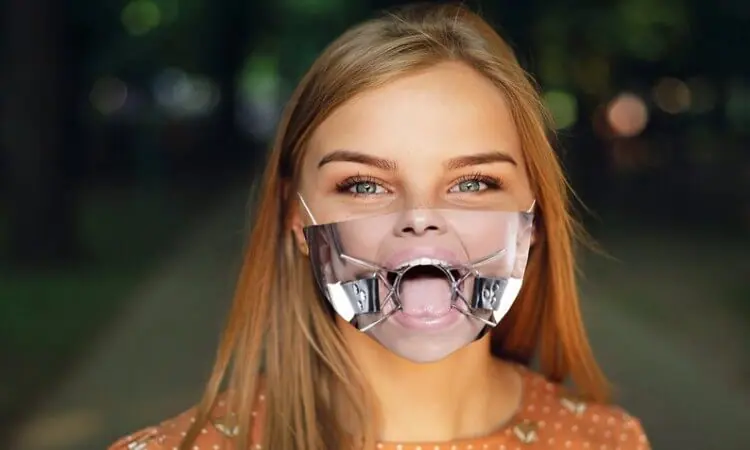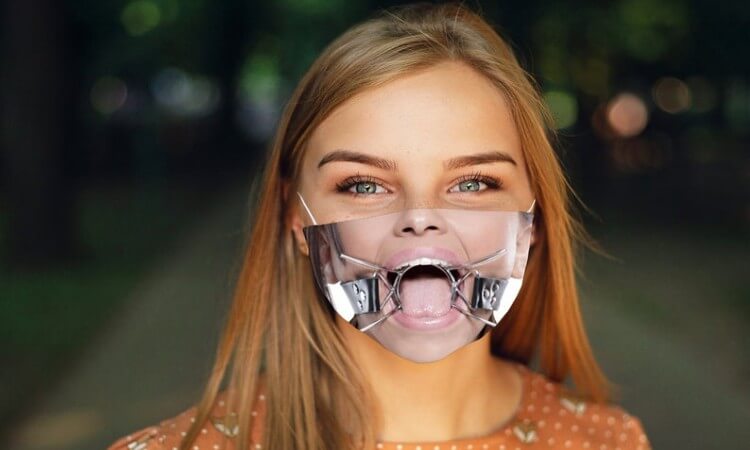 If wearing military surplus gear on your face isn't kinky enough for you, then consider taking a bolder step by sporting either of these two bondage-inspired masks, compliments of sellers on Etsy.
The first puts your play where your mouth is with a photorealistic depiction of an "Extreme Fetish," gag as the seller, TeeBouteek, puts it. Printed on a seven-layer mask, it can be yours for just $15.99, giving you the opportunity to have good protection while shocking anyone you might run into on the rare times you leave your house—or your dungeon.
If less metal and more leather and latex is your thing, then UnicornWhiskers has you, and your face, covered with their own interpretation of a mouth gag. "You'll be the life of the quarantine," as the product description says, for $12.00.
Black corset mask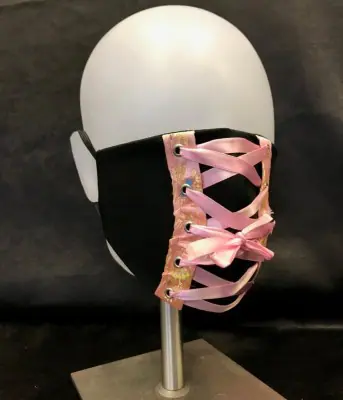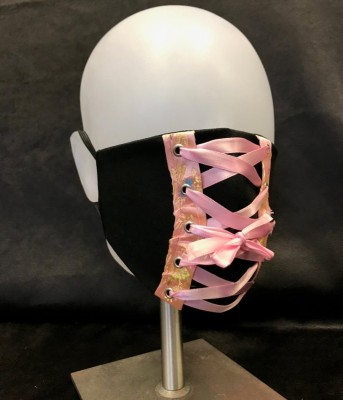 Meanwhile, MBReinventionCouture, also at Etsy, has taken inspiration from the more fashionable side of BDSM by creating what could best be called a corset mask.
With ornate lacing and sultry black fabric, both available in many colors, putting one on will undoubtedly give you an understated yet provocatively arousing demeanor: perfect for raising temperatures that aren't a fever.
Tongue mask
Now here's a way to give COVID-19 not one, not two, but four raspberries with this part playful, part creepy, knitted mask by Yrurari, who hails from Reykjavík, Iceland.
Wearing this will definitely get you some stares, and perhaps a tongue-lashing for being so audacious, but the seller is very clear that while their masks are finely made they don't compare with medical-grade ones.
Used panty masks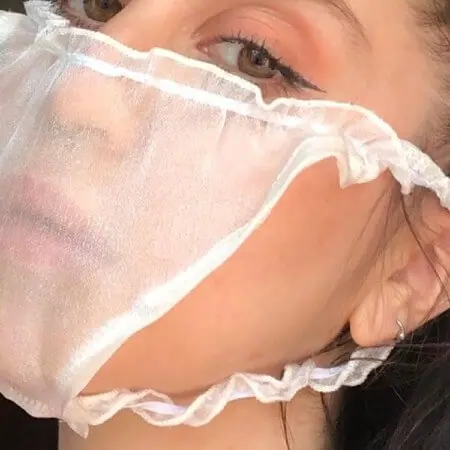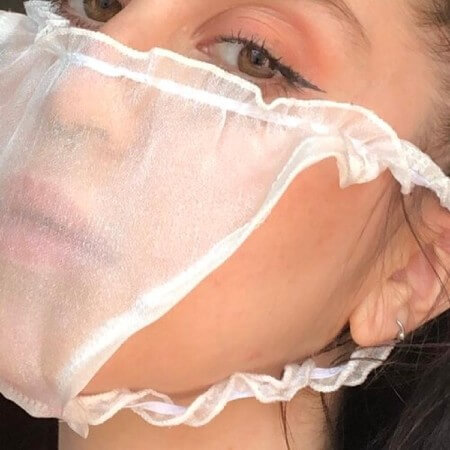 While it seems like there might be as many fetishes as there are fetish-enjoying people, one of the most common is the erotic enjoyment of previously worn panties.
So it should come as no surprise that someone, in this case, Hannah Bates, an artist living in New York City, used has merged this fetish with the need to mask-up during the pandemic.
Interviewed by Forbes, Bates refers to her creations as Panty Respirators and that her inspiration was not so much in trying to meet any fetish demand but to make a strong statement in support of women's right to choose. In particular why she chose to sell her unique masks for $950:
By pricing the masks at the same cost of an abortion, I play with price gouging to hold abortion to the same value as protecting everyone's health during a pandemic.
Sexy lips mask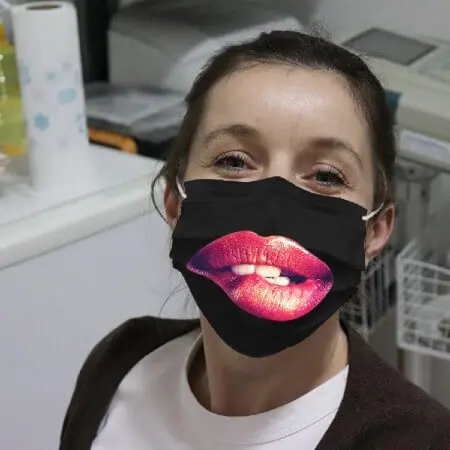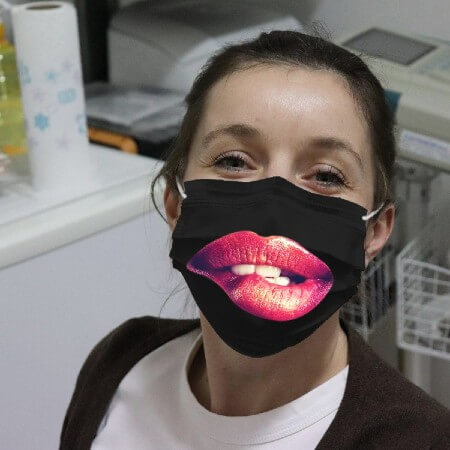 If you'd prefer to be joyously sexy instead of overtly kinky, then greet the outside world with a pair of puckered lips, courtesy of this mask from Teemoonley.
For $14.99, you can show off these exaggerated red puckers that scream KISS ME, even when none of us can get any closer than six feet apart from one other, and maybe even bring the same amount of big smiles back at you.
Will masks become the new sexy?
We human's can certainly be an odd species at times: taking as we do something that might begin as a negative and, over time, turn it 90 degrees to where it's something positive—and even arousing.
Though we have no idea, at all, about where society might end up if the COVID-19 pandemic keeps up safe at home for many more months, possibly even years, it's a safe bet that the wearing of masks may very well become more than just being protection against the virus.
Who knows? It might imaginatively become a widespread fetish or perhaps play a part in considering not wearing one a form of scandalous perversity.
Putting our speculative-future-dreaming bonnets on, perhaps masks will begin to also feature a slew of new, directly sexual technological features. For example, arousing scents being woven into their fabrics, teledildonic-inspired hardware for those who like to give cunnilingus or fellatio—or passionately kiss—or masks don't just look like gags but actually are them for a new style of BDSM play.
Meanwhile, along with sexualizing practically everything around us, humans can get a kinky kick out the contrary, meaning we could see the formation of playfully perverse behaviors around mask-wearing like an exposed face being considered extremely unattractive or unnatural.
The other side of this, of course, is that baring one's naked face during sex may become a wickedly perverse activity, or done for the forbidden erotic thrill of exposing in private what's never revealed in person.
'Give him a mask—'
How all this will actually end up affecting our attitudes toward privacy, social responsibility, intimacy, and, naturally, sex is anyone's guess.
What we do know is that things are changing and will continue to do so for many more years to come. Until the smoke clears, or we just get used to the new state of things, everyone must accept the seriousness of the COVID-19 pandemic.
A major part of which is being a responsible member of society by taking every precaution possible to slow the spread of the virus. Including but not limited to practicing social isolation, minimizing contact with other people, maintaining a six-food distance from others, staying educated and informed about the reality of the situation, and by stringently wearing a mask.
Putting aside how it might turn into a deeply sexual thing, rigorously using face protection also demonstrates another important change to human society: that using one shows you aren't just trying to avoid the virus but that you care for everyone around.
As Oscar Wilde said so well: "Man is least himself when he talks in his own person. Give him a mask, and he will tell you the truth."
Image sources: The Stockroom, odditycentral, TeeBouteek, MBReinventionCouture, Yrurari, Forbes, teemoonley, UnicornWhiskers