The REMOJI Review: Here's What Happens When You Wear a Vibrator to a Music Festival
A sex toy designed for public play that pulses to a beat.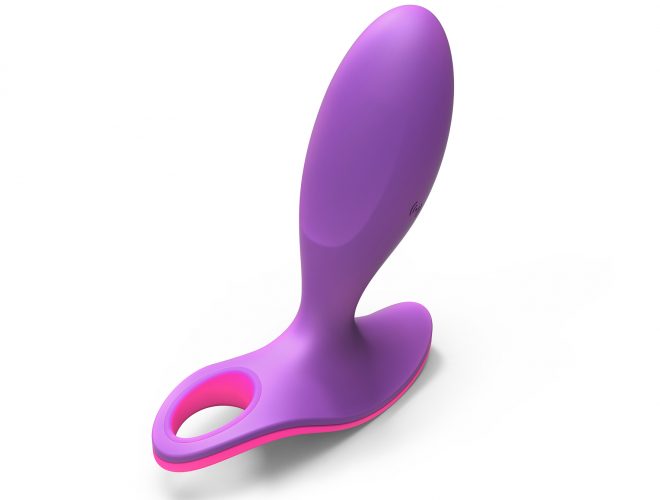 A remote-controlled vibrator is bringing a new meaning to the phrase "festival buzz." I brought a REMOJI sex toy to a music festival to find out whether you really can mix pop with pleasure.

My face is covered in glitter. I'm donning a flowery headband and am holding a plastic pint of warm overpriced beer. I'm at the front of the stage at a music festival. And I'm also wearing a vibrator.
REMOJI is the latest range of four crowdfunded vibrators from American sex toy company PicoBong. Its aim is to provide "public pleasure," and more specifically, pleasure at music festivals. Steve Thomson, chief marketing officer of PicoBong, says: "We wanted to make sure we had a range of products that will tickle anyone's fancy and don't reinforce any ideas of who a certain toy is or isn't for."
I'm using the Surfer, a conical silicon plug with a flat base. It's loosely marketed as the butt plug of the range, but I have chosen it for some frontal action because at roughly 13cm long, it looks easier to conceal than the G-spot toy, the Diver.
Each toy is Bluetooth controlled by an app on your smartphone. The app features REMOJI, a strange animated yellow ball that bounces around in time to either a techno, hip-hop, indie, jazz, punk, or dubstep beat.
Limbering up
Even though the toy is comfortable and secure, it takes a while to get used to walking around with something inside of me, even before it gets shakin'. I turn on the app and receive a jolt. The vibrations are powerful, and I am convinced the festival-goers around me must know what's going down.
Initially, I'm unsure about my comfort level and whether my secret is sexy or somewhat inappropriate for the venue. Am I a really the free-spirited, sexually liberated, festival lover I thought I was?
Physically, I also feel encumbered. My friend remarks that my dance moves aren't as big as usual. Anything that hinders my ability to pull shapes on the d-floor is a problem. DJ Zinc is asking the crowd to "jump, jump, bounce, bounce." I find that I can't.
But after a while, I limber up and relax, and the whole experience becomes a lot of fun. It feels like a pleasant hum in my nether regions; as if my vagina is smiling at me, spurring me on to enjoy the music. I quickly discover that my favorite genre is punk because the friendly yellow punk REMOJI blob is providing the most consistent vibrations of the app's selection.
Personal pleasure DJ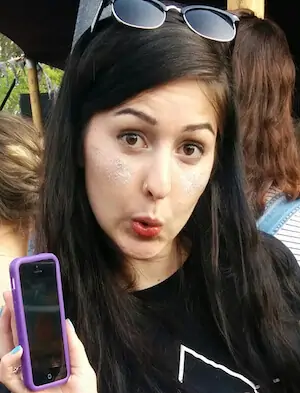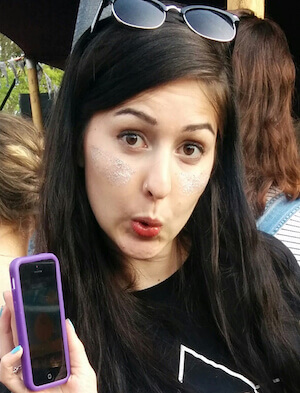 Many previews of REMOJI misinterpreted the company's press release ahead of the toys' sale date. The toys don't actually move in time to the music that you are listening to, but in time to each of the set beats on the app. You must then manually control the vibrations by tapping your phone screen to send "lightning bolts" through you in time to what you are listening to.
This means holding your phone the entire time while you are dancing (cue battery drain), or getting a friend or partner to. The connection works up to about a five-metre distance, so as long as you don't lose your app-holder in the crowd, you're fine.
I hand my phone to my friend and find that it's more pleasurable when someone else is in control because the vibrations are a surprise. You don't have to concentrate on being your own personal pleasure DJ and can enjoy the music and corresponding shockwaves.
The music seems to be getting better as well. That thrill you get from a live show—from feeling the bass rushing up through the ground and into your body—has been turned up to 11 and focused in on one sweet spot of my anatomy.
Back to the bedroom?
It's a heightened musical experience but it's not exactly an erotic one. I'm not about to have an orgasm any time soon. Holding a phone, engaging the app, dancing around—each of these is a distraction, a barrier to thinking about or experiencing sexual pleasure. REMOJI is a whole gimmicky event in itself rather than a sexual aid or prompt. I can't imagine bringing it from the dance floor to the bedroom because after the novelty wore off, it would just be getting in the way of having good sex.
But it's certainly a fun gimmick. When headliners Duran Duran eventually take the stage, it's time to say bye to my new friend, REMOJI. Not during Duran, I decide. "I'm kind of jealous," my friend tells me, "it looked like you were having a great time." She's right. I was having a great time, and I miss the little yella fella once he's gone. I have no doubt that we will meet again this festival season but I don't think he will be making his way into my bedroom anytime soon.
The Surfer costs about $120 and can be purchased from the PicoBong website
*This article contains an affiliate link to help support to cost of running Future of Sex.
Image source: PicoBong