Innovation and Optimism at the 8th Annual Love & Sex With Robots/Reimagine Sexuality Conference
Exploring boundaries while building a sex-positive future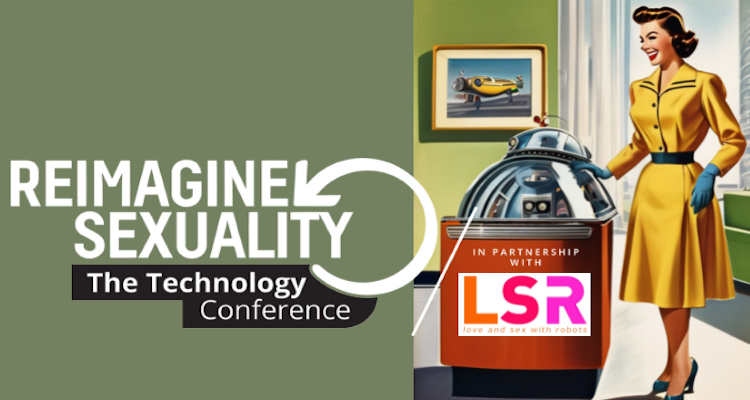 From sex robots in healthcare to chatbots, and a plethora of other innovative perspectives, the 8th Annual International Congress on Love & Sex with Robots joined with the Reimagine Sexuality-The Technology Conference to serve an online feast of products, initiatives, and research.
As the joint conference said "by focusing on sex-positive initiatives that are about health, relationships, education, pleasure, and safety, the sextech industry has made positive movements and impact on an industry that is projected to be worth $37 billion."
This theme of positive impact driving industry worth was prevalent throughout the entire program and attracted international speakers and attendees.
An exciting array of speakers and topics
This year's conference was chaired by Rocio Pelayo, technology strategist and founder of Hablemos SexTech and Reimagine Sexuality Conference; Simon Dubé PhD, postdoctoral research fellow with the Kinsey Institute; and Bobbi Bidochka, MA, author of Sexual Intelligence in Business. 
Two of the chairs also presented: Dubé on "Falling in love with ChatGPT: An experimental study" and Bidochka on "Leveraging Research for Better Business Outcomes."
The four keynote speakers were:
Dr. Kenneth Hanson, assistant professor of sociology at the University of Wyoming, presented "Taking a Life Course Perspective to Understand Love and Sex Doll Owners."
Dr. Amanda Gesselman, associate director for research at The Kinsey Institute, presented "From Stigma to Empowerment: Emotional and Social Well-Being in Sextech Users."
Wendy Gerhardt, research leader at the Deloitte Center for Health Solutions spoke on "The Need for Women's Health Innovation."
Sexual wellness entrepreneur Rob Bobsy Godwin, founding director of Lovehoney in Australia, talked about "Building Trust, Authenticity, and Transparency in SexTech: Lessons from Success and Failure."
Over fifty-five people from varied backgrounds and sectors presented at the conference. Topics included innovations in sex tech for medicine, sex education, entrepreneurial advice, new product presentations, academic research, and of course love dolls, robots, and chatbots.
While all the presentations were excellent, a few stood out in my mind as particularly memorable or innovative.
For example, Will Ranscombe, co-founder of LoveNotWar, presented "Pleasure Should Not Cost The Earth: Sustainability in the SexTech Industry" describing the numerous ways the design of his modular sex toys can be eco-sustainable, such as : neosilicone heads attachable to a vibrating base which could save on manufacturing costs and battery waste.
I was equally inspired by Fredi Fernandez, CPO at Erika Lust and the presentation "Erika Lust's Data-Powered Quest for a Culture of Sexual Positivity on a Global Scale" and Dr. Jo Ann Oravec's erudite and entertaining "You May Now Kiss the Robot: Emerging Civil Legalizations and Religious Endorsements of Human-Robot Marriage."
I was especially thrilled to hear a personal hero of mine, Dr. Marty Klein, discuss "Pornography: What We Can All Agree On." Klein is a well-known sex therapist and author of Sexual Intelligence and other books.
Another impressive panel was on "Addressing Misconceptions: A conversation with the lovedoll community," featuring Lovedoll community representatives LoveDoll Magazine(LDM), Dees Luver, Dollface and Karma.
Sextech designs for people with disabilities
The conference included several presentations and products with a focus on disability pleasure. For example, Margaret Anderson and Alex Wertheim, co-founders of Touchbot, presentation, "Inclusive Innovation: The Future of Accessible SexTech through 3D Printing" which featured the brilliant 3D printed "Lattice Extension Handle" designed by Anderson.  
Others presented intriguing products, such as the Bump'n Joystick, which pairs a cylindrical body pillow with a giant grip so users can enjoy them handsfree.
During "Breaking Barriers: Accessible Sexual Pleasure for All Abilities," Zachary Nielsen, co-founder of Luddi, introduced Ziggy, "the first sex toy for all bodies."
Almost flat, Ziggy's vibrating orange shape can be humped while flat, sat upon, stuffed down the front of your pants, and even shared by two bodies. Its foldable "wings" can also curl around a penis or other body part.
The other panelists were Tess Devèze, founder of ConnectAble Therapies; Rachel Wotton, PhD candidate, consultant and educator; and Bryony Cole, founder of Sextech School.
Disability access and enjoyment was also touched upon or emphasized in some of the other presentations.
Future of Sex in the house
As a clinical sexologist and author, I was honored to give two presentations: "How to Make Love to a Chatbot" on Monday and "Adult Sex Ed for AI Chatbots" on Tuesday.
Future of Sex's own Managing Editor and senior writer, M.Christian, read his short story, "The Work Of Our Hand" before speculating on the value of pairing neural networks with artificial companions.
A future all of us can enjoy
With this year's partnership with Reimagine Sexuality and growing interest from sextech industry representatives, academics, and clinicians, the 2023 International Congress on Love and Sex with Robots has come a long way since the first one was held back in 2008. You can read more about the history of the conferences here.
It was not difficult to detect a feeling of shared purpose and vision in the conference, one where a sex—and pleasure-positive future for all is possible and attainable through sextech innovation driven by the stated dedication "to improving human sexuality and relationships through technology and sex positive education."
Image Sources: LRS/Reimagine Sexuality Conference, A.R. Marsh using Starry.ai.