You Can Now Buy Sex Toys from Vending Machines at Berlin's New Airport
Because what else are you going to do on a transatlantic flight? Read?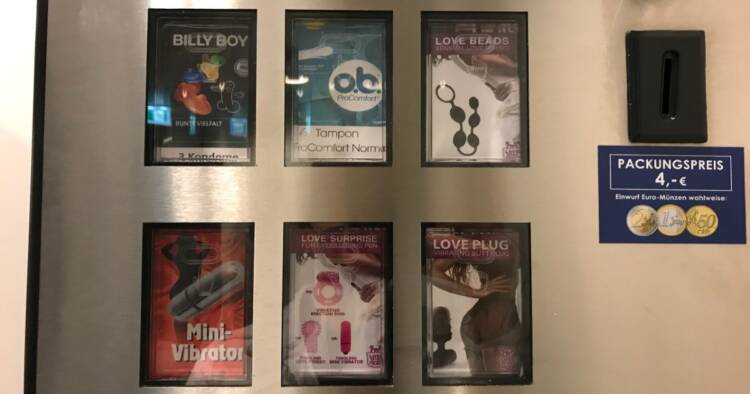 Nine years late and almost 4 billion euros over budget, the new Berlin Brandenburg Willy Brandt Airport (BER) finally opened at the end of 2020.
BER has a few notable aspects: The airport's control tower is the third highest in Germany, security lines are endless, some passengers have waited until 3 a.m. for their bags…
But its most unique feature? You can buy sex toys in the public washrooms.
You know, from the same vending machines where you can traditionally buy pads and tampons.
What's available?
The types of products available depends on which restroom you're in.
In the women's loo, you'll find tampons, colorful Billy Boy condoms and a selection of erotic toys. Available toys range from low-tech options like silicone anal beads and rubber finger rings to battery-based vibrating devices such as butt plugs, erection rings, and bullets.
As for the dispensing machines in the men's restroom, they also have Billy Boy condoms. But they're offered a wider variety, including ones with fruity fragrances or pearl beads. Bullet vibrators and vibrating erection rings are the only tech-enabled toys.
What's novel about the men's room is the selection of low-tech masturbators, including a stretchy single-use fleshlight and inflatable sleeve.
Most machines also have a "surprise" button that can dispense anything—sex toys, thongs, or even condoms shaped like reindeer.
All of the toys are provided by a company called Love in the Pocket. The products live up to their name with standard box dimensions of 72 x 55 x 17 mm, meaning they can actually fit into your pocket. Most of the battery-powered toys work for 40-60 minutes.
What's not available?
Lubricant, unless you purchase one of the masturbators from the men's restroom.
Also pads, despite being a traditional staple in women's restroom vending machines.
Where can you find these sex toy vending machines?
Literally in every restroom in the airport.
According to BER spokesperson Jan-Peter Haack, this reflects Berlin's culture and attitude toward sex:
"At the airport, it is possible to purchase sanitary supplies at the restrooms. Furthermore, the retailer who runs the vending machines on the airport restrooms offers products of which the provider receives a demand and which match with the open and modern culture of the capital region," Haack told Future of Sex.
Do the products ever change?
Unclear, but we'll report back if we see anything new.
Image sources: Carolyn Stransky