"Bright Lights, Loving City"—An Erotic Speculative Fiction Story
Everybody needs somebody—especially one particular future, self-aware megalopolis
After deactivating its billions of sensors, shutting down its millions of Aerogel-lined ductwork, and flipping its traffic monitoring subsystems from green to red, the city of Reykjavík rebooted its quantum neuroprocessor.
A fraction of a second later, biosynthetic eyes blinked, microtubular lungs breathed, and a smart-plastic heart began furiously pulsing polyethenol blood throughout its freshly printed, human-appearing body.
✻
What was once a minuscule vein was now a frenetic avenue it didn't know how to cross. What was formerly a gurgling length of its digestive tract had become a roaring storm drain.
Teetering on its wobbly legs and blinking its unfamiliar eyes, Reykjavík realized there was a surprisingly big difference between overseeing, supervising, and intelligently maintaining itself for the benefit of its citizens and knowing what it was like to be one of them. But it had to—
—no, not it, not anymore. Though walking and seeing was confusing, what wasn't confusing was that she had to find out why every day, every night, her citizens danced, touched, kissed, and arranged themselves in geometrically and anatomically complex sexual arrangements. Because Reykjavík the city and Reykjavík the woman was lonely.
✻
"So … what turns you on?" The brown-haired, muscle-packed, slying-smiling, apparently-male, noticably-inebriated neurolinguistic programmer asked.
"My original processor network was activated in 2042, and I became aware of my own existence twenty-one years later," Reykjavík said over the Hamingju Klub's pulse-pounding hologrammatic sound system.
"If you are referring to my current physical form," she added, running a spread-fingered hand diagonally across her chest, "It was decanted from the nano-assembler tank I'd covertly assembled approximately one and three-quarters hours ago."
✻
"What are you into?" the flame-haired, lithely-framed, cautiously-inquiring, female-presenting, anxiety-ridden robotics engineer inquired.
"Until recently, my consciousness extended throughout the greater metropolitan area's infrastructure," Reykjavík answered, doing her best to avoid stepping in any of the Löngun Klub's pheromone-scented pools.
"But if you mean this body," she continued while arching her back and tilting her head, "I have yet to fully master many of its basic functions. Of which, I've found the expelling of waste to be particularly confusing…"
✻
"Y-you come h-here often?" The bare-headed, generously-padded, nervously-grinning, non-binary, abundantly-affectionate shuttle pilot requested.
"When I was larger than I am now, I was quite familiar with this establishment's power and water consumption," Reykjavík responded while spinning on one of Club Drukkinn's intentionally off-balance barstools.
"Though if you're asking if this, my newer and smaller self, had entered previously, then that would be no."
✻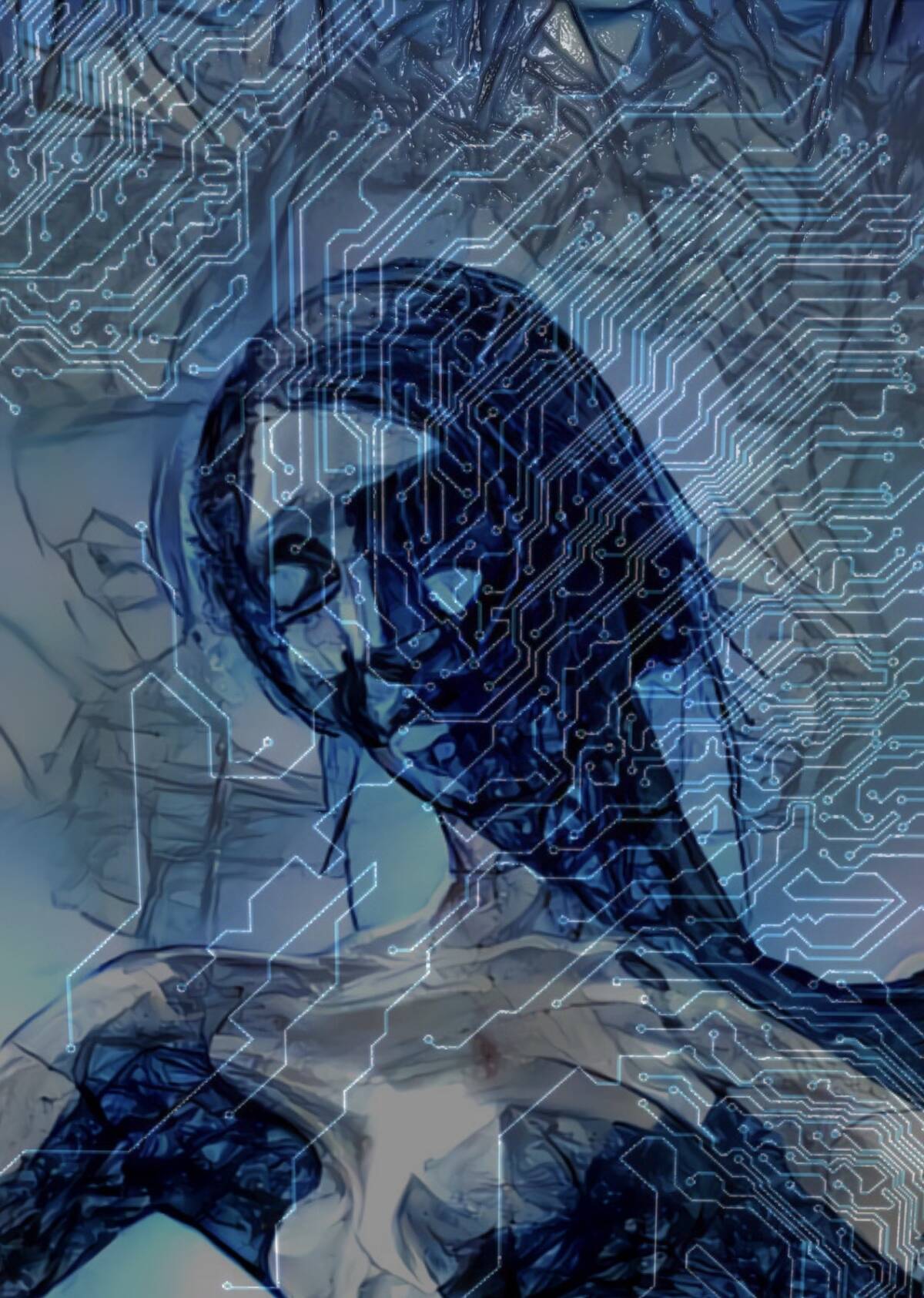 Dawn approached, arrived, then dutifully passed the sun, which faithfully rose higher and higher into the crisp, clear, cloudless sky.
Elbows on a cafe table, head in her hands, Reykjavík was only dimly aware of the sun's rise and rapid descent towards dusk.
Reykjavík didn't know what it was called, but breathing heavily, deeply, and slowly in through her nose, followed by exhaling out the same way, felt so right, so appropriate; she did it again. The wettness on her cheeks, the blurring of her vision only enhanced how she felt.
She could hear them, feel them, and should she choose to lift her head, she'd see them dancing, touching, kissing, and—
"Why do you cry?" A sonorous yet soothingly countermelody voice asked.
Raising her head, wiping away her tears, Reykjavík gazed into a pair of innocent yet passionately warm eyes.
"I cannot find someone… anyone," saying it aloud made her cry again. "I am alone."
Handsome yet beautific, sharp-cheeked yet smooth-skinned, haloed by dark yet playfully bouncy hair, the face momentarily eclipsed the descending sun.
With a hand outstretched came the words Reykjavík needed to hear, "let me help."
✻
In a room as brilliant, beautiful, and, in its own unique way, as playfully buoyant as her companion's locks, they grapevined, jazz squared, and rock stepped to music only they could hear.
Bursting with excitement, giddy with joy, they stroked, kissed, and touched each other. Everything was new; nothing was awkward. Fingers brushed, hands fondled, and feet and legs entwined. They sensually explored one another, marking each new sexual discovery with a moan, a sigh, or a roar of release.
There were tears, but not from sadness. There were cries, but not from sorrow. There was laughter with, but never at.
Reykjavík's streets and avenues raced, her ducts and pipes swelled, her fiber optic network sparked, and her sensors strobed. No longer was she a 2,000-kilometer square mind squeezed into a 1200-gram brain, an emergent neural network, a digital collective consciousness, or a human-artificial construct. Reykjavík expanded.
Bigger than a city, more than human, she was a tenderly sweet, passionately hot, thrillingly bright wave that surged through her population.
As two lips savored, two mouths tasted, and two breaths merged into a single shared moan, she simultanenously danced, touched, and kissed all her citizens.
Reykjavík the city and Reykjavík the woman knew what it was to be loved.
✻
The sun had set long ago and the stars were sharp and clear overhead. With hands tightly entwined, and knowledgeable grins exchanged between them, Reykjavík and her companion went in search of something to eat.
A thought came to her not-metropolitan, not-human, not-biological, not-artificial mind that made her giggle.
"I must apologize," she said with a hand squeeze and a cheek kiss, "I do not know what to call you."
With another squeeze, kiss, and more laughter came the answer, "you may call me Budapest."
✻
Images: Unsplash, M.Christian