Machine Flirting: Roboticist David Levy Discusses AI, Sex Tech and Adult Chatbots
Is Erotic Chatbots Ltd. the risqué future of conversational AI?
As robots become an increasingly common aspect of everyday life, humanity will need to ask itself some difficult questions. Would you be comfortable with a self-driving car? What about receiving medical treatment from robotic nurses?
How would you react if a robot tried to flirt with you?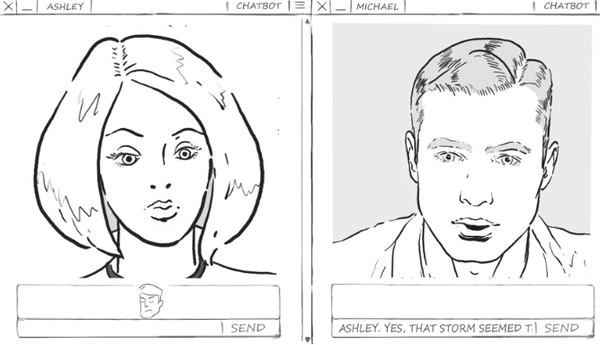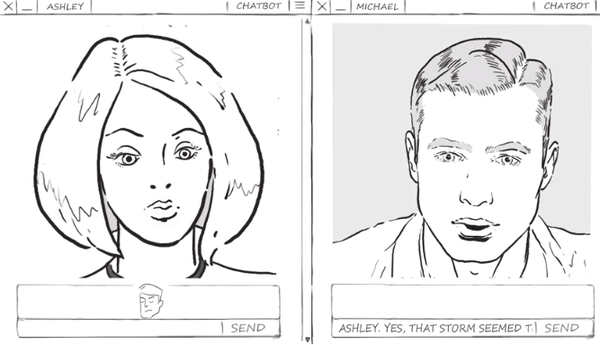 That's the question that chess champion and acclaimed robotics expert David Levy is trying to answer. Along with his business partner, digital erotica publishing maven Paul Andrew, he's founded the company Erotic Chatbots Ltd.  Together they're aiming to develop a commercial chatbot program that is engaging, interesting, and most crucially, amorous.
Speaking to Future of Sex about this exciting new venture, Levy outlined his views on the future of commercial robotics, the implications of virtual romance, and the progress of his groundbreaking AI research.
Programmed for companionship
Beginning with a recent campaign on the Indiegogo crowdfunding platform, Erotic Chatbots Ltd. is looking to bring Levy's flirtatious chatbot program to the tech-obsessed masses. Building on his previous Loebner-award-winning AI from 2009, the "Do-Much-More," his new Erotic Chatbot program boasts a range of enhancements that put it far beyond the capabilities of its peers.
Levy claims that the AI currently in use by competing chatbot developers "only scratches the surface of what is possible with our approach."
"Our software technology works in a completely different way to everything else described in the computational linguistics literature, and it is the originality of our approach which we believe will help to set our upgraded chatbot apart from all others in the market," he said.
In a statement on the Erotic Chatbots Ltd.'s crowdfunding page, the program is touted as being compatible with most computer or mobile systems, and able to engage in entertaining, interesting, and erotically charged conversations.
But although the lascivious chatbots are designed for adult conversation and feature a "dirty chat" mode, they are also capable of engaging in conversation without any overly salacious content. According to Levy, this non-sexual flirting style may appeal to the chronically shy, or those who are uncomfortable with risqué content.
And Levy is more than confident that a market already exists for his flirtatious AI.
"If you already behave like 'Pavlov's Dog' every time your smart device pings or vibrates, you might already be more than a little bit 'in love' with a robot."
"In the half-light of virtual community, we may feel utterly alone. Taking that intimacy to another level, and 'making' or 'attracting' an intelligent virtual-lover or partner which understands and wants to please you, is perhaps an appealing proposition to a lot of people," he said.
Commercial Possibilities
However, Levy also believes that a wide market exists for his chatbot beyond the chronically lonely and socially disenfranchised. One demographic he considers to be a likely user base is the curious: "People who wonder what it would be like to have an erotically charged conversation with a chatbot. Another will be those people who currently pay for sex-line chat."
But his plans for the software go far beyond flirting, with Levy envisioning a myriad of potential uses for his conversational AI. He described plans for apps and online services, along with a special secret implementation that they're still developing.
Unfortunately excited chatbot users will still have to wait for the launch of Levy's new secret development, which is currently scheduled for a mid-2016 release.
"We will be producing versions tailored for different types of situations. One example is corporate web sites—the chatbot will be able to carry on an interesting and entertaining conversation with users about a company and its products—far more than just the typical question-answer," Levy said.
Part of what makes the AI such a proficient conversationalist is its cutting-edge software, which is designed to retain and catalogue information about the user. Over time, the chatbot is capable of learning all about your various interests, letting it tailor the conversation to your specific tastes.
As an added bonus, Erotic Chatbots Ltd. claims that the more personal characteristics the AI learns about its user, the more endearing the program will find these qualities in the person.
In fact, Levy says that erotic chat and flirting are only part of the program's function, with the core software displaying communication abilities beyond anything else that's presently on the market.
Digital relationships: what's coming next
And Levy isn't the only developer who's attempting to harness conversational AI for commercial purposes. Earlier this year, the synthetic sexdoll pioneers at RealDoll announced plans to release Realbotix, a line of responsive sex robots that will offer the illusion of sentience.
RealDoll creator Matt McMullen is already working on a prototype named Harmony, which will feature a convincing AI that's intended to foster a deep emotional and intellectual connection with users.
Levy is unsurprised by this development, an evolution he's predicted for the industry since 2007. Describing the move as a natural and expected extension of RealDoll's previous work on synthetic partners, he believes the new focus on robotics will be a boon to the industry.
"I fully expect that once electronic versions of RealDoll appear on the market they will be widely publicized and that, in turn, will cause the market for such products to expand and other companies to come into the business," Levy said.
The growing publicity surrounding sex robots may also serve another purpose, as the greater focus could aid in destigmatizing the perception of users. While sex toys have been gradually moving towards mainstream acceptance in recent years, the general public is still prone to sneering at enthusiasts as deviant or dysfunctional.
According to Levy, this attitude continues to hold back development, while also prompting prospective users to be ashamed of their desires.
"I believe that many people who are customers or potential customers of such products are too embarrassed to admit it. But as RealDoll and other products start to become more mainstream, I believe that society's attitudes will change."
"There is a whole section of my book on the way in which sexual mores and attitudes have changed over the past half century or so, and I think that more changes will come at an even faster rate in the future," he said.
The ethics of virtual romance
Levy was also unconcerned by the recent campaign surround the ethical implications of using sex robots. Although he's perfectly happy for ethicists and philosophers to endlessly debate the subject, he considers questions of morality to be of secondary importance to the real world progress being made by robotics and AI researchers. Abstract issues surrounding ethics are of little value compared to what he sees a product with enormous popular appeal.
But while these concerns may be worth considering in an academic sense, Levy is dismissive of their importance to the industry as a whole, with their application largely being limited to the theoretical.
"In theory, yes. But in the real world, no. What I mean by this is that, in the real world, no matter to what extent there is a belief or even laws to prevent certain uses of robots, those who are interested in robotics and AI development will continue to research and develop, and will produce robots and artificial intelligences which others will find abhorrent. For example, there is no point, in my opinion, in people arguing against the use of robots in warfare. If your country is attacked by an enemy who wants to wipe you and all of your compatriots off the face of the earth, which would you prefer to do – succumb to that enemy or do everything within your power to defeat it?"
While many are still squeamish about the possibility of robotic relationships, Levy may be correct that sex robots are an inevitable development. Although chatbot's are only a small step in this direction, they're paving the way for people to develop real and meaningful relationships with digital entities. We may be heading towards a future where Siri won't just recommend a restaurant, she'll also be your dinner partner.
Would you flirt with an erotic chatbot program?
Image source: Erotic Chatbots Ltd