Lovehoney Redesigns Human Hands for Ultimate Pleasure
Because who wouldn't want to replace their thumb with a rabbit vibe?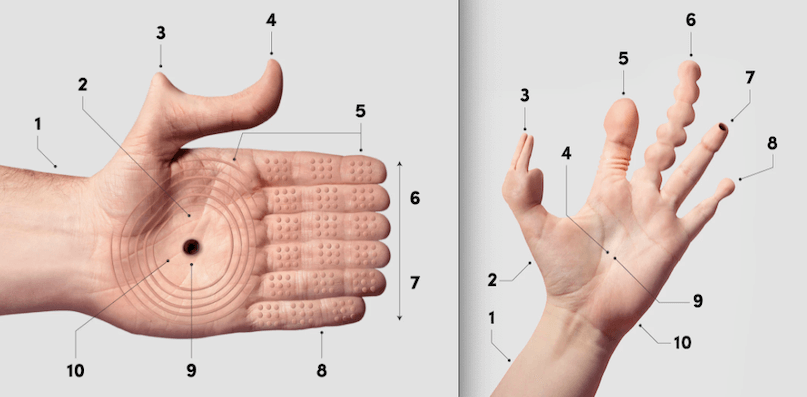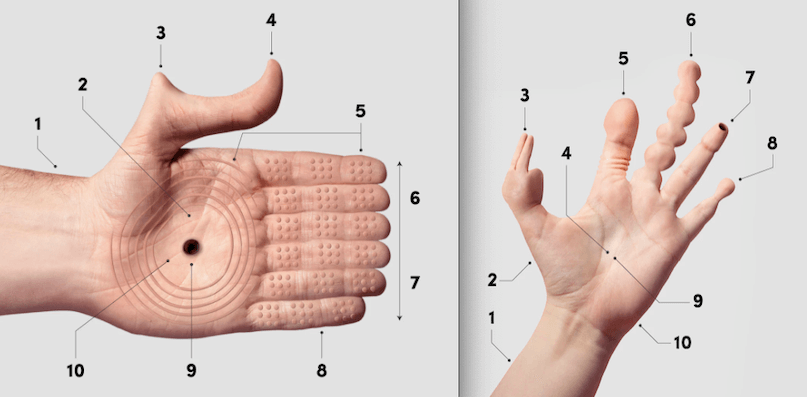 Have you ever wondered what it'd look like to sculpt and reshape your hands to optimize for self pleasure? Well, look no further.
To celebrate Masturbation May, the sexual wellbeing experts at Lovehoney took a swing at reimagining the human hand and we're… intrigued.
The team, which includes sex researcher Justin Lehmiller, focused on how hands would need to evolve to deliver the same amount of pleasure as sex toys. As a result, they created speculative "Masturbation Hand" diagrams for both vulva and penis owners.
Vulva owner Masturbation Hand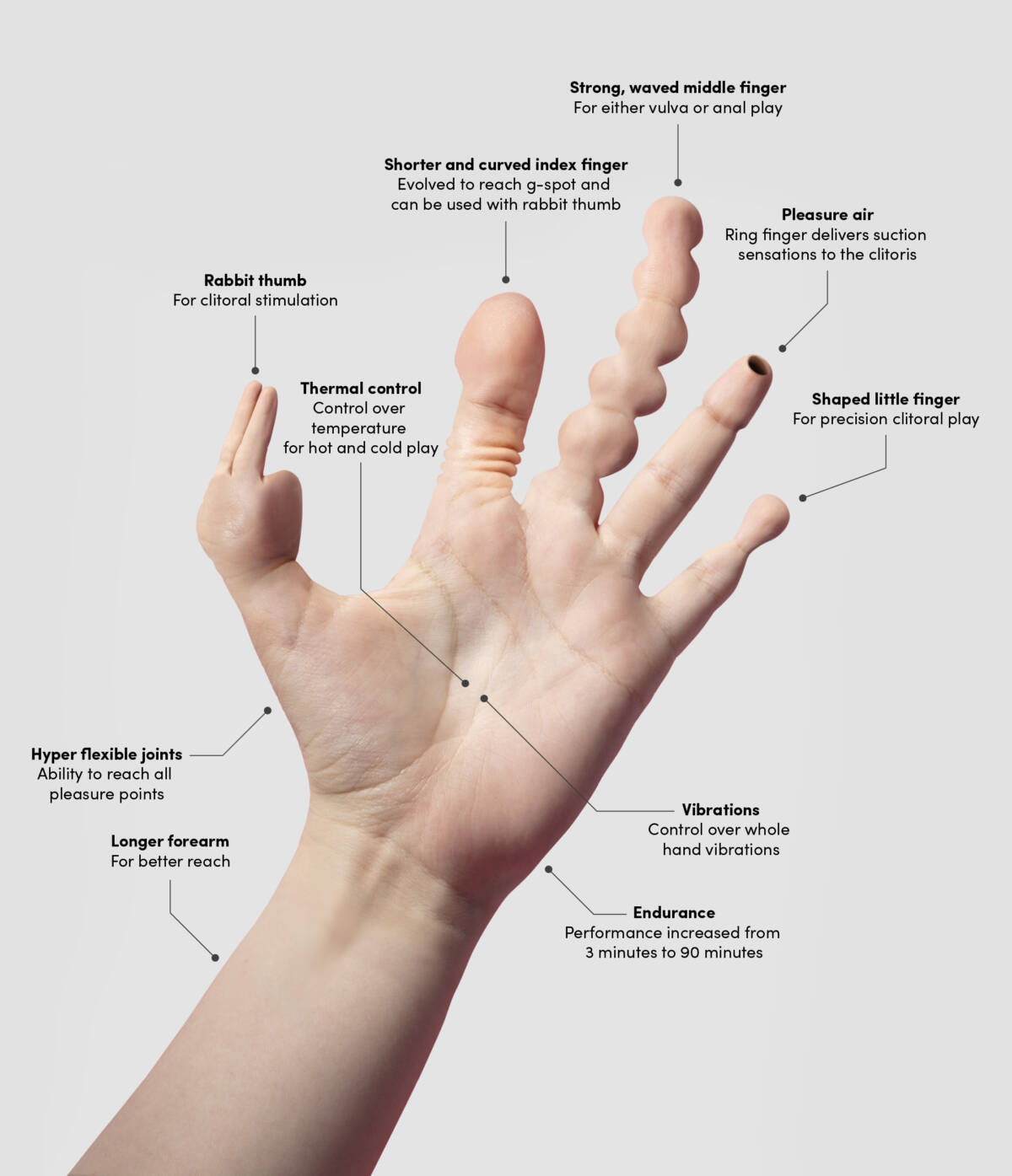 Imagine if you took individual fingers and then molded them like clay to mimic the most popular sex toy shapes. That's exactly what this hand looks like.
Squeezing in the top knuckle of the pinky, resulting in a bulbous tip for precise clitorial stimulation. Pushing down into the ring finger to create enough of an opening for suction sensations. Rabbit, dildo, and anal beads all literally at your finger tips. Top it off with a (presumably very) long forearm to actually be able to use any of these.
As a vulva owner myself, my outlying question is—how would you text? Or wash dishes? Or really anything practical?
Penis owner Masturbation Hand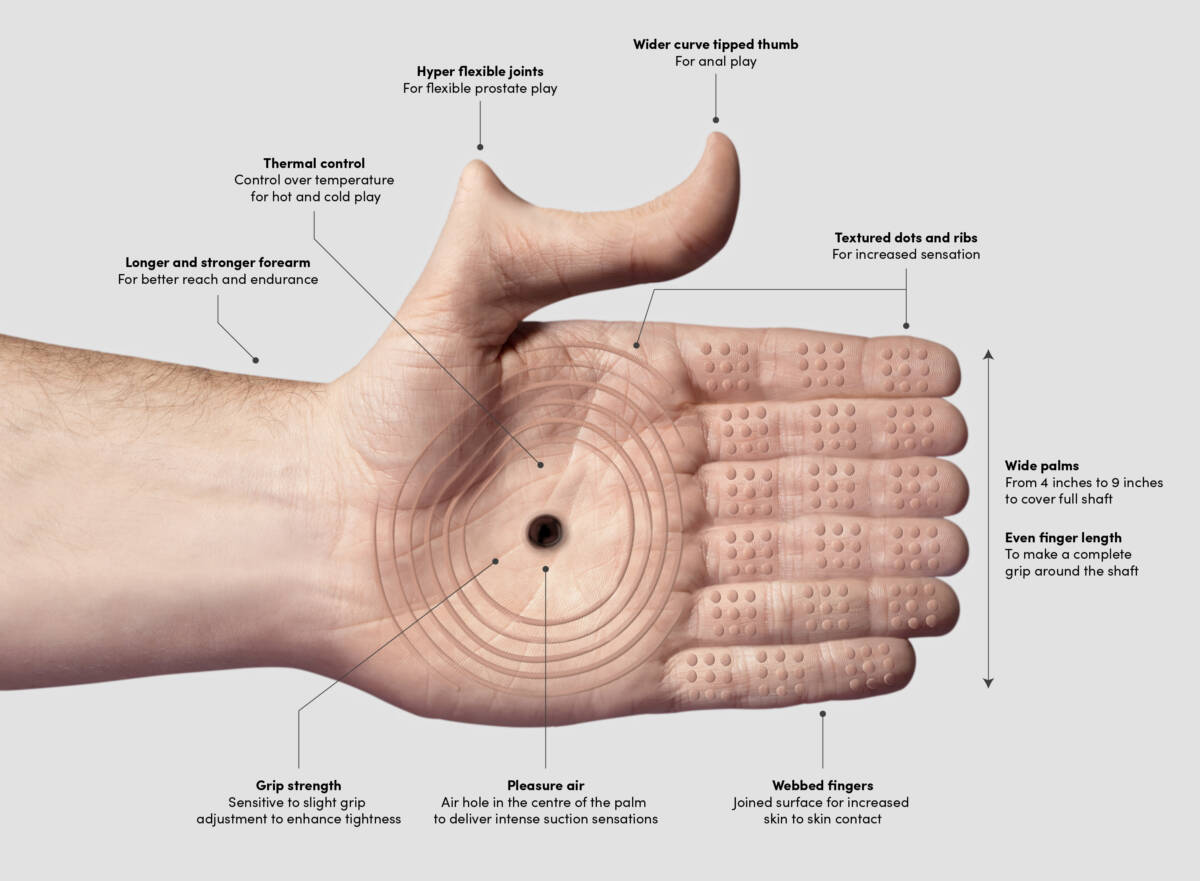 If you fully extend your hand and rest all of your fingers together, this is essentially the shape of the penis owner hand. It's not nearly as inventive, focusing instead on optimizing the palm and fingers for stroking. The thumb is the exception with over-extended joints and a curved tip designed for prostate pleasure.
That said, the hand for penis owners is actually much more practical when we think beyond masturbation. Imagine what you could lift with those stronger forearms or how much faster you'd swim with webbed fingers and wider palms. Bouldering would be a breeze with dots and ribs built into your grip.
Looking towards the future
The concept of reconfiguring the human body for pleasure isn't new. People have been self-modding and turning themselves into human vibrators for years.
What's intriguing about this, though, is the idea of not just integrating technology into our bodies, but rather changing the anatomy entirely.
Being able to choose what type of hand you want and how you'd intentionally develop your body opens up a lot of possibilities. I'm thinking particularly about queer people or anyone else who feels like their body doesn't quite fit as-is.
Then what if we think beyond our hands—maybe towards textured tongues, resizable penises, adjustable skin stiffness, or whatever else you can dream up.
In their press release, Lovehoney ultimately stated:
"It's clear to see that we would have to evolve dramatically to come close to offering ourselves the same amount of joy as our favorite sex toys."
Sure, probably true, but that won't stop us from speculating. 
Image sources: Lovehoney