Out-of-work Strippers Raise $13,000 for Social Justice Groups with Cyber Strip Shows
"The more you tip, the more we can pay it forward!"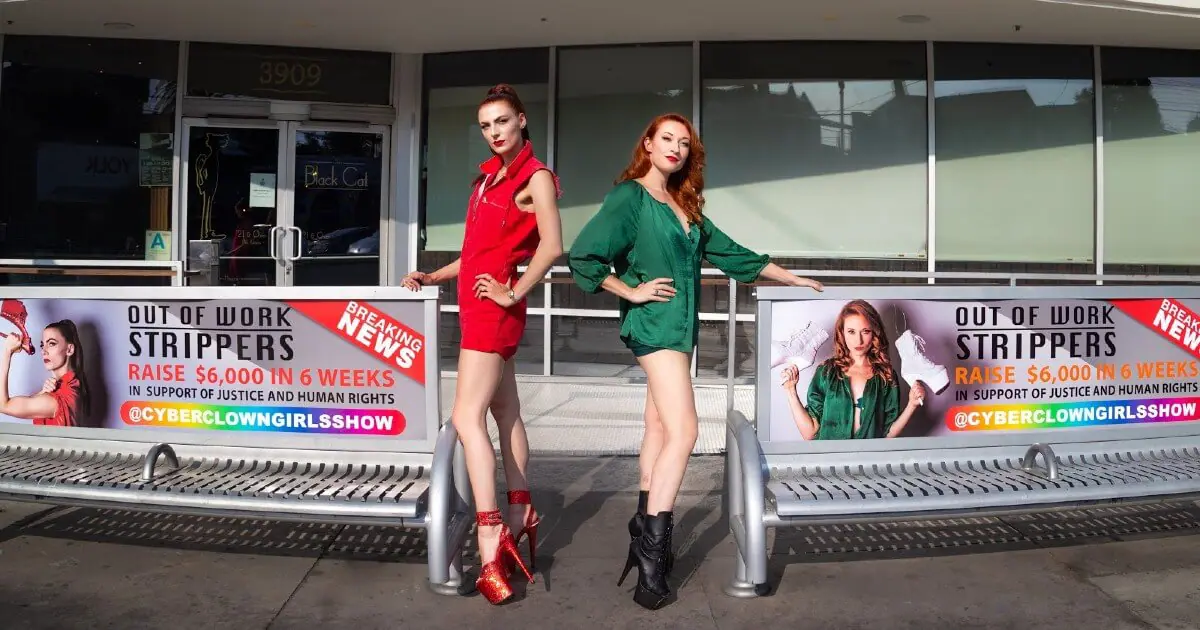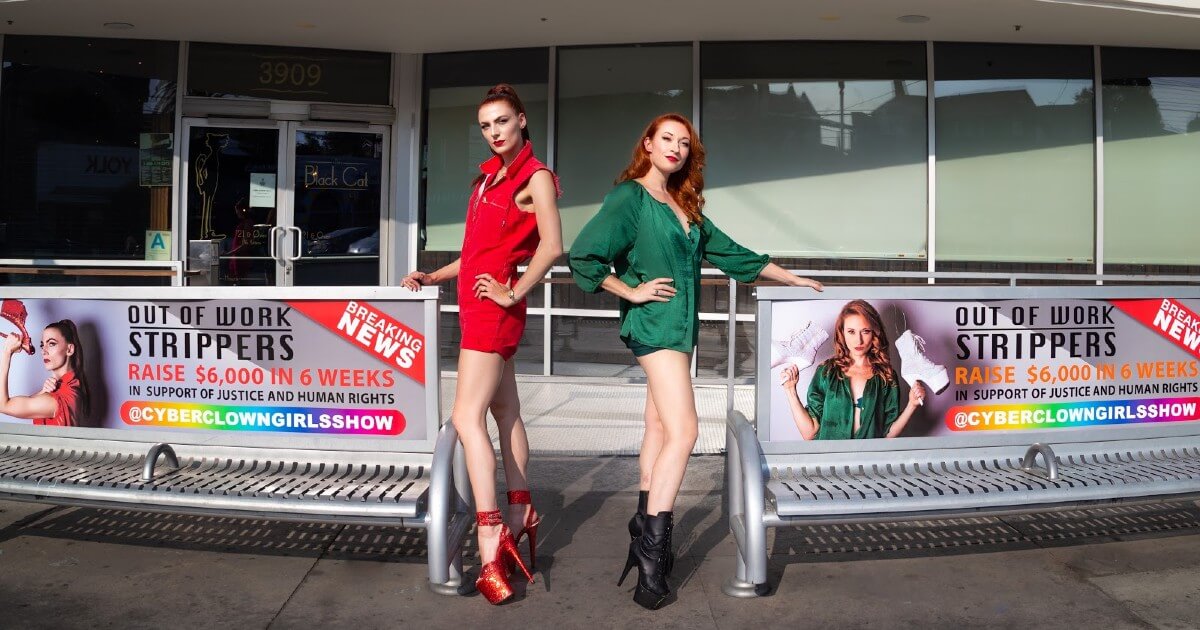 For anyone who says Los Angeles nightlife is over due to the pandemic, they've clearly never attended a Zoom strip show hosted by the Cyber Clown Girls.
The virtual experience was created by a collective of out-of-work strippers to generate income after their club, Jumbo's Clown Room, closed at the beginning of quarantine.
However, their weekly events have evolved to include a philanthropic component, with portions of each show's proceeds going to social justice organizations such as Black Lives Matter LA, the Sierra Club, and the Martha P. Johnson Institute.
So far, the Cyber Clown Girls have raised over $13,000 for social and environmental justice causes, and as the girls say, "The more you tip, the more we can pay it forward!"
A Midsummer's Night's Dream
Co-founded by dancers Gabrielle, Reagan (Megan Rippey), Coco Ono (Kayla Tange), and Kitty, the Stripperina (Kelly Vittetoe) the Cyber Clown Girls present themed showcases twice a week.
They feature a rotating cast of Jumbo's current dancers, alumni, and friends from neighboring clubs, all live-streaming from their respective homes.
On the night I attended, the theme was A Midsummer's Night's Dream.
It included the use of green screens, fairy costumes, Shakespeare trivia between dances, live gesture painting, and playful audience banter in the chat moderated by the host, Reagan, or as she was known for that night, Titty-tania, Queen of the Fairies.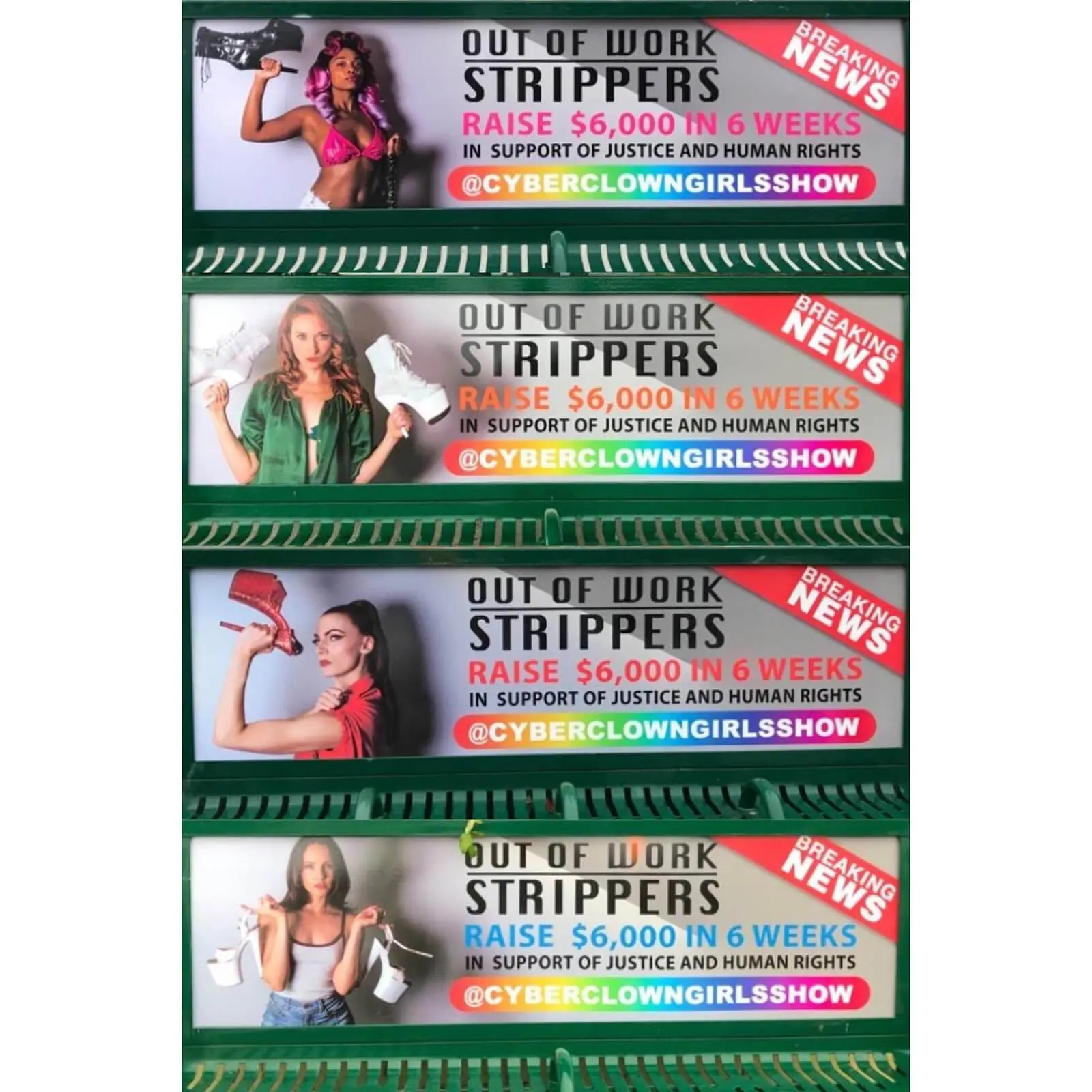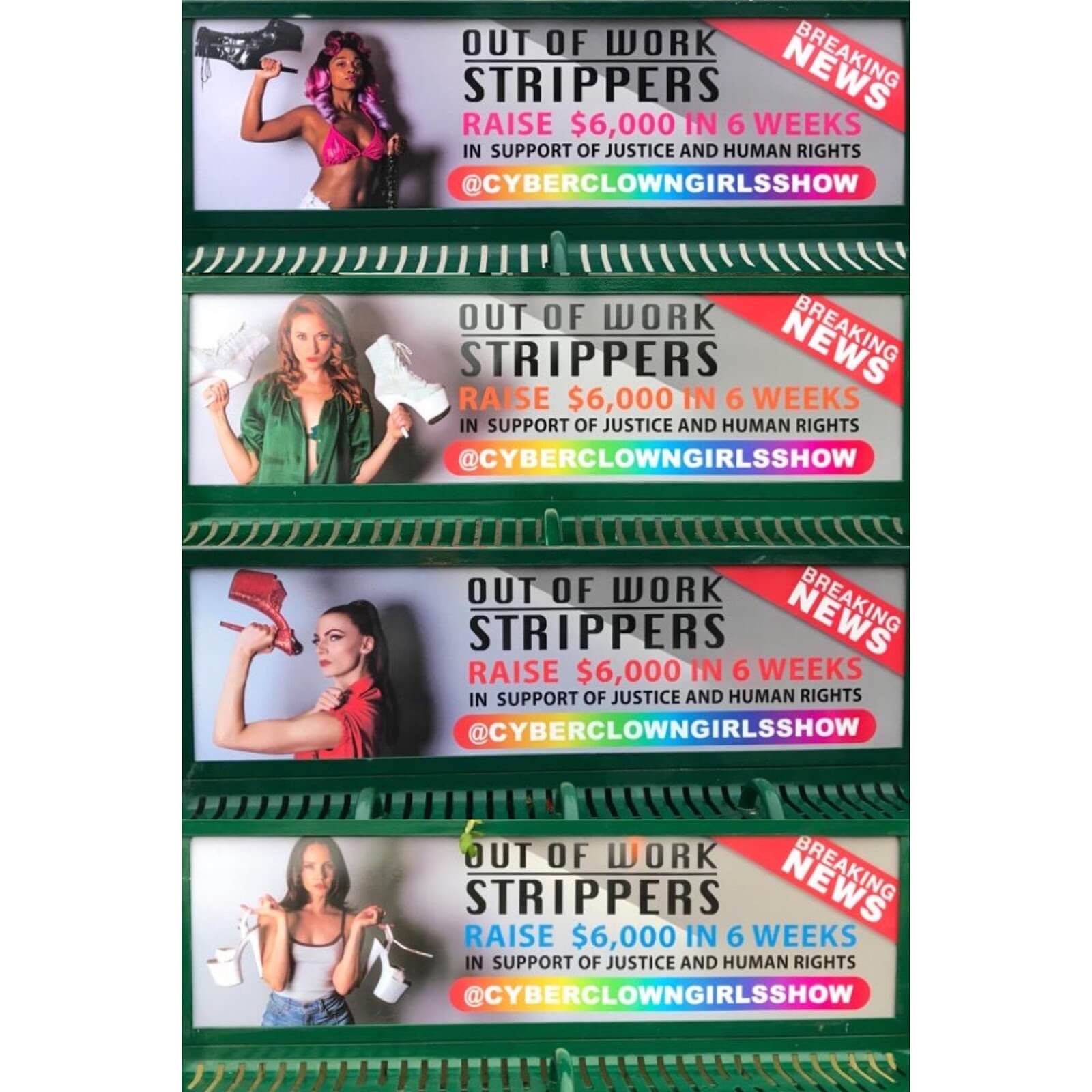 It was magical.
"It's really been a blessing to be able to experiment and play around with different technologies and make new kinds of art," Rippey says of the show's whimsical and theatrical elements.
"A lot of us are actors and performance artists as well so we have a lot of costumes on hand. But you don't need a pole or a bunch of props and fancy lighting to make the show entertaining," she explains.
"It's important that the show be creative without the pressure of worrying about high production value. All the girls really need is a cell phone and a corner of their apartment to put on a good show."
The rise of the virtual striptease
The Cyber Clown Girls, who have been performing online since early May, are one of several LA striptease and burlesque groups that went virtual out of necessity, as most exotic dancers were not eligible for unemployment or pandemic assistance from the Stimulus Relief Bill.
Jumbo's was one of the few, if not only, strip clubs in LA that has complied with the new California Law AB 5 that classifies independent contractors as employees, qualifying the current dancers to receive unemployment benefits.
"There wasn't really anything that existed yet for our community," Rippey says.
"Current Jumbos employees were a rare exception, and we know how privileged that is. That's one of the reasons we created CCG. We took the radical initiative to create a streaming virtual live show that generates income for our stripper sisters, allows for uninhibited creative expression, and provides support for nonprofits, social justice and climate justice organizations during this unprecedented pandemic."
Donating to social justice causes has become part of the DNA of the show, especially after the George Floyd protests swept the nation in June.
"That really changed things for us," Rippey says. "While we'd been successful supporting each other during quarantine, it became obvious that our scope needed to be bigger and we really need to put our focus on these social justice issues, and harness our power for the greater good. It became a rallying cry for us."
Cyber clown girl power
The virtual platform has also given the CCG dancers a new sense of agency.
"It's definitely shown all of us that strippers and women are very capable of doing things on their own and creating and managing their own shows that support their community and their creativity," Rippey says.
"It's really been lovely seeing the customer response and how they're supporting this idea. They love seeing us empowered and that feeds into the show's success."
Rippey believes that the shift toward virtual entertainment could have a lasting impact on the industry, from reforming how strip clubs operate and address issues like wage theft to how dancers and fans interact with each other.
"Our fans have developed a relationship with the performers and they care about them and support this endeavor. I think even when it's safe to return to in-house performances again I could see us doing a monthly show where we can reconnect with our non-local community."
Halloween party
Cyber Clown Girls' upcoming Halloween special on October 29 might be a good indicator for how future streaming shows could operate in a COVID-safe environment, but with a higher production value than what is available on Zoom.
The Bourbon Room Hollywood will serve as a multi-stage venue for the Cyber Clown Girls and will be streaming on an independent platform by Rolling Live Studios.
Viewers can even preorder canned cocktails made by the bartenders at LA's Harvard and Stone, or purchase packages that include access to VIP rooms and an afterparty with a costume contest.
As always, a portion of the proceeds will go towards social justice causes, which will include @genderjusticela, Save Our Stages LA, Clean Air Task Force, and @blmlosangeles.
Tricks & Treats: A Cyber Clown Girls Halloween, Live at the Bourbon Room
Thursday, October 29, 2020. 8 pm PST
Tickets at rollinglivestudios.com
Weekly Cyber Clown Girls shows on Zoom
Wednesdays, Saturdays
$5-$20, plus tips encouraged
More info at www.instagram.com/cyberclowngirlsshow
Image sources: Chad Goei. PSA Bench ads campaign by 10K Advertising @10k_advertising photography for campaign byMarc Goldstein @lefrenchgoth