Sex Tech News: U.S. Rolls Out Gender-Neutral Airport Screenings and Abortion Pills in Pharmacies
Also: An Oversight Board recommends Meta to clarify its public-facing nudity policy.
"Meta's Oversight Board—a panel of experts selected by the company to deliberate on content decisions—released a decision this week recommending the company clarify arbitrary and vague definitions concerning nudity, sexual activity and sexual solicitation.
"The London-based Oversight Board issued the recommendations in the course of overturning Meta's decisions to remove two Instagram posts in 2021 and 2022 depicting "transgender and non-binary people with bare chests.""
"The document by the Oversight Board contains several passages criticizing Meta's handling of potentially sexual content uploaded by users."Meta's internal guidance to moderators on when to remove content under the Sexual Solicitation policy, the Board opined, "is far broader than the stated rationale for the policy, or the publicly available guidance. This creates confusion for users and moderators and, as Meta has recognized, leads to content being wrongly removed." (via Gustavo Turner / XBIZ)
"Nearly a year after they were first announced, the Transportation Security Administration will begin rolling out new gender-neutral airport screening procedures across the U.S. in January." In 2022, the TSA received $18.6 million to improve its "Advanced Imaging Technology" units, as the agency noted in a March press release. In addition to making the units "more accurate," they will also no longer be "gender-based." Under the current system, agents manually select a gender for each passenger before scanning for "anomalies"—a method that has led to countless incidents of misgendering, harassment, and invasive pat-downs for transgender passengers…" (via Samantha Riedel / them)
"A bill introduced in West Virginia this week aims to ban adult entertainment businesses from the state.
"Six Republican co-authors… introduced House Bill 2919 on [Jan. 23], which aims to create the Sexually Oriented Businesses Regulation Act, which would outlaw "sexually oriented business," including adult arcades, adult bookstores, adult video stores, cabarets, adult movie theaters, nude model studios, and "sexual encounter centers."
"If it became law, violation of these provisions would be a misdemeanor.
"The language of the bill is both borderline graphic and incredibly vague: it defines the body parts that stores are prohibited from showing in books, live performances, and films with meticulous specificity, including "human male genitals in a discernibly turgid state" even if covered… Sex acts are defined as "fondling or erotic touching" and "normal or perverted, actual or simulated, including intercourse, oral copulation or sodomy."
"But specific details on which businesses will actually be affected if this bill were to pass into law are left mostly undefined." (via Samantha Cole / VICE)
"Retail pharmacies in the U.S. can dispense the abortion pill mifepristone for the first time, under a new rule change by the Biden administration.
"Patients currently obtain mifepristone—part of a two-drug regimen that is safe and effective in inducing abortion—in person from a health provider. A prescription is still required under the new rule, but patients can now pick up the pill in-store or by mail order."
"Pharmacies—from large chains to corner drug stores—can now apply for certification to distribute mifepristone, which will allow them to directly service customers with a prescription from a certified prescriber. Drug chains CVS and Walgreens have both said they are reviewing the new requirements." (via Sam Cabral / BBC News)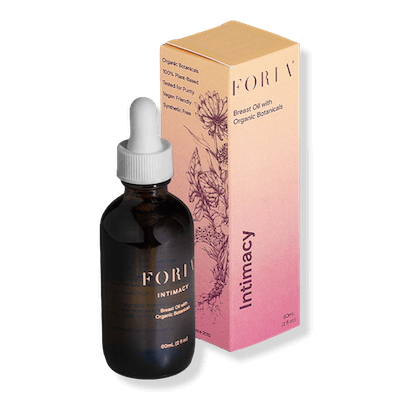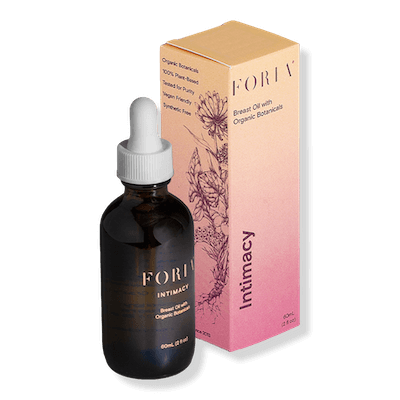 "Sexual wellness brand Foria is now available in The Wellness Shop at Ulta Beauty. The leading retailer is continuously expanding its intimate wellness assortment. Foria now sells at select Ulta beauty locations as well as online on ulta.com.
"Foria Co-founder & CEO Jon Brandon shares: "At Foria, we are thrilled to join The Wellness Shop at this exciting moment as Ulta Beauty elevates Intimate Wellness. For us, this partnership increases access to and education around intimacy, thus furthering our mission to make pleasure more accessible to all…"" (via Femtech Insider)
Stripperweb shut down on Feb. 1, 2023
"For over 20 years, Stripperweb has been one of the best resources for exotic dancers and webcam models on the internet. We've made the difficult decision to close Stripperweb effective February 1st. We urge you all to check out AmberCutie's Forum as a possible new home after we close. Thank you to everyone who has made this such an amazing community." (via an announcement posted on stripperweb.com)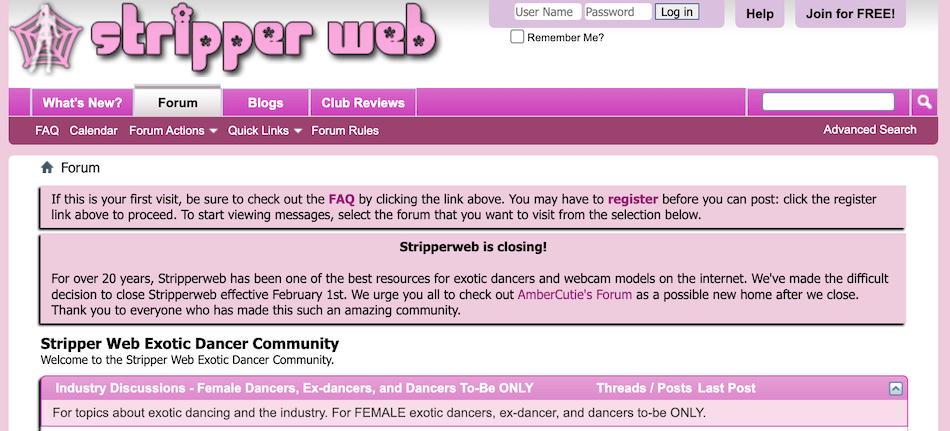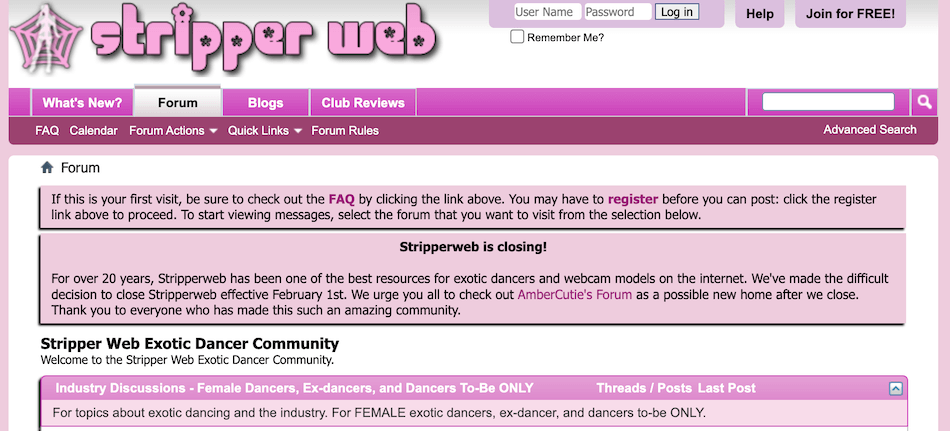 Image sources: Dominika Roseclay, Tofros.com, David Len, Foria (via ulta.com), Stripperweb