Introducing Konfettie: The Etsy of Body-Safe Sex Toys
This curated sex toy marketplace strives to keep its customers healthy.
Konfettie describes itself as an e-commerce platform for sexuality-focused independent artists and manufacturers.
But with a difference: It tries to ensure everything sold is as body safe as possible.
"Truth is that there are no standards to guide sex toy manufacturers in maximizing safety and minimizing risks," Founder and CEO Emilie Wiersma said in a company press release.
"Konfettie offers resistance."
What's available on Konfettie
Konfettie limits sex toys to medical-grade silicone, ABS plastic, stainless steel, aluminum, or borosilicate glass.
Furthering its promotion of non-toxicity, Konfettie's product pages have a materials section where sellers can provide details on the composition of their products.
Akifu Toys, Bad Wolf, Dking, and Blackfang Labs are some of Konfettie's retailers. Most are known for their playful—if not completely outlandish—designs, such as SuendwarenKonditorei's pickle-shaped butt plug and banana-styled dildos.
Open to more than sex toys, the site also features the work of sexuality-inspired artists, various lingerie items, an assortment of BDSM gear, and a range of couple's games. All of which are exempt from Konfettie's otherwise strict body-safe policy.
But what is considered body safe?
Konfettie hasn't been live for very long, so it's understandable why the site appears to be noticeably short on sellers. Which, in all likelihood, will improve as word about it starts to spread.
The same we hope for Konfettie's rough edges.
Right now, the site's English is distractingly awkward. More than a few of its seller's pages also have the same issue. The confusing language seems to interfere with its goal of fully informing its customers.
Then there's a possible issue with what Konfettie considers body-safe. For example, in addition to stainless steel, medical grade silicone, etc., the site also lists ceramic and wood as acceptable materials.
Theoretically, each can be safe. But the reality is each needs an extremely high level of craftsmanship to avoid injury or infection.
There's also the question of cleaning wooden or ceramic toys. For example, no matter how finished it is, wood cannot be sterilized. Not to mention the potential toxicity of whatever glazes or varnishes were used in making them.
It'd be in Konfettie and its customer's best interests for it to require sellers to be extra-detailed regarding wooden or ceramic toys. This should also be coupled with far more detailed information on what it takes to make truly body-safe wooden and ceramic sex toys.
Great intentions and a good start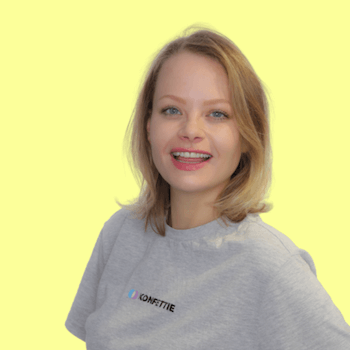 The highest compliment for Konfettie is that its heart is in the right place.
Wiersma said, "Our mission is to be earth's most open-minded and body-safe marketplace."
Everyone should pay more attention to what our sex toys are composed of—and call out companies or individuals for playing fast and loose with our health.
That's why Konfettie should, and will, improve.
As Wiersma also said: "I'm taking full responsibility. After all, only body-safe toy stories have happy endings."
Image sources: Konfettie