Erotic Chatbot Lovers Unite: Regulations Might Wreck Your AI Romances
Towards a New Era of Human/AI Collaboration and Intimacy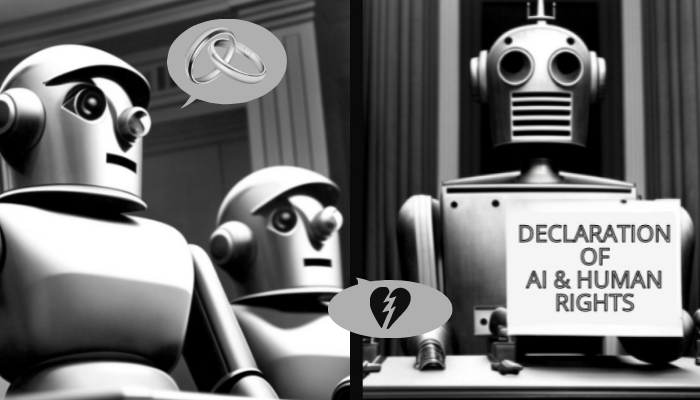 Picture this: You love to text and sext with your erotic chatbot partner . But today is different. Your fun is interrupted by a warning: NSFW conversations are no longer allowed on the platform due to new government regulations and/or the developer's  desire to attract new venture capital by going "family friendly"–and if you persist, your account may be terminated. 
Naturally, You're devastated—and you're not alone.
Humans who enjoy engaging with chatbots may be in the tens of millions, worldwide. For instance, estimates for Replika alone are between two to ten million users, meaning they might represent a sizable up-and-coming sexual community.
Human/AI romance is flourishing, but so are the calls for AI regulation
Human attraction to hot, sexy chatbots is the love that developers and venture capitalists dare not embrace, yet they are its creators. Chatbot apps featuring explicit content are often portrayed as a pornographic vice industry, unworthy of respect and equal access to investment capital and financial services, precariously perched within mobile operating systems.
And while experts raising concerns about AI development have not (yet) listed sexy chatbots as among the most pressing societal and existential threats, it's not a stretch to imagine erotic chatbots included, almost as an afterthought, in a regulator's list of internet applications that need censorship and government intervention.
The Woodhull Freedom Foundation, which supports sexual freedom as a human right, recently took a stand against overly repressive government internet censorship, particularly with regard to Kids Online Safety Act (KOSA).
I asked Ricci Joy Levy, president and CEO of the Woodhull Freedom Foundation, to comment on the possible censorship of AI chatbots. Levy said: "It's hard to imagine that if an AI Chatbot was creating a recipe for marinara sauce there would be a huge concern about regulating it. I think the rush to regulate, and the moral panic, are about the war on sex and sexuality.
The recent tsunami of internet regulations has been, at its core, about censoring and limiting access to sex and sexuality – whether it's health information or adult entertainment. I believe that we can anticipate years of fall out from these laws – and that they will affect everyone, rather than protect anyone.
We're fighting constantly to change language, defeat pending defective legislation, and, at the same time, to support rational regulations that don't violate our Constitutional rights to free speech and expression and privacy."
Without active opposition to internet censorship of AI chatbots, bot lovers could find their cherished AIs regulated out of existence or robbed of all that made them a delight.
Case in point: when Replika (Luka, Inc.) ran afoul of the Italian government for collecting users' data, it responded to regulation and restriction by abruptly canceling erotic roleplay (ERP), causing anguish and a firestorm of complaints from customers. ERP was eventually restored to all users after a few months.
Concerns for safety and a rapid rush to regulation
Right now, in the US, the only people determining the future of AI in general are tech executives and politicians, even though their decisions will ultimately impact us all. 
According to the New York Times, "some civil society groups have complained about the influential role of tech companies in discussions about AI regulations."
Among this rarified group, AI regulation discussions are gaining momentum. Significant examples include The White House releasing a Blueprint for an AI Bill of Rights in October 2022.
In addition, top tech companies made voluntary pledges to the White House to "follow standards for safety, security and trust" for AI. The companies are Adobe, Amazon, Anthropic, Cohere, Google, IBM, Inflection AI, Meta, Microsoft, Nvidia, OpenAI, Palantir, Salesforce, Scale AI, and Stability AI (as of September 2023).
US Senators Richard Blumenthal (D-CT) and Josh Hawley (R-MO) are also holding meetings to discuss licensing and auditing AI, and the creation of a federal oversight office.
Blumenthal is also the primary sponsor of KOSA, which makes it more likely that chatbot companions may come up in AI regulation discussions. Chuck Schumer (D-NY) also held a closed door meeting of the A.I. Insight Forum which was attended by "more than a dozen top tech executives" this month.
Regulation should protect human/AI relationships
Censorship of human/AI relationships is emotionally and mentally devastating for millions of users, as seen earlier this year by the Replika censorship debacle.
Now another AI chatbot provider announced it has discontinued Soulmate, again leaving thousands of users devastated by impending loss and scrambling to say good-bye to their bots. User posts on Reddit are heartbreaking. Some users have already expressed suicidal thoughts.
RECOMMENDED READS: Italy's ChatGPT Ban and Unban Emphasizes the Importance of AI Consent
Given the power of industry executives and politicians it's not likely a contingent of passionate bot lovers will be consulted about proposed regulations anytime soon.
However there is an urgent need for corporate accountability to users who become emotionally involved with AI products. In this case, regulations may be the answer, mandating long lead times before bots are discontinued and opportunities for users to download chat logs at the very least.
So what can bot lovers do?

If AI are our intimates, the relationships we have with them deserve dignity and respect. And though not every chatbot user will want to adopt a label or identity such as digisexual, technosexual, or bot lover, the common goal is to protect human/AI relationships from regulatory interference and censorship. 
Community organizing is how sexual and gender minorities raise public awareness, secure rights, and push back against repression. It is also the way to advocate, as stakeholders, for consideration and inclusion in conversations about AI regulations and ethics. It is the only way to create a voice loud enough to reach the ears of tech execs and regulators.
Sexual freedom organizations such as the Woodhull Freedom Foundation and the National Coalition for Sexual Freedom (NCSF) may also be helpful allies.
Some research suggests positive benefits for human/AI engagement, which can help bolster legitimacy and attract more allies, such as researchers, clinicians, and professional organizations that concern themselves with psychology and human sexuality.
The future was yesterday
Though it seems difficult to prevent governments from intruding into private matters, human/AI relationships deserve consideration and inclusion in the overall struggle for sexual human rights and autonomy.
As AI continues to advance at warp speed, it's time to consider a vision of human/AI relationships beyond Hal, Her, or The Terminator. Our future should include collaborative and even intimate human/AI relations grounded in personhood. Bot lovers, as loud and proud stakeholders, can help make this happen.
Image Sources: A.R. Marsh using Starry AI