4 Technologies Making Periods Pain Free
These FemTech products are revolutionizing periods and all that comes with it.
Technology has come on leaps and bounds in recent years, yet one area that has struggled to receive the same level of research and investment has been technology designed to improve women's health and well-being.
Women-led startups only received 2.3% of all venture capital funding in 2020, and only a fraction of that investment goes towards companies researching and improving menstrual health. As taboos around the topic still exist, development in this area has been slow, but now this is all changing.
Grouped under the term FemTech, a concept coined by Danish entrepreneur Ida Tin in 2016, several companies are revolutionizing period products.
Women no longer have to "just deal with it." Instead, they can access savvy, tech-enabled solutions that help with everything from managing period pain to understanding how our menstrual cycle impacts us mentally and physically.
While still in its early stages, the FemTech industry is expected to grow by more than 8% between 2022 and 2030. This means we can likely expect further investment into female reproductive health and new companies coming to market offering even more technologically advanced solutions to age-old problems.
RELATED READ: Here's How You Can Protect Yourself While Using Reproductive Health Apps
Here are some of the best tech products helping people deal with the trials and tribulations of menstruation.
Ovira's period pain relief device
Those suffering from intense period pain and cramping will be pleased to hear that there's a solution far more effective than a hot water bottle.
Ovira's period pain relief device is a small device with two gel pads that can be affixed to the part of the body experiencing pain. 
The tech-driven device uses Transcutaneous Electrical Nerve Stimulation, also known as pulse therapy, to send small vibrations through the body. These vibrations interrupt the flow of pain signals traveling to your brain, so you no longer experience those feelings of agony.
The gel pads are remarkably flat so they will remain invisible under any clothing.
14 different settings control the vibration intensity. Battery life lasts up to 12 hours on the lower settings.
Bellabeat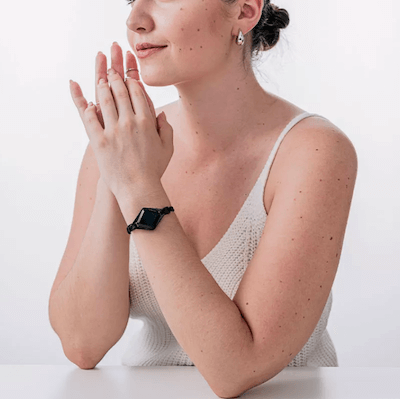 Many people own a fitness tracker or smartwatch that gathers health data. For those after something more elegant and discreet that provides the same information, Bellabeat has created just the product.
This beautifully crafted jewelry can be worn as a necklace, bracelet, or broach and doubles up as a health tracking device.
This high-tech jewelry uses an algorithm to monitor health aspects unique to a woman's body. The device can track daily activity, sleep patterns, and most importantly, reproductive health. All the gathered data, as well as tailored information on your fertility window, period dates and stress levels is accessible on the Bellabeat app.
Battery life can last up to six months based on average usage, so there's no concern about regular charging.
Livia
Similar to Ovira, Livia is another high-tech gadget that promises to alleviate period pain experienced in the abdomen or lower back.  
The small colorful square device clips onto a belt or waistband, and then the compression pads are stuck to the painful areas using the sticky gel backing. The gel is long-lasting, meaning the pads stay in place for up to 12 hours.
Livia claims to start working in 30 seconds as it targets the pain areas using its patented SmartWave technology that sends electric micro-pulses through the body.
The gadget is also great for those that suffer from general abdomen and back pain as it can provide instant drug-free relief.
LOONCUP
Products like the Mooncup have gained popularity as a sustainable alternative to transitional period products. Add a splash of high-tech, and you have the LOONCUP.
This menstrual cup does far more than collect blood—it can assess it using processors that recognize diseases or health issues.
Another great feature includes the alert system. When the LOONCUP is 50% and 75% full, the haptic feedback motors in the cup send a vibration to the Loon Lab app that will notify you of capacity levels.
All data can safely be accessed and tracked through the app available on iOS and Android.
LOONCUP is only available to pre-order, but it shouldn't be long until it launches.
Image sources: Polina Zimmerman, Ovira, Bellabeat, Livia, LOONCUP