The Adult Entertainment Virtual Convention Comes to Red Light Center!
Did you miss your chance to schmooze with the stars this year? Maybe not!
If you stayed home for the 2012 AVN Adult Entertainment Awards, you can make up for this weekend with this highly-anticipated virtual 3-day event!
From Friday morning until Sunday evening of this coming weekend, February 24th to 26th, thousands of adult entertainers and enthusiasts will be gathering to share their experiences, discuss the ins and outs of the entertainment industry, shop for adult products, enjoy in-depth presentations about online role playing and virtual adult worlds, and "meet" some of the most famous online adult entertainers out there… all from the comfort of their own homes!
Sponsored by social network styled Utherverse's 3D adult virtual world Red Light Center [NSFW], the Adult Entertainment Virtual Convention (AEVC) is a free virtual adult expo designed to attract a large crowd of people who, for one reason or another, aren't inclined to the bright lights of the Las Vegas AVN Expo and Awards show [NSFW]. Whether you are more comfortable with the anonymity of the virtual world, or simply don't have the time in your schedule for a weekend in Sin City, now you can have all the fun without any of the hassle.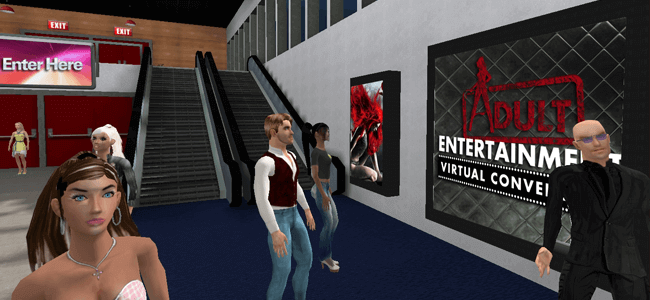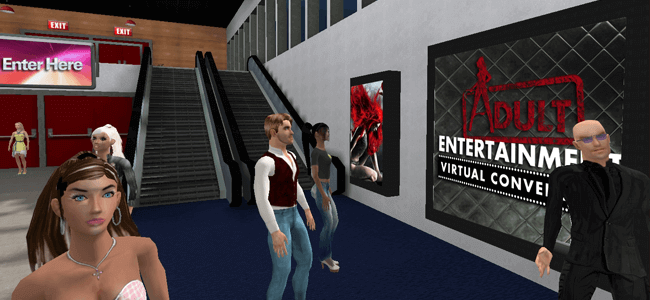 Image Source: AEVC
Both participants and exhibitors are expected to flock to the virtual convention in droves, where according to Utherverse vice president Anna Lee, "You can build a $5-million booth for $50 in the virtual space." Company owner Brian Shuster says, "I'm hoping this will be Internet history that people can participate in." Will you be hopping on the virtual bandwagon?
Participants in the AEVC are encouraged to contact us with contributions or requests for interviews covering this unique and game-changing event!
We would love to know what you thought of today's panel, "The Role of Social Media in Adult Entertainment," tomorrow's keynote address, "Surviving Porn's Evolution. A Darwinian Perspective" as well as the virtual award show experience, and Sunday's "A Look Inside the Profession of a Virtual Sex Worker" with Ronnie Turner. If you have the chance to check out the many "meet and greet" events with other virtual performers, let us know your experience!
What do you think about the concept of virtual conventions? Are you more likely to participate in a gathering like this than going in person?