Lex: The 'Lo-fi' Queer Dating App That Sidesteps Selfies
Inspired by personal ads, the text-based app focuses on language rather than looks.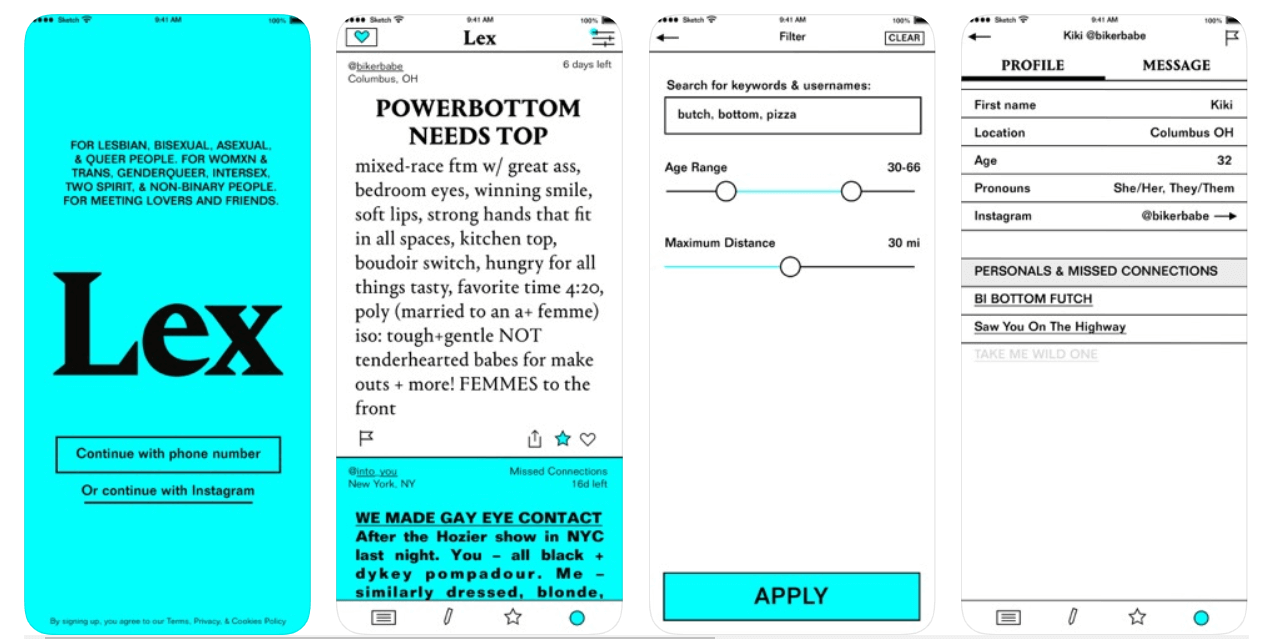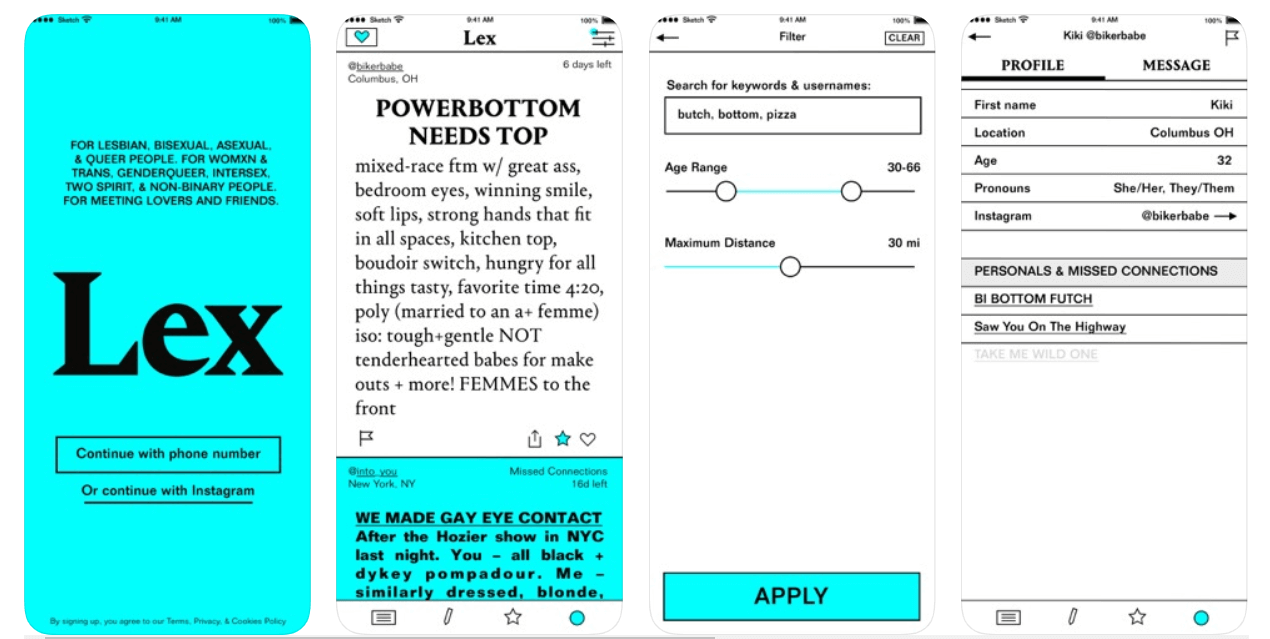 Make mindless swiping a thing of the past with Lex, the dating app designed to connect people through the things they say rather than their selfies.
Lex (short for Lexicon) encourages its users to write a short advertisement that can be humorous, descriptive or fun, and interested users can get in touch by in-app messaging.
The text-based app is aimed at people within the LBTQIA community and gender non-conforming, genderqueer, non-binary and intersex people. This inclusive environment also welcomes queer people of color (QPOC), people with disabilities, and adult users of all ages, with or without children.
Lex is particularly clear on its stance against the use of harassing or offensive language, expressly stating it does not allow transphobia, racism, fatphobia or ableism. It instead promotes the creation of a "healthy, loving community."
This zero-tolerance approach is important in an online-dating climate in which other dating apps have faced issues with transgender users losing their accounts, homophobia, and harassment, even in LGBTQIA+ spaces.
Lex may be a new app but its inspiration is anything but modern
Lex was created in the spirit of personals ads, particularly those in the 80s/90s magazine On Our Backs, which was run by women and featured lesbians connecting with each other through their short advertisements.
Lex's founder, Kell Rakowski, shared some of these ads on the Instagram account @h_e_r_s_t_o_r_y, and made a post asking followers to send in their own ads. This concept took off and soon warranted its own account (@_personals_ now appears as deactivated).
Shortly after, Rakowski decided it was necessary to develop an app was to tackle the demand, while still keeping the vintage concept alive.
A successful Kickstarter campaign led to the app being launched on November 7, 2019, and it has already broken into the list of the top 100 social media apps on the App Store.
How Lex works
Founder Kelly Rakowski wanted an app that was separate from Facebook, although Lex does allow for log-in through Instagram or by email. Users have the option of showing their Instagram handle if they wish, or selecting a username of their choice.
Once logged in, users can find each other by location, by tags and queer identities, allowing for connections to be made from anywhere in the world.
Profile pages can be edited to include information such as your age, location, as well as what (or who) you are looking for on the app. This information can be updated depending on your preference that day, to accommodate flexibility in finding a connection on the app.
Lex presents two options for its users to post. The first option is an advertisement, which lasts for 30 days and can include those looking to find a hookup as soon as possible, users looking for something more long-term, or those wishing to communicate with those in the queer community and build friendships.
The second option for users is a Missed Connection post, which appears in bright blue on the app, making them stand out against the other posts. These, like their newspaper counterparts, are for those looking to find someone they had previously connected with or had seen and wish they had contact information to reach out to them.
Through these posts, like-minded users can get in touch and start building relationships and friendships. They can add a post to their favorites by selecting the heart icon next to the ad.
The app is free to use but does feature ads asking users to send donations via Venmo or PayPal in order to keep it going.
Does Lex symbolize swiping fatigue?
Lex is an exciting development for bringing together the queer community and makes the process of finding a partner a bit more " personal." With its retro feel, Lex is an app that focuses on inclusivity, providing an accommodating and unique environment for queer folks.
The simple concept brings new life to online dating and brings old-fashioned concepts into the modern-day, creating a new platform for connecting with people across the queer community in a safe and entertaining space.
If the fatigue with swipe-culture is to be believed, apps such as Lex could be at the forefront of a sea change against the superficial, and a move towards putting the power and romance back into language.
You can download Lex for iOS and Android for free.
Image sources: Lex