The VDOM Seeks $1.5M in Seed Funding for 'Cyber Penis'
Brand plans to develop A.I. technology to accompany app-connected prosthetic.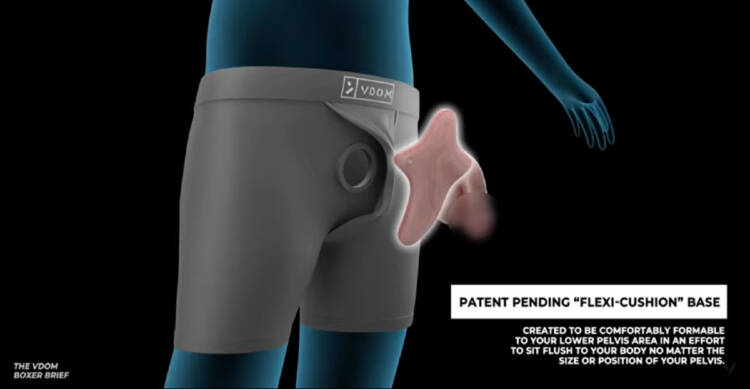 The VDOM opened its seed funding round in March with the goal of raising $1.5 million USD by the end of Q2 2023. The LLC hopes to bring its app-driven prosthetic penis to a mass audience and develop an accompanying artificial intelligence (AI) platform.
"We are inviting investors to come talk with us and learn more about the future of The VDOM and our competitive stance in an emerging market," says Glenise Kinard-Moore, CEO and creator of The VDOM.
A wearable sex tech device for all genders
The VDOM is a medical-grade silicone "cyber penis" that can be worn by all genders.
What sets The VDOM apart from traditional strap-ons is its potential for remote, hands-free control through the Bluetooth-connected app.
In its current state, the app allows users to take the device from flaccid or erect and back. It also tells them how much battery power is left in the device and enables them to give control to a partner.
Moore told Future of Sex that an upcoming feature that will be released in the next few months is the capability to place the device in sleep mode and "ensure there are no accidental push of any control buttons on the device while wearing it nor on their smartphone that may result in an erection when the user doesn't want one."
Built for the LGBTQ+ community, but market expands beyond that
According to Moore, who identifies as a lesbian, The VDOM was initially designed for the queer community. Over time, though, other potential markets emerged including paraplegics and persons experiencing erectile dysfunction.
"Our initial 'why' for The VDOM was geared towards the LGBTQ+ community, especially our trans brothers, and it still is, but we couldn't ignore how impactful this product would be for so many other communities," she says.
"We broke the rules and aren't focusing on one target audience."
Nearly $100K in investments raised so far
In a recent press release, The VDOM's primary funding so far was described as "bootstrapped and family/friend early-stage investors." This included $70K closed in a family and friends round from late 2020 and $10K raised in a crowdfunding campaign.
"These funds have been dedicated to the research and development of The VDOM," the press release stated.
Prior to investment, Moore used $50K of her own savings to start building the prototype app and initiate paid market research.
Future The VDOM developments include AI and body sensors
Currently, Moore's team is developing an AI platform for The VDOM.
"Our goal is for the device to pick up on the user's natural arousal times and places so that it almost acts without the user having to take a step of pushing a button," she explains.
"This is part of our effort to continue to develop The VDOM to be as humanistic as possible."
Along with the addition of AI, they're also integrating other innovative tech solutions, such as body sensors and brain-computer interface technology.
"The VDOM 1.0 is just the beginning," Moore says.
Want to invest in the app-connected prosthetic?
The VDOM is looking for investors to support the early-stage Black-owned and women-led entity. Potential future investors should be interested in femtech, sex tech, new-age technology, and hardware opportunities.
There may also be an equity-based crowdfunding campaign opened up later this year.
Image sources: The VDOM