Mojowijo: Teledildonics Comes to the Wii
If you bought a Wii and kicked yourself when teledildonics came to the Kinect, you're in luck!
Teledildonics have finally come to the Wii with the Mojowijo, a Bluetooth and Skype-based Wiimote attachment (the actual Wii console is not required) which reads movements from one remote and transfers them into vibrations in the other, either in the same room or across the globe via the internet. The on-screen Skype connection allows for video, voice, and text chat alongside your Wii play. The attachments include both a standard dildo "for her" and an interesting silicone ring "for him" – also available in couples sets for both heterosexual and homosexual couples.
While the device and software was originally released a year ago, they have undergone an aesthetic and functional makeover, now being sold in gorgeous, smooth silicone that makes them look a lot more like sex toys, and a lot less like terrifying torture devices.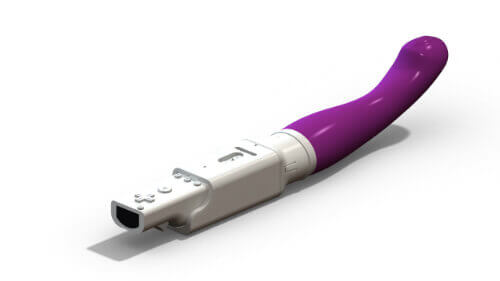 Image Source: Mojowijo
Mojowijos are now shipping to Europe and North America, so you might want to jump on this bandwagon fast! If you're worried that you'll have a hard time finding someone to play with, keep an eye on the company website – Mojowijo should have their online "chat party" up and running in no time, giving you plenty of opportunities to find other endowed enthusiasts willing to try it out with you.