Review of Top VR Porn Sites
A detailed overview of the best VR porn sites and their unique offerings.

(Click here to check out the Future of Sex VR Porn Resource Center)
Where should you go to watch high-quality VR sex videos?
In our list of reviews below, we share what the top sites offer in terms of library size, resolution, and supported devices. We also divulge which ones are compatible with touch-feedback sex toys that sync to the action as it unfolds.
Scroll down to read our full list of reviews.
BaDoinkVR
BaDoinkVR [NSFW], considered a leader in the sex tech space, has released about 55 virtual reality porn videos and adds one or more new ones each week. It won the 2016 XBIZ Award for "Adult Site of the Year–Virtual Reality."
CEO Todd Glider told Future of Sex all videos offer 180-degree or 360-degree perspectives and are stereoscopic 3D.
Earlier this year, BaDoinkVR also announced its partnership with teledildonics company Kiiroo. Together they are developing content that supports Kiiroo's interactive male sex sleeve, the Onyx, so viewers can truly become immersed into the storylines.
The VR porn site's videos work with Oculus Rift, Samsung Gear VR, and Google Cardboard. Right now, U.S. residents who sign up for a paid membership will receive a free set of VR goggles compatible with all smartphones.
Glider said his company has also developed several apps to make watching content easier. Its FreeVRPlayer for smartphones is available for download in the iTunes App Store and Google Play Market, and a desktop media player is also available for Oculus Rift users. They will work with all VR videos, not just the erotic ones BaDoinkVR provides.
Currently, BaDoinkVR's porn videos are download-only because of their high file size. With streaming, high-quality videos are likely to pause due to buffering, but lowering the quality so buffering doesn't happen results in an obvious quality loss.
"Nothing undermines the immersive experience like a sudden, protracted pause in the action," Glider said.
Still, BaDoinkVR will start offering streaming in the second quarter of this year.
"It makes sense because one can begin enjoying the videos more quickly; however, we'll continue to encourage downloading, and the higher quality it affords," Glider said.
CzechVR
CzechVR [NSFW] offers about 60 VR videos, releasing three new videos each week. Its skin flicks feature a 180-degree perspective,  binaural sound, and 3D moving video.
It supports Oculus Rift, Samsung Gear VR, and Google Cardboard, with the upper-end of video resolutions ranging from 1920×960 to 3840×1920.
At present, CzechVR provides download-only VR porn, but is testing some players to stream low-quality versions in web browsers.
HoloGirlsVR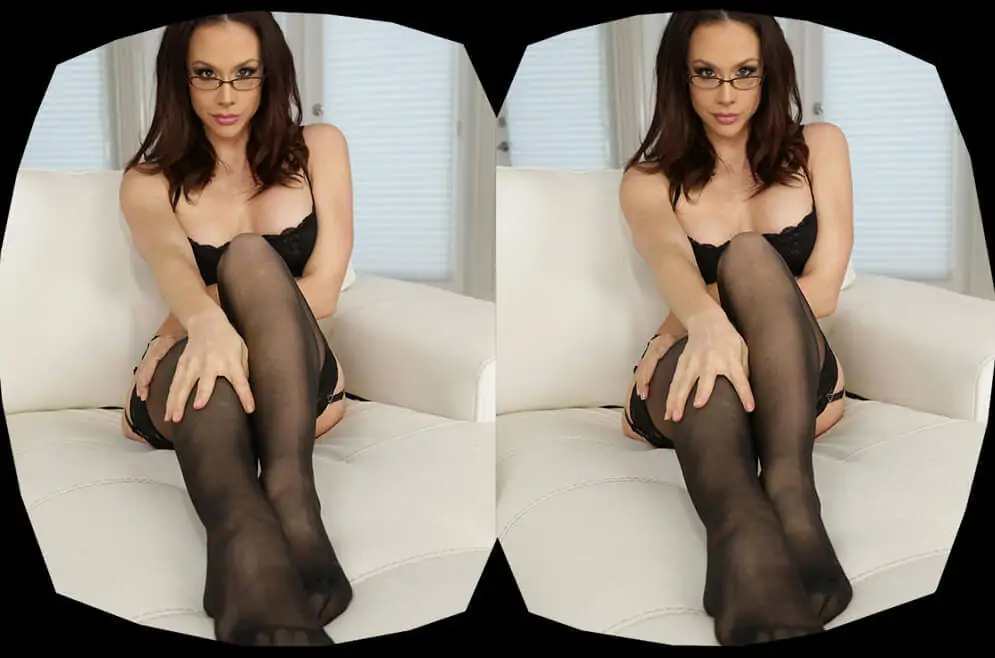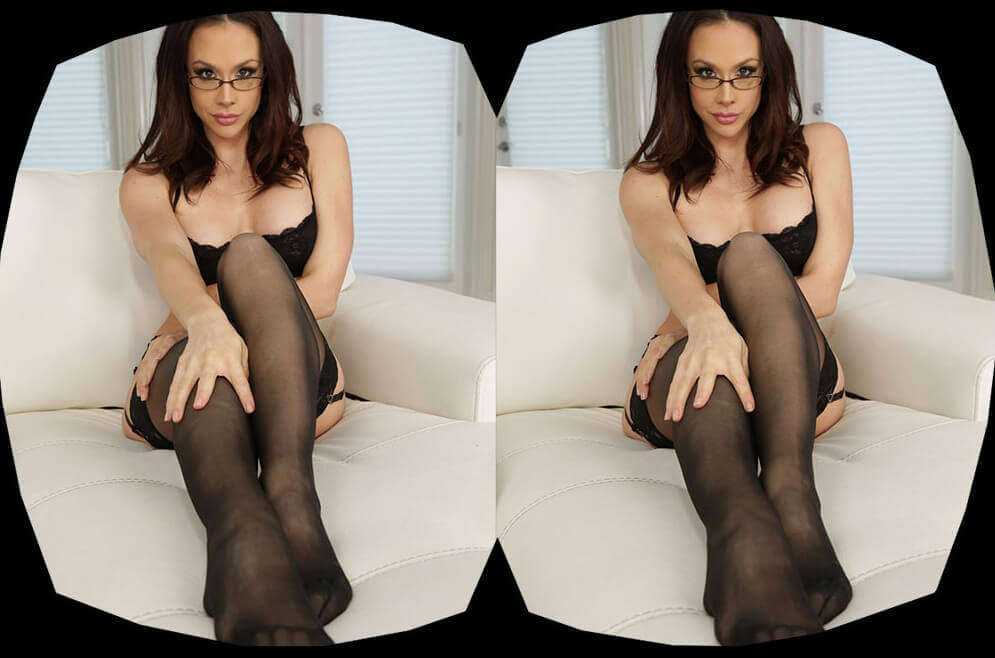 HoloGirlsVR [NSFW] offers more than 40 VR porn videos with resolutions of 3840×3840, 2560×2560, and 1920×1920. It supports Oculus Rift, Samsung Gear VR, and Google Cardboard.
HoloFilm Productions President Anna Lee said the site releases between three to four new videos each week.
While the videos are not yet compatible with interactive sex toys, the adult VR site is aiming to make this possible. The company is in talks with several sex tech companies, including Kiiroo, to make their devices sync with HoloGirlsVR content, Lee said.
To view the VR porn videos, the sites suggests using MilkVR player for Samsung Gear VR and KolorEyes for Oculus Rift or the Google Cardboard-style headsets.
KinkVR
For the kink-centric crowd, KinkVR [NSFW] offers about a dozen videos to download that are completely free of charge while the site is still in beta.
Kink spokesperson Michael Stable said the company plans to make streaming available later this year. The site also supports Oculus Rift, Samsung Gear VR, and Google Cardboard.
The kinky VR porn site doesn't yet integrate with interactive sex toys, but that may change in the future.
"We haven't yet tied these videos to any haptic sex toys at this point, since we really want to master the VR form first. As I'm sure you know, it's not the most forgiving medium. Once we nail down 360, we'll begin looking at a future that involves toys, cams, streaming and whatever other tech comes our way," Stabile said.
MetaverseXXX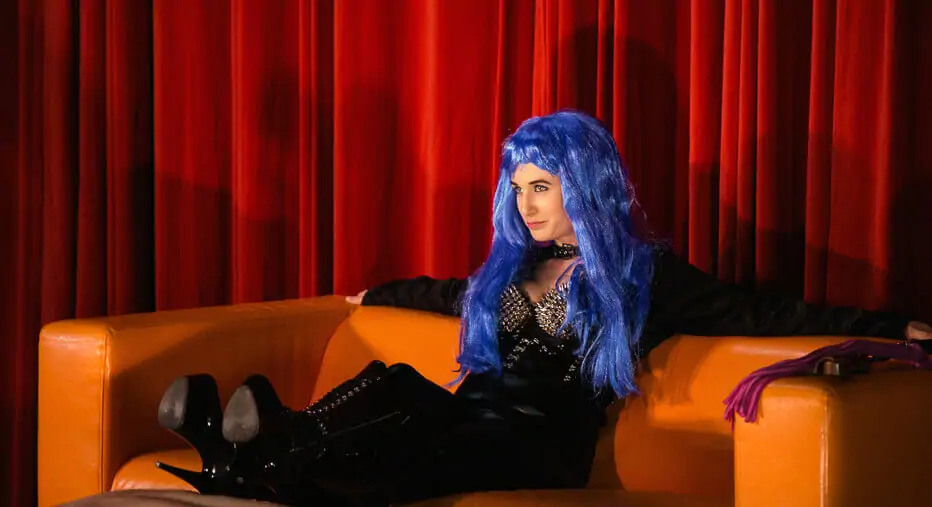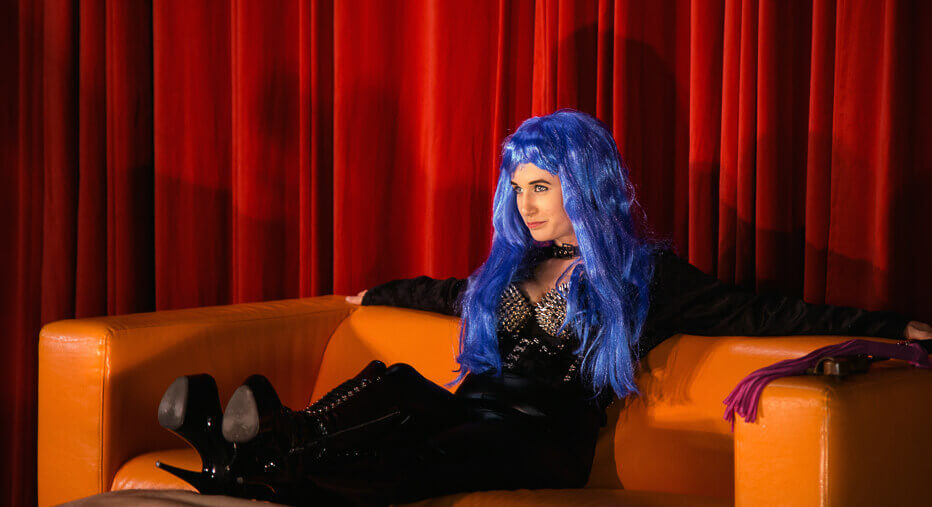 Indie VR porn site MetaverseXXX definitely stands out as unique when it comes to the adult VR community. Its tagline is "Sex Positive Virtual Reality Porn" and calls itself a "PeopleStarter"—focusing on an equitable distribution of revenue among its entertainers and production team.
Its adult content is diverse, with approximately 55 videos listed under several categories such as female POV, male POV, Kink, Trans, Men, and Straight.
MetaverseXXX founders Markus and Nicole, who started the site in 2014, said in an email that they expect to double their content over the new few months. As for resolution, they are sticking with 1080p at 60 FPS.
"60 FPS is already barely passable in terms of the queasiness factor and thus until 4k is at 60 FPS and able to be placed 64mm apart (human Interpupillary Distance or IPD), we are going to avoid," they said.
Supported headsets include Oculus Rift, Samsung Gear VR, Google Cardboard, OSVR, GameFace, and will be compatible with Sony PlayStation VR, HTC Vive, and FOVE once they launch.
Recommended players are Whirligig for the Oculus Rift and Vive, MilkVR for Samsung Gear VR, and AAA VR Cinema for Google Cardboard
Currently, videos are download-only, but the VR porn site expects to allow streaming in the coming weeks. Content does not yet integrate with interactive sex toys.
"We are in talks with a few haptic manufacturers, but frankly, we have not been impressed with the safety of each device, especially from a health perspective given the materials used. We deeply value safety over profit and so rest assured, if we support a device that touches your genitals, it will be deemed safe first. We are even looking into early robotics for use with our videos. The lines between the porn and sex trade industries are going to get blurry."
Naughty America VR
Award-winning porn company Naughty America has ventured into the virtual arena with Naughty America VR [NSFW]. It currently offers more than 40 videos with full 4K resolution and 180-degree stereoscopic image. It features nearly 50 sexy adult performers you can pick from to enjoy in interactive scenes.
Ian Paul, CIO of Naughty America, told Future of Sex the site supports most major VR devices, including Oculus Rift, Samsung Gear VR, and Google Cardboard. The videos are download-only, and while they do not currently support haptic sex toys Paul added they are exploring relationships with vendors.
PornHub
For viewers wanting to jump into VR sex videos without forking out cash, PornHub [NSFW] presents itself as an exciting and accessible option. It offers more than 30 free videos
In March, PornHub announced its exclusive collaboration with BaDoinkVR [NSFW]. BaDoinkVR CEO Todd Glider said the VR porn site will be drawing from its own library to provide the adult website with content. However, the trailers were exclusively made for PornHub.
The trailers can be streamed, said Glider, but higher-quality versions can be downloaded
Unlike videos on BaDoinkVR, PornHub's do not support haptic sex devices and there are no plans to integrate them, he added.
PornHub, the first free adult website to showcase 360-degree pornography videos, supports Oculus Rift, Samsung Gear VR, and Google Cardboard for smartphones. Videos can be viewed through BadoinkVR's FreeVR Player and PorhHub's smartphone apps
VirtualPorn360
As the name suggest, VirtualPorn360 [NSFW] is an adult sex site offering 360-degree virtual reality videos in high definition. It has around 40 videos and the company aims to release at least two new videos each week, according to spokesperson Elisa Ferry.
The VR porn videos can be downloaded and streamed, and a couple even have interactive storylines in which you can choose your own erotic adventure. The site supports Oculus Rift, Samsung Gear VR, Google Cardboard, HTC Vive, and is set up to support Sony PlayStation VR and Zeiss VR One once they launch.
The site recommends using the Homido and Kolor Eyes video players.
While the VR porn videos are not compatible with sex toys offering touch feedback, Ferry said the site is working on it.
VirtualRealPorn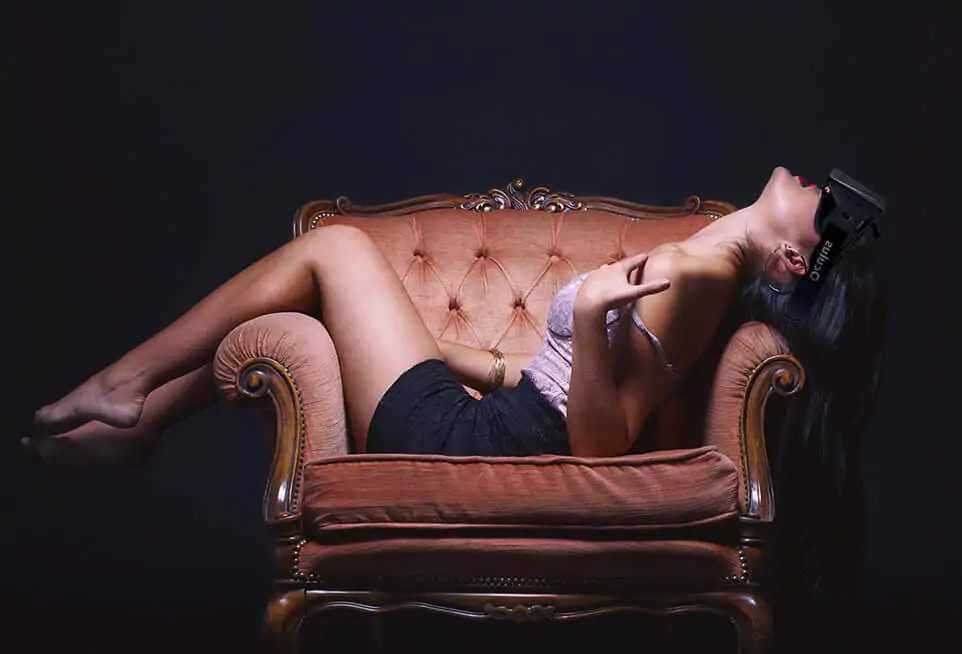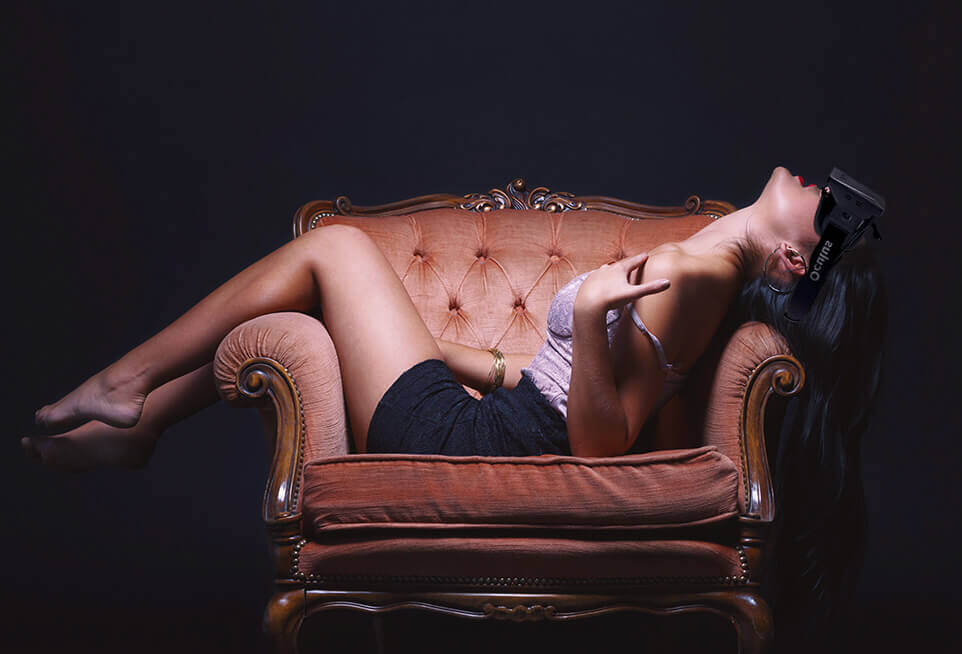 If your desire is to feel the action in adult VR videos, you need to check out VirtualRealPorn [NSFW]. It supports interactive sex devices from Lovense and Kiiroo, synching the on-screen sex scenes with touch-feedback sex toys.
VirtualRealPorn provides a collection of more than 100 VR porn videos that are download-only and range between 3200×1600 and 1920×1080 in resolution. Supported headsets include Oculus Rift, Samsung Gear VR, Smartphones/Google Cardboard, OSVR, and the Homido virtual reality headset.
The site recommends using its VirtualRealPlayer to view its content.
VirtualTaboo
VirtualTaboo [NSFW] has a collection of around 20 videos and four of them are free. They offer 180-degree perspectives and are shot to show a first-person point of view and provide binaural sound.
According to CEO Marcos Lopez, the site releases a new video each week in 2880×14440 (Oculus Rift and Samsung Gear VR) and 1920X960 (smartphones) resolutions. Videos are download-only, but streaming previews are available on iPhone.
VR videos come in English and Spanish. The site also offers free erotic photo galleries of its performers.
VR Bangers
Shooting in 360 degrees and producing first-person point-of-view content, the site VR Bangers [NSFW] puts viewers right into its scenes. With its 20+ videos shot with binaural sound and in 4K HD, you'll feel more like a participant than a detached voyeur.
The company is also taking the immersive experience straight to your hotel room. Teaming up with AuraVisor, a VR headset manufacturer, they will digitally impose a porn set into your surroundings and let you pick your favorite adult stars to romp around with.
Its VR porn videos are available for download and for online streaming. They support Oculus Rift, Samsung Gear VR, and Google Cardboard.
VR Bangers aims to overcome the boredom associated with traditional pornography by integrating the latest advances in virtual reality, and, perhaps most importantly, doing so with a user-friendly platform.
"At the moment, VR porn is mainly watched by the most technologically savvy people. VR Bangers revolutionizing the process by making it more accessible than ever before, removing the need for any technical know-how or specialist gadgets," CEO Daniel Abramovich said in a press release.
Abramovich also told Future of Sex he is working with sex tech company Kiiroo to make its videos synch its motions with interactive sex toys.
Membership comes with a free VR headset.
WankzVR
WankzVR [NSFW] offers a selection of 18 videos shot in 180 degrees and that support head tracking. The VR porn site says a new virtual reality scene is added each week.
You can download content or even stream from your mobile browser—no apps needed. As for headsets, WankzVR supports Oculus Rift, Samsung Gear VR, and Google Cardboard. Video resolutions range from 2560×1600 down to 1280×720.
A spokesperson said the VR porn site does not currently support interactive sex toys, but is considering this feature.
Image sources: HoloGirlsVR [NSFW, MetaverseXXX [NSFW], VirtualRealPorn [NSFW]