Is Science Fiction a Blueprint for the Future of Sexuality?
What does sci-fi mean for tomorrow's relationships?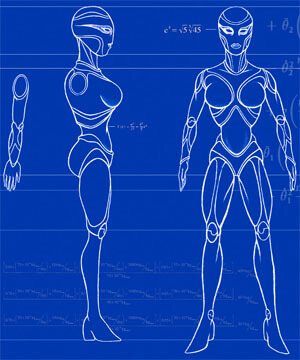 There's a great article by Pop Bioethics author Kyle Munkittrick over on the Discover Magazine blog about the power of science fiction to extend different sexual and emotional realities to people through virtual encounters. He posits that science fiction offers us so many more variables (species, organic/inorganic, body shape) than we find in real life (gender, sexuality), and that exposure to these variables from behind the buffer of a fictional universe frees us from societal constraints and sexual norms, allowing us to explore our desires. This also gives us a unique empathy and insight into identities we wouldn't otherwise have access to.
Says Munkittrick:
And that understanding is what science fiction is telling us about the future of sexuality. All of the variables and spectrums and complexities and similarities and differences can be distilled down to one simple equation: consenting persons love one another for different reasons and in different ways. It also puts our own concepts of "different" into perspective. If you're ok with a human loving a robot, why wouldn't you be ok with a human loving another human? Sci-fi teaches us that the type of persons involved is irrelevant, so long as they are capable of consent and willingly enter into the relationship.
It's an interesting view. But if science fiction is a blueprint for the future–if it is, as Kyle says, an imagination of "what we hope to see"–then aren't we getting incredibly close? Indeed, aren't we almost there? Most science fiction depictions of sex and sexuality are possible in virtual universes that exist now, and those depictions cross-over into our physical, "real" realm through teledildonic technology. So is the sci-fi future we know and love pretty much here, or will we keep waiting until more of its elements become material? Perhaps the technology that connects our flesh to our virtual fantasy just need to become more advanced for us to consider it real? What do you think?
Image source: 8bc.org