Open Source may be leading the way to the Future of Sex… but how can you get in on the action?
If you aren't a programmer, you may feel like you're missing out on all the benefits of open source technology, especially in the young field of teledildonics. A recent article on Slashdong pointed out an extreme lack of existing open source software, even in the developmental stages, in the usual locations like Github and Sourceforge.
Several great resources and shiny, albeit tiny gems were uncovered in the search. It seems that there are plenty of opportunities to learn and collaborate, if you know where to look: the future of open source sex is wide open!
What should you keep on your radar for new open source sex technology?
♦ By far the best, or at least the most relevant pieces of software in the Slashdong article, an adult board game open source software project called "No Means No" (review to come!)

♦ Several great forums, which are recommended as the best place to find software and other developers with projects in the works: SmartStim (for electrical play), the Milovana teledildonics forum, and the Bound Anna self-bondage software forum.

♦ An interesting project designed by and for sex work activists for disseminating text-based information quickly and affordably.

♦ Several NSFW Fetlife (an kink related social network for adults) members-only groups for things like high tech sex, high tech bdsm, remote control devices, and even an open source sex projects page.
The most interesting recent announcement in open source sex tech comes from RealTouch and their interactive device, which until recently required access to the pay-per-minute website designed specifically for the male toy. Now that RealTouch is moving forward with their interactive media [VIDEO], they have opened up the device to independent developers and hobbyists to take it to new interactive levels.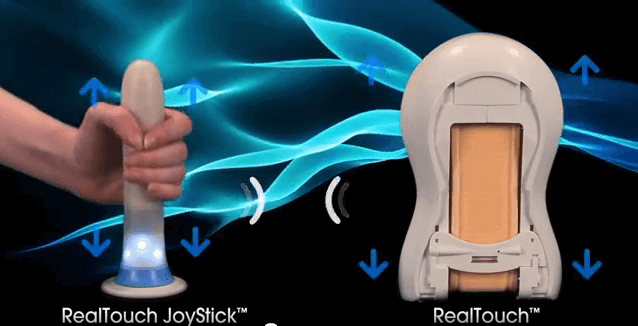 Image Source: Youtube RealTouch Interactive video
The first big improvement with the new open source Real Touch software is that it can be combined with this Github software (librealtouch) to run on Linux or Mac systems. With its simple USB interface, hopes are that the device can easily be hooked into gameplay in virtual worlds like Second Life, or manipulated with new motion capture technology like the Leap Motion.
What kind of open source sex projects would you like to see in the coming months?